Ben Carson Calls Abortion 'Human Sacrifice,' Says America No Better Than Ancient Heathens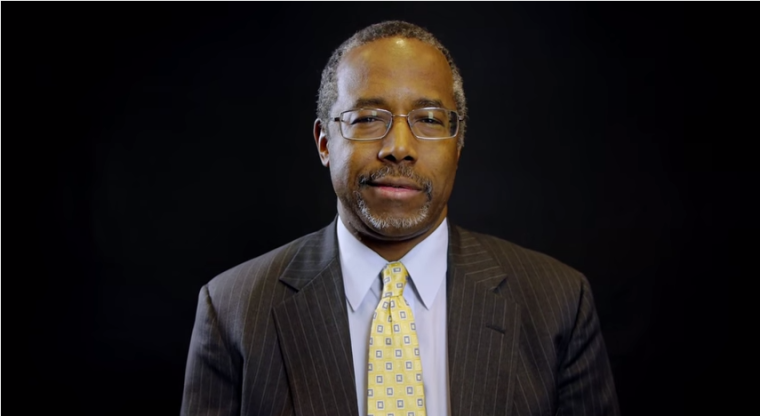 Conservative star and retired neurosurgeon Ben Carson says America had no right criticizing ancient "heathen" civilizations for practicing human sacrifice because it is doing the same thing through legal abortion.
Carson made the comments in a recent interview on DoveTV in response to host Perry Atkinson who speculated that if America could just end abortion then "all of the other things that God would be interested in helping us with would fall into alignment."
"It's interesting," Carson replied, "that we sit around and call other ancient civilizations 'heathen' because of human sacrifice, but aren't we actually guilty of the same thing?"
Just last month, however, Carson was criticized for supporting GOP U.S. Senate candidate from Oregon Monica Wehby who was politically advertised as being pro-choice. He later explained on his website that Wehby was personally pro-life, but because of the constituents she represents, had to reflect a pro-choice position.
"I called her to query her about her stance on this issue. She stated that personally, she is very pro-life, but she feels the government has no business interfering with the relationship between the mother, the baby, the doctor and God," said Carson on his website.
"I feel differently, because if abolitionists had taken a similar hands-off approach, I might not have been free to write this column. As someone who has spent a lifetime trying to save the lives of children, even with intrauterine surgery, it is probably not difficult to imagine why I am extremely oriented toward efforts to preserve human life, especially innocent human life that has yet to experience the extrauterine world," continued Carson.
"Given this pro-life propensity, one might ask, how could I endorse someone who is pro-choice? The answer is this: I'm not an ideologue who determines a person's worthiness with a litmus test. I have known Dr. Wehby as a friend and colleague for many years, and she is extremely intelligent and knows how to make decisions based on evidence versus ideology," he said.
"Also, in a state like Oregon, which is left-leaning, she would not be a viable candidate if she maintained a pro-life stance. If conservatives are going to win in 2014 and 2016 and preserve the environment of freedom to which we have grown accustomed, it will be necessary to learn how to prioritize issues," he said.
"I am not saying that social issues are not important, but if the executive branch remains in the hands of those with 'secular progressive' ideas in 2016, and two or three more Supreme Court justices with similar leanings are appointed, conservative social ideas will become anathema to the prevailing powers, who will use every tool available to them to silence such opposition," he added.