Dr. Ben Carson lists 7 ways communism has won in America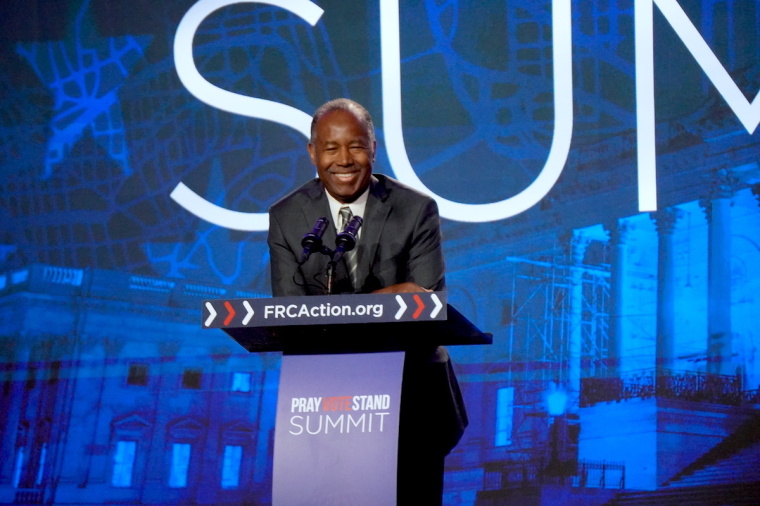 WASHINGTON — Dr. Ben Carson warned that many of the decades-long goals of communism have come to fruition in the United States as he urged the American people to have courage and fight back against efforts to subvert the nation's Judeo-Christian heritage.
Carson, a former neurosurgeon and presidential candidate who served as the Secretary of Housing and Urban Development during the Trump administration, addressed the crowd at the Family Research Council's Pray Vote Stand Summit Friday. He told the audience that troubling events in American society "have been going on for quite a while."
During his speech, Carson read aloud a portion of the Congressional Record from Jan. 10, 1963, which included a list of "Current Communist Goals" as laid out in an excerpt of a book titled The Naked Communist. He drew particular attention to the goal to "capture one or both of the political parties [in] the United States," lamenting that it "seems like they've done a good job there." Carson's analysis reflects the belief that communism has taken root in the Democratic Party.
Carson also highlighted how communists sought to "get control of the schools" and "use them as transmission belts for socialism and current communist propaganda." He read about how communists worked to "soften the curriculum," "get control of teachers' associations" and "put the party line in textbooks." He identified another one of the goals as to "infiltrate the press, get control of book review assignments, editorial writing, policymaking positions."
After he outlined another one of the communists' goals to "gain control of key positions in radio, TV and motion pictures," he encouraged the audience to "think about that." The Congressional Record from 1963, as shared by Carson, identifies the 32nd communist goal as being to "support any socialist movement to give centralized control over any part of the culture — education, social agencies, welfare programs, mental health clinics." 
The 40th installment of the list of "Current Communist Goals" consisted of an effort to "discredit the family as an institution" and "encourage promiscuity and easy divorce." The 41st item on the list emphasized "the need to raise children away from the negative influence of parents" and "attribute prejudices, mental blocks and retarding of children to suppressive influence of parents." 
"Does any of that stuff sound familiar?" he asked. "This is all the things that are happening in our society today," he added, noting that "we think we won the Cold War." Carson surmised that allies of communism "had a longer plan." 
Carson mentioned that this plan involves "driving wedges between us on the basis of race, income, age, gender, political affiliation, religion, you name it" as part of an effort to make people view each other as "enemies." He encouraged the audience to reject that line of thinking, maintaining that "We are not each other's enemies." 
The retired neurosurgeon then pointed to an effort to "fix it" and cause people to think that "this system doesn't work, therefore we need something else." After citing statistics finding that 23 public schools in Baltimore, Maryland, had zero students who could perform math at grade level, he suggested that such abysmal academic performance by public school students was by design.
"This is not a new phenomenon. This has occurred historically in other countries, too, particularly before they became socialist and communist countries. It's called dumbing down the population because if people are ignorant, it's easy to tell them anything." 
"You know what it's going to require for us to get back on the right track?" he posited, declaring that the answer is "courage." "It's going to require us to understand what our history is." 
"This is a country that was founded on Judeo-Christian values and principles," he added.  "Our founding document, the Declaration of Independence, says that our rights come from God and not from government."
"If our system is going to be fixed, it is going to be we the people," he added, encouraging those assembled to "be courageous" and "vote the right way." Courage, he said, comes from God."
Carson concluded his remarks by proclaiming, "If we're going to be the land of the free, we must also be the home of the brave."