Ben Carson Modifies Position on Kentucky Clerk, Now Says Gov't Should Accommodate Religious Beliefs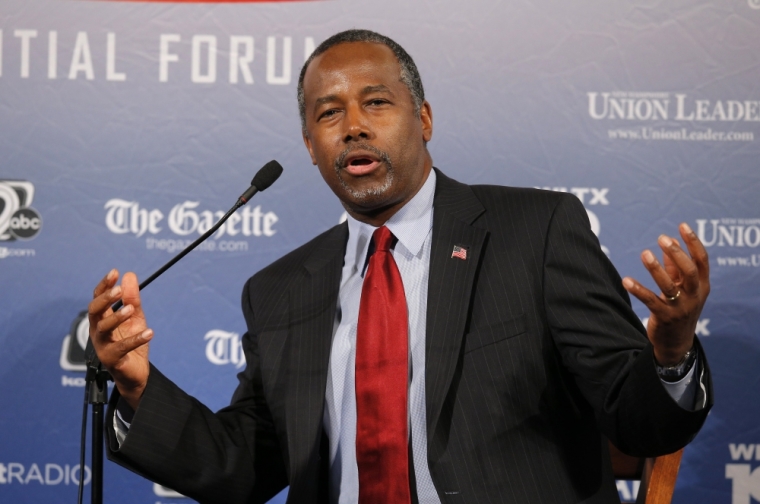 Ben Carson modified his position on Kim Davis, the Kentucky clerk jailed for refusing to issue marriage licenses to gay couples, and now says the government has a responsibility to accommodate her religious beliefs.
Carson, a longtime advocate for traditional marriage, said that Kim Davis' beliefs should be protected by the First Amendment, which guarantees the freedom to exercise religion.
"I do believe in God. I believe in Jesus Christ," the retired neurosurgeon told CBS12 in a Monday interview. "Congress has a responsibility to step up and create legislation that will protect the religious rights of all Americans."
Earlier this year, the Supreme Court ruled 5-4 in Obergefell v. Hodges that state level bans on gay marriage violated the Fourteenth Amendment of the U.S. Constitution. However, Davis, a Rowan County clerk, cited "God's authority" and refused to issue marriage licenses to same-sex couples, repeatedly ignoring court orders. U.S. District Court Judge David Bunning found her in contempt of court and ordered her to jail — something Carson finds problematic.
"When [Davis] took the job, the Supreme Court hadn't made this ruling. If they had, she might not have taken this job. So I think they have a responsibility to accommodate her," Carson said.
The interview is a departure from the Carson campaign's earlier remarks on Davis' situation. Previously, one representative said that Carson believed the SCOTUS ruling had to be respected because it is the law of the land. The frontrunner's friend and confidante, Armstrong Williams, was adamant about the campaign's position as well.
"Dr. Carson has said since the Supreme Court ruling that it is the law of the land and that's what he respects," he told Talking Points Memo Sept. 1. "There's no agenda here unless you create one."
Carson's support of Kim Davis aligns him with several other Republican presidential candidates. Former Arkansas Governor Mike Huckabee commended the clerk for her "courage and humility", Kentucky Senator Rand Paul called her jailing "a huge mistake," and Texas Senator Ted Cruz said she should not have had to choose between her job and conscience.
Several candidates, though, have said, like Carson's earlier position, that Davis should have followed the law. South Carolina Senator Lindsey Graham said he supports traditional marriage but that the clerk "has to apply the law to everyone." Former CEO Carly Fiorina suggested that Davis resign. Ohio Governor John Kasich said the Rowan County clerk isn't "running a church," so she should comply with the law.
Despite his late support of Davis, Carson's poll numbers are doing far better than other candidates, and he currently is able beat Hillary Clinton. In a Public Policy Polling survey of 1,254 voters, he tied with the former Secretary of State at 44 percent, and with independent voters, he leads 43 percent to her 35 percent.
Carson also wins on likability. Forty-one percent of voters see Dr. Carson favorably and 30 percent see him unfavorably, while just 36 percent see Clinton favorably and 55 percent see her unfavorably, most likely due to her ongoing email scandal.
On Tuesday, Davis was released from prison.