Beth Moore apologizes for role in elevating complementarianism to matter of '1st importance'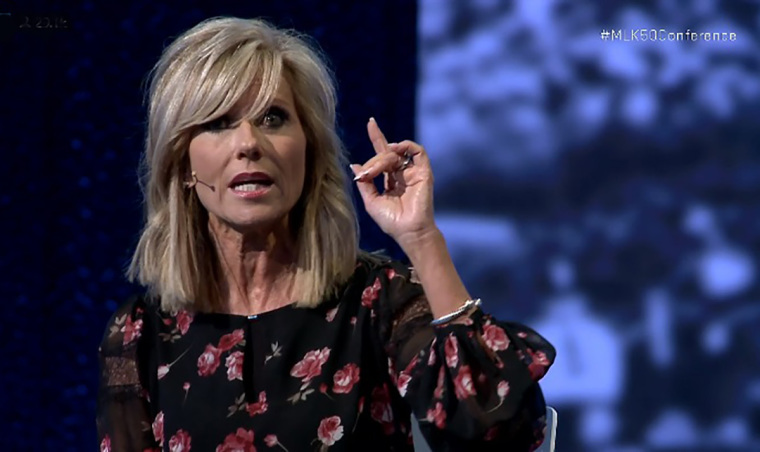 One month after announcing her departure from the Southern Baptist Convention, Beth Moore has apologized for her role in elevating complementarian theology to a "matter of 1st importance."
On Twitter, Moore, head of Living Proof Ministries, addressed complementarianism, a theological framework that says women have distinct roles in the family and church and are forbidden from holding certain offices in the church. By contrast, theological egalitarians insist that Scripture does not warrant such restrictions.
"Let me be blunt," Moore tweeted to her 979.8K followers on Wednesday. "When you functionally treat complementarianism—a doctrine of MAN—as if it belongs among the matters of 1st importance, yea, as a litmus test for where one stands on inerrancy & authority of Scripture, you are the ones who have misused Scripture. You went too far."
"I beg your forgiveness where I was complicit," she added on social media. "I could not see it for what it was until 2016. I plead your forgiveness for how I just submitted to it and supported it and taught it."
The Bible study teacher later clarified to Religion News Service that she doesn't want to be "pushed" into the category of either egalitarian or complementarian.
"That's not my point," she wrote. "My point is that it has taken on the importance of a first tier doctrine."  
In March, the 63-year-old author announced she was leaving the SBC after nearly 30 years and ending her longtime partnership with Lifeway Christian Resources, the denomination's publishing arm. 
In recent years, Moore had grown increasingly critical of the denomination and its handling of political and racial issues, Christian nationalism and what she deemed as "the sexism & misogyny that is rampant in segments of the SBC."
In 2019, Moore, herself a survivor of sexual abuse, made headlines after arguing that while complementarian theology does not necessarily cause abuse in the Church, having too few women in power has directly contributed to the sexual abuse crisis in churches. 
She also suggested that the SBC has placed too many restrictions on women's roles in churches, and that obsessing over the subject ultimately impedes the furtherance of the Gospel.
"So high a core value has it become that in much of our world complementarian theology is now conflated with inerrancy," she asserted at the 2019 Caring Well conference.
"Case in point: notice how often our world charges or dismisses egalitarians by saying they have a low view of Scripture because unless they think like us about complementarian theology they do not honor the word of God."
"Watch for it," she added. "Test it and see if it is so."
Moore lamented that "so few women" are in any visible areas of leadership in both SBC congregations and SBC seminaries. 
"Women who are being abused by the system itself, or within it by people that are in places of power, don't even have a female to turn to," she contended. "They don't even know where to go."
In response, Southern Baptist Theological Seminary President Albert Mohler Jr. admitted complementarian theology "can and sometimes has" led to the abuse of women in the church and stressed that the SBC must "take responsibility" for failing to hear the cries of those who have spoken of such abuse.
"We need to recognize that we have sinned against women when we have allowed complementarian to be presented in a way that implies male superiority and leads in sinfulness to male tyranny and terror and sin," Mohler declared.
"We need to take responsibility for the fact that we as a denomination, as churches, have often failed to hear the cries of women who have spoken of their abuse, and we bear the responsibility for a failure to deal adequately, christianly, responsively as husbands who love their wives as Christ loves the church should respond to the cries of any women."