'Bible Answer Man' Booted From Bott Radio Network After Hank Hanegraaff Joins Orthodox Church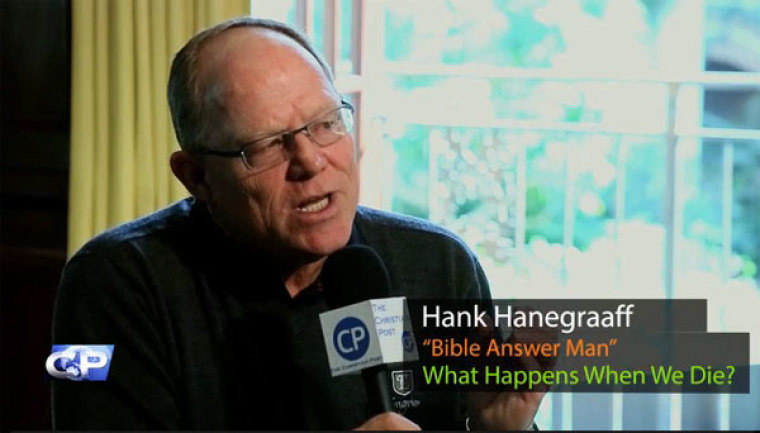 The "Bible Answer Man" radio show program with Hank Hanegraaff has been booted from Bott Radio Network over concerns regarding biblical accuracy, following Hanegraaff's conversion into the Eastern Orthodox Church.
"We want to make sure that our listeners know that the programming that we have on Bott Radio Network is thoroughly biblical," said BRN President Richard P. Bott II, a member of Lenexa Baptist Church in Lenexa, Kansas, according to Baptist Press.
BRN had reportedly been broadcasting the "Bible Answer Man" since the 1980s, even before Hanegraaff joined the show in 1989.
"We live in strategic times," Bott told BP.
According to an email announcement from BRN, the "Bible Answer Man" is being replaced by new late-afternoon programming featuring various evangelical pastors, such as Jack Graham of Prestonwood Baptist Church in Plano, Texas, beginning Monday.
BRN says on its website that it operates over 100 broadcast signals with a combined coverage of 51 million people in 15 states, offering "family quality Christian programming 24 hours a day." The "Bible Answer Man" page could no longer be found on the BRN website.
The Christian Post confirmed last week that Hanegraaff, who is also the president and chairman of the Christian Research Institute, was chrismated on Palm Sunday at Saint Nektarios Greek Orthodox Church in Charlotte, North Carolina.
Some, such as Rod Dreher, an Orthodox Christian and author of the New York Times best-selling book The Benedict Option, told CP last week that the news of Hanegraaff joining the Orthodox Church is "astounding."
"Many evangelicals seek the early church; well here it is, in Orthodoxy," Dreher said.
"I am sure some will be scandalized by Hanegraaff's conversion but I hope at least some will wonder how someone as knowledgeable about the Bible as Hank could convert to Orthodoxy, and go to a Divine Liturgy to taste and see what it's like."
Others, such as Ken Ham and his Answers in Genesis ministry, warned about the points on which Eastern Orthodoxy differs from evangelicalism.
"Many years of missionary work in Eastern Europe and Russia have led me to conclude that the gospel is not often proclaimed in the Orthodox Church. Church services are ritualistic exercises that focus on the icons and the sacraments," Dr. D. Trent Hyatt wrote in a chapter for Answers in Genesis' World Religions and Cults book series.
"It is all too easy to trust in those sacraments to save one and on the icons to sanctify one rather than in the finished work of Christ on the Cross in our behalf," he argued.
AiG explained that it published the excerpt in response to "a number of questions" it received in regard to Hanegraaff becoming a member of an Orthodox Church.
Hanegraaff insisted on his radio show last week that his teachings remain unchanged and faithful to Scripture.
"I am now a member of the Orthodox Church but nothing has changed in my faith … I am as deeply committed to championing 'mere Christianity' and the essentials of the historic Christian faith as I have ever been," he argued in an April 10 broadcast.
Hanegraaff, who believes many Christians today are consumeristic and go to church to see what they can get out of it, explained that he was inspired to attend an Orthodox Church over two years ago after he saw how deeply in love Christians in China were with the Lord.
"While truth matters, life matters more," a man told him. He realized that it was not just about knowing Jesus Christ, but also experiencing the resurrected Jesus Christ and he is now more in love with Jesus than ever before.
"People are posting this notion that somehow or other I've walked away from the faith and am no longer a Christian," he said in the following day's broadcast. "Look, my views have been codified in 20 books, and my views have not changed."
Philip Roberts, director for international theological education with the Global Ministries Foundation in Tennessee, suggested that the conversion of the "Bible Answer Man" has raised questions in the evangelical world, however.
"Of course, the roots of Eastern Orthodox theology go back centuries -- even to the ancient creeds, councils and church theologians," Roberts said.
"The problem is what has happened since then in terms of revisions and interpretations in Eastern Orthodox thinking by eastern mystical thinkers" involving "the biblical doctrines of God, Adam, humankind, sin and salvation."
Roberts challenged Orthodoxy's claim to be the "early church" and to represent "the faith of Peter and Paul," and said that while it has roots in the ancient church, its ceremonies and theology have developed gradually throughout the centuries.
The "Bible Answer Man" broadcast is still available at equip.org.