Bible App Hits 100 Million Downloads; Innovative Pastor Hopes It Surpasses Facebook, Twitter, Instagram in Popularity
As Christians and tech fans alike watched the YouVersion Bible App hit the 100 million downloads milestone Sunday evening, the pastor who came up with the idea of using technology to make the Bible more accessible on smart phones and tablets said he hopes it will surpass the popularity of other top rated apps in the field.
"We're excited to see the Bible rising in the ranks, because it means God's Word is becoming more widely known," Pastor Bobby Gruenewald of LifeChurch.tv in Oklahoma told The Christian Post on Monday. "One day we hope it would far exceed the popularity of Facebook, Twitter and Instagram."
The free YouVersion Bible App was among the first 200 apps available on iTunes. Today, there are over 900,000 available on iTunes, which celebrates its five-year anniversary on Wednesday. For three consecutive years, Apple has ranked the Bible App among the top 100 free apps. Currently, it's available for virtually every mobile device.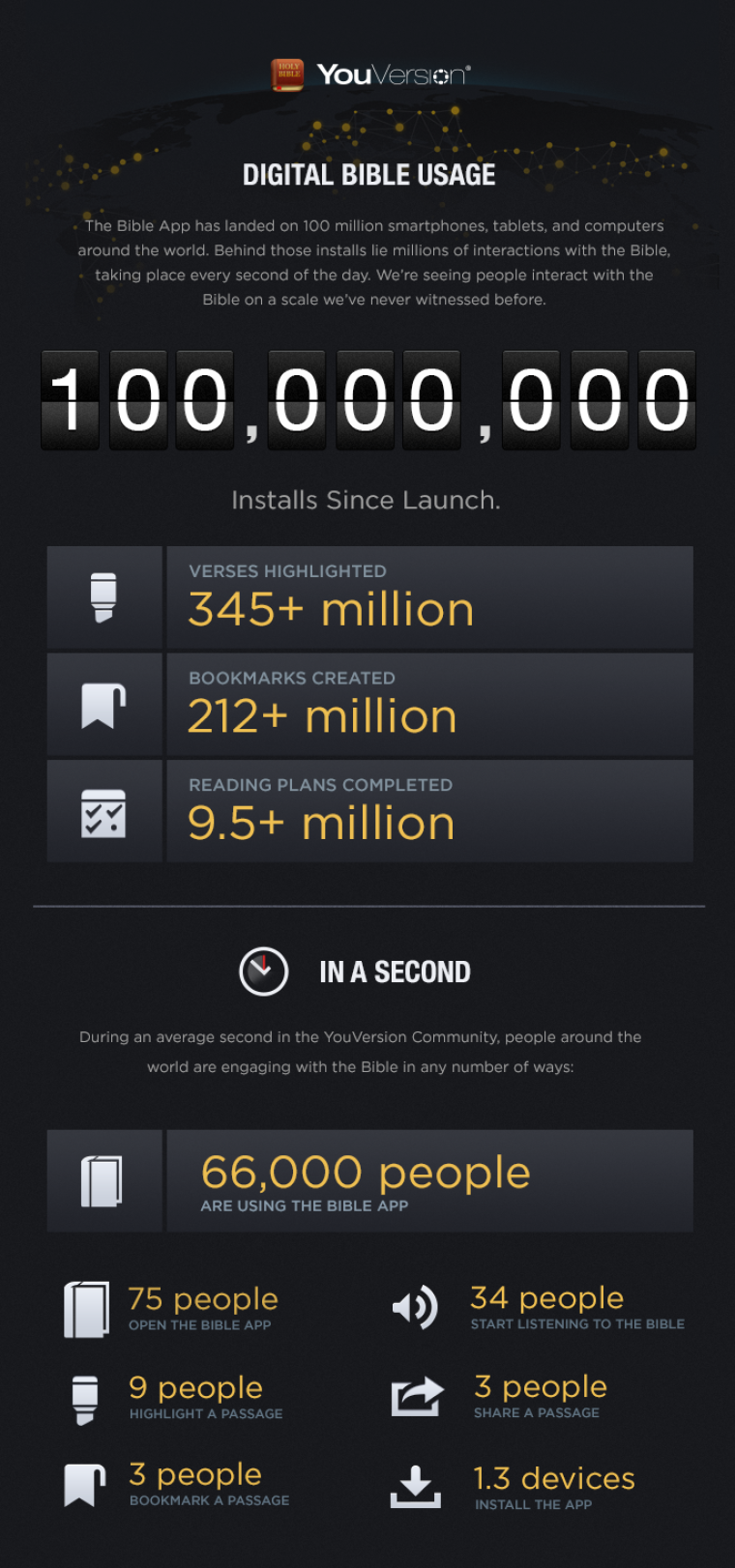 "This is not a story about an app as much as one about a global mission to share the Bible – from publishers and Bible societies offering 500+ versions of the Bible for free in 300+ languages to the assistance of hundreds of committed volunteers that enable our 20+ staff members to provide world-class customer service for an app at no charge," said Gruenewald. He initially hoped for 80,000 downloads in the first six months, a number surpassed during the first weekend the Bible App was released.
"The most exciting part about hitting 100 million installs is that it's just the beginning," Gruenewald told CP. "Time and time again we've seen God use milestones like this to fuel exponential growth. In fact, we hit 50 million installs just 14 months ago in May 2012. We know there's so much more God wants to do to get people engaged in his Word, and we truly believe it starts with 100 million."
The makers of the YouVersion app state that a first-ever survey of the world's largest digital Bible-reading community found that the Bible App is not only changing the frequency of Bible usage but the experience as well. More than 77 percent of respondents read the Bible more frequently because they have it on their mobile device that accompanies them virtually everywhere.
The survey also showed that while the app was most used at home (81 percent) and church (60 percent), it was also used "on the go" (55 percent). Nearly a third used the Bible App at work. More than 67 percent of its users switch between Bible versions.
"Never before could you compare multiple translations of the Bible in an instant. In the past, it would have taken an entire room of Bibles and weeks if not months to do so," said Gruenewald. "Now when you don't understand a particular phrasing, it's easy to check out another translation for clarity."
Further tracking research provided by YouVersion indicates people love to share Bible verses. In 2012 alone, there were more than 31 million shares of Bible verses via Twitter, Facebook, email, and text. The three most shared verses were Isaiah 53:5, Hebrews 4:15 and Matthew 7:7.
"Building on this research, we're currently launching a new social feature of the Bible App that will advance the Bible-reading experience in the context of trusted relationships and community," announced Gruenewald. The new feature allows readers to form a group of close friends and interact with them about the Bible, "learn from what their friends are learning, discover new insights, and explore what passages mean in conversation with people they are close to."
A collection of new initiatives announced in celebration of the 100 million milestone will extend the demographic reach of the Bible App:
Adding the New American Bible Revised Edition (NABRE), for the 77 million Catholics in the U.S. alone, one of the most popular Catholic versions of the Bible and approved by the U.S. Conference of Catholic Bishops. In recent years, the Vatican has encouraged greater church efforts to teach Catholics about the Bible, equipping them to read it and pray with it more. Archbishops Charles J. Chaput of Philadelphia and Cardinal Francis George of Chicago joined others in the Catholic community applauding the move.
Plans are in development for a new Bible app for children ages 4 to 10 that includes an interactive experience full of fun games and stories to help educate and empower them with God's love.
A new one-year devotional from the Rev. Billy Graham, which joins hundreds of other reading plans already available for tackling everything from relationship woes to life. There are even plans for reading the entire Bible-another goal many people have achieved thanks to the accessibility of the app.
The apps makers say that Gruenewald sees no end in sight when it comes to growth of the Bible App, and the celebratory theme for the historic milestone expresses his sentiments best: "It starts with 100 million."
The ministry organization released a series of infographics to help commemorate the milestone that can be seen by clicking here.