Bible-Holding Trump Supporters, Chick-fil-A Customers Declared 'Trash' in NYC Artwork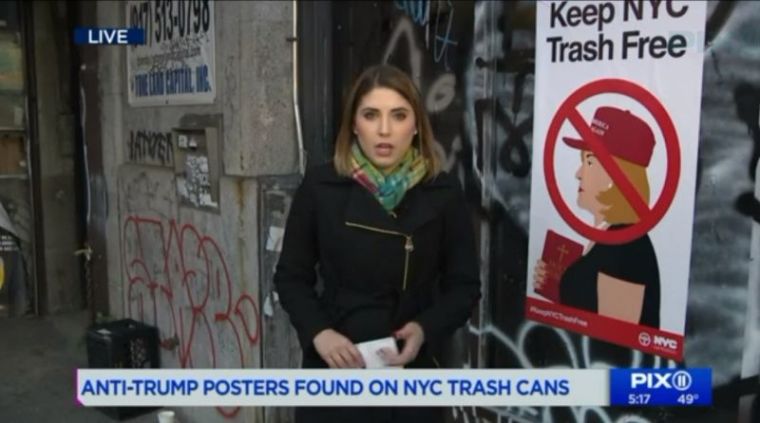 Artwork masquerading as city posters have gone up in New York, with captions referring to Bible-believing Donald Trump supporters and Chick-fil-A customers as "trash."
PIX11 reported on several such posters that have been put up across New York, stamped with the NYC Department of Sanitation logo and featuring the headline "Keep NYC Trash Free."
One such poster features a white woman holding a Bible with a Christian cross, and wearing a red "Make America Great Again" hat in support of Trump.
Another is a man also with a red MAGA hat, holding a Chick-fil-A cup in his hand, sporting a Confederate flag tattoo on his arm.
The NYC Department of Sanitation explained in a statement that it is not behind the posters.
"These posters were not created or issued by the Department of Sanitation, and we do not condone unlawful defacement of City litter baskets or public property. We are looking into this matter," the department stated.
Winston Tseng, a resident who has been putting the art up on his Instagram page, also clarified that he is not the artist behind them.
"For the record, I didn't create or put up these posters. But if I did, I wouldn't want people to take them so seriously, since they're meant to reflect certain parts of our society and not meant to generalize beyond those," Tseng told PIX 11.
"I'd just want the intended audience of my fellow 'classist elitist New Yorkers' to hopefully be entertained by the 'unhelpful, tone-deaf message' as they go about their day in this trash filled liberal bubble," he added.
The level and nature of American Christians' support for Trump has been the subject of much debate and analysis.
A CBS News poll from back in July found that the U.S. president enjoys notable support from white evangelicals, with as many as 41 percent of respondents in that category declaring that they back Trump regardless if he delivers on the policies that matter to them.
In contrast, 17 percent of white evangelicals said that they are "strongly against Trump, period."
Others were more conditional in their views, with 29 percent stating that they back Trump now, but that he has to deliver what they want to maintain that support; while 13 percent said that they oppose the president, "but could reconsider him if he does a good job."
Chick-fil-A has meanwhile found controversy due to the Christian beliefs of the company's owners, in particular the perceived opposition to LGBT causes. In April, a New Yorker article argued that Chick-fil-A's "arrival here [in New York City] feels like an infiltration, in no small part because of its pervasive Christian traditionalism." In June, Twitter CEO Jack Dorsey apologized for initially saying that he enjoyed a Chick-fil-A meal, after LGBT activists asked him whether he would also give free publicity to gay rights groups.