Biden admin. has de-prioritized religious liberty, 'disowned that work': Mike Pompeo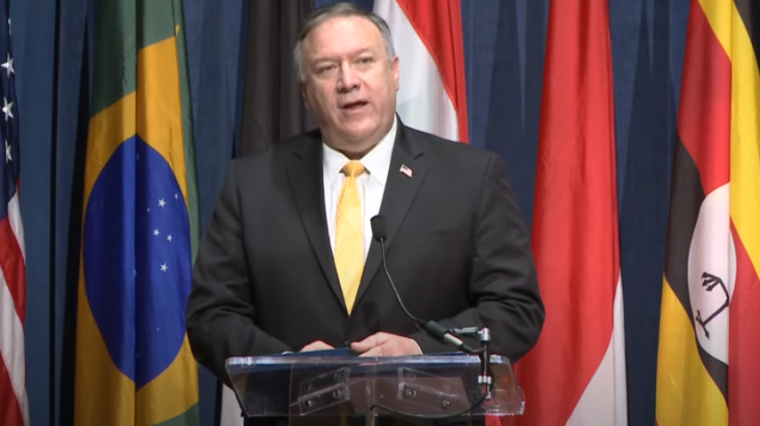 Former Secretary of State Mike Pompeo expressed disappointment at the Biden administration's failure to emphasize religious freedom and what he described as disowning the "glorious work" of the Commission on Unalienable Rights established under former President Donald Trump.
"For four years, the Trump administration and the State Department, when I was leading it, placed a real premium on working around the world to promote religious freedom," said Pompeo in an interview with The Christian Post.
Promoting religious freedom leads to more prosperous countries and stronger American freedom, he stressed.
"We think it's important as an independent right, but we also know that where religious freedom is expanded, countries are often more prosperous and the people there are often more secure from their government. So we always thought it was important to get that right, as an American matter, to secure American freedom, but also to secure freedom for peoples all around the world," he added. 
Though the promotion of religious freedom was a priority during the Trump administration, Pompeo said he's noticed the issue has become less critical under the Biden.
For example, while Secretary of State Antony Blinken highlighted China's persecution of Uyghur Muslims, he made no mention of religious persecution in other countries, such as Nigeria, during a press conference on the annual human rights report earlier this month. 
Travis Weber, vice president for policy and government affairs and director of the Center for Religious Liberty at the conservative Christian advocacy organization the Family Research Council, told The Christian Post in an earlier interview that while he was pleased to hear Blinken mention the Uyghurs, " ... there's also persecution of Christians in China ... and North Korea." 
"The situation of many Muslim-majority countries around the world, including Iran, is very dire," he added. "Christians are being slaughtered in Nigeria almost weekly, it seems, and there is no mention of that. So when we look at the horrific atrocities and human rights violations going on around the world, religious persecution is among them, and it's totally disappointing that he's not highlighting that [in his remarks]."
International Christian Concern, a watchdog group that documents instances of religious persecution worldwide, also criticized the administration for failing to emphasize religious liberty abuses and faith-based persecution.
"We at ICC welcome the progress that the State Department has made on promoting religious freedom and human rights around the world," Matias Perttula, director of advocacy for International Christian Concern, said in a statement. "However, we remain concerned whether the Biden administration is still committed to putting religious freedom as a central principle in the United States' foreign policy priorities. ..."
According to Pompeo, one of the ways the Trump administration promoted religious freedom was through the revitalization of the annual human rights report to emphasize religious freedom abuses.
"Our annual human rights report is something that had lost its way, and sadly, I think it's returning to where it was," Pompeo said. "It had a requirement when I was leading the State Department, and Governor and Ambassador Sam Brownback was our ambassador for religious freedom, [to] highlight religious freedom abuses around the world. To call out those nations that were performing in a way that it was inconsistent with what we know to be every human being's right."
Pompeo also lamented that Blinken has virtually dismissed the religious freedom-promoting Commission on Unalienable Rights, which was established during his tenure. 
"I have watched this administration de-prioritize this issue [of religious freedom]," Pompeo said. "We created something called the Commission on Unalienable Rights to look at the human rights conditions for people around the world and how American diplomats ought to execute that mission around the world. They have essentially disowned that work, which was glorious work."
"I've watched this administration walk away from [this work]," Pompeo reiterated. "I regret that."
In an op-ed published in Newsweek on April 9, Calista Gingrich, former ambassador to the Holy See under the Trump administration, said the Commission was created as an advisory group for then-Secretary of State Mike Pompeo, and had a "charter stating that its task was 'not to discover new principles, but to furnish advice to the secretary for the promotion of individual liberty, human equality, and democracy through U.S. foreign policy.' The charter also specified the Commission's advice must be 'grounded in our nation's founding principles and the 1948 Universal Declaration of Human Rights.'
"However, Blinken disbanded the commission amidst liberal criticism that it was a mechanism to 'promote...evangelical Christian beliefs and conservative politics,' and to establish a "hierarchy" of rights," Gingrich added. 
During his time as secretary of state, Pompeo said religious freedom was prioritized and advanced around the globe.
"We did so many good things in so many places and yet there is so much more work to do," he said. "We built out an incredible human rights infrastructure supporting religious freedom," he said.
By hosting an annual Ministerial to Advance Religious Freedom for three years, the largest human rights event ever held at the State Department, Pompeo brought together faith leaders worldwide to discuss challenges in religious freedom.  
"We brought religious leaders from all across the world of nearly every faith to come to the State Department to worship, to share, to live in fellowship for a few days and to work on this problem set together to come to a common set of understanding, whether they were Christian or Jewish or Muslims or Baha'i or whatever faith they were from to come together to understand these freedoms are provided to us by God and governments cannot take them away," he said. "It was a glorious time of gathering."
The first Ministerial to Advance Religious Freedom, hosted in July 2018, brought together delegates from over 80 countries to Washington, D.C. Pompeo said at the time that the event would result in concrete steps and be "more than just talk."
The first ministerial resulted in the creation of a religious freedom task force, the "International Religious Freedom Fund" and the Potomac Declaration, a set of principles calling for global religious freedom.
Pompeo said he hopes the ministerial event continues during the Biden administration because of its importance in American leadership around the world and at home in preserving the right to practice faith freely.
Despite religious freedom seemingly being a lesser priority for the State Department under Biden, Pompeo said Christians at home and abroad must fight to promote this human right.
"It's going to take every Christian believer and all of us to continue to work hard in our churches and our towns and indeed, in our missions across the world, to promote religious freedom everywhere and always," Pompeo said.