Bill Nye Denies 'Attacking Religion' in Anti-Creationism Video
'Science Guy' Claims Creationism 'Inconsistent With Universe,' Should Not Be Taught to Kids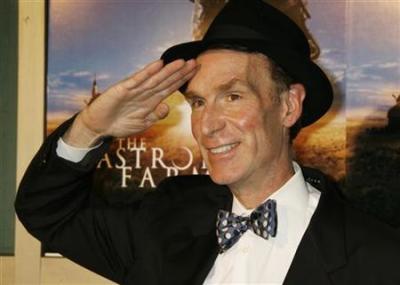 Famed television scientist Bill Nye is defending a recent video produced by BigThink.com entitled "Bill Nye: Creationism Is Not Appropriate For Children," arguing that he did not attack religion in the video, in which he says that those believing in creationism live in a "fantastically complicated world."
Nye, who gained famed by starring as "Bill Nye the Science Guy" on the popular children's show by the same name, went on "CBS This Morning" Tuesday to defend the previous comments he made regarding religious beliefs and creationism in his Aug. 23 video.
"You can believe what you want religiously. Religion is one thing, but science, provable science is something else. My concern is you don't want people growing up not believing in radioactivity, not believing in geology and deep time," Nye said on "CBS This Morning."
"[…] I'm not attacking anybody's religion, but science, if you go to a museum and you see fossil dinosaur bones, they came from somewhere, and we have by diligent investigation have determined that the earth is 4.54 billion years old. The sun is a star, like all the other stars you see in the sky, and we are made of the same stuff. This is wonderful! This is fantastic discoveries that fill me with reverence, make me excited," Nye added.
In the Bigthink.com video, Nye begins the video by saying that the "denial of evolution is unique to the United States."
"When you have a portion of the population that doesn't believe in [science], it holds everyone back really," he continues.
"Your world becomes fantastically complicated if you don't believe in evolution," he adds.
Nye, who is also a mechanical engineer, concludes the video by urging all grown-ups who believe in creationism, which is the religious belief that the universe and all human life are a product of God's creation, to teach their children about evolution.
"I say to grown-ups, if you want to deny evolution and live in your world where everything is completely inconsistent with the universe, that's fine. But don't make your kids do it, because we need them. We need scientifically literate voters and tax payers for the future," Nye says in the clip.
"In another couple centuries, [the creationism] world view […] I'm sure won't exist," he concludes.
Some groups, such as Answers in Genesis, a creationist group that believes in a literal translation of the Bible, claims in contradiction to some members of the scientific community that dinosaurs were created by God and existed along with man. The group also believes the Earth is thousands of years old, and not millions.
"As you add up all of the dates, and accepting that Jesus Christ, the Son of God, came to Earth almost 2,000 years ago, we come to the conclusion that the creation of the Earth and animals (including the dinosaurs) occurred only thousands of years ago (perhaps only 6,000!), not millions of years," Ken Ham, President and CEO of Answers in Genesis, wrote on the Answers in Genesis website.
"The Bible tells us that God created all of the land animals on the sixth day of creation. As dinosaurs were land animals, they must have been made on this day, alongside Adam and Eve, who were also created on Day Six (Genesis 1:24–31)," Ham added.
"Evolutionists declare that no man ever lived alongside dinosaurs. The Bible, however, makes it plain that dinosaurs and people must have lived together," the CEO concluded.
A June 2012 Gallup poll found that 46 percent of Americans believe in creationism, while 32 percent believe in evolution with the guidance of God, and 15 percent believe in atheistic evolution.