Billy Graham, Barack Obama, Hillary Clinton 'Most Admired' Among Americans
Gallup: Christian Evangelist Ranks Among Top 10 for 57th Time Since First Placing in 1955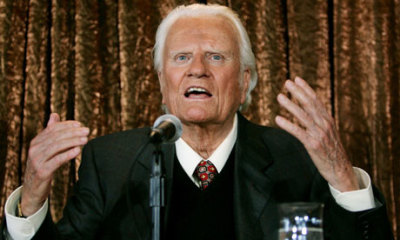 The Rev. Billy Graham has been picked by Americans for the 57th time as one of their top 10 most admired men, according to Gallup's annual survey that asks respondents to name, in an open-ended format, the man and woman from anywhere around the world who they find most admirable. Leading both lists, however, were President Barack Obama and former secretary of state Hillary Clinton.
The Billy Graham Evangelistic Association said the 95-year-old Christian evangelist was "honored" to be named among the top 10 most admired men for the 57th time in the Gallup poll's 67-year history. Graham first appeared on the list in 1955 but has never managed to snag the No. 1 spot, although he has ranked second several times.
As Gallup notes, the number one spot usually goes to the sitting president, with Obama being named by Americans as the "Most Admired Man" for the sixth consecutive year. Although 30 percent of respondents named him as their number one man in 2012, just 16 percent gave him the title this time around.
On the women's side, Hillary Clinton was the "Most Admired Woman" among 15 percent of respondents, beating out Oprah Winfrey who placed at 6 percent. Third and fourth on the list were first lady Michelle Obama and former Alaska Gov. Sarah Palin, both named by 5 percent of those polled.
While all of the women appearing in the top 10 have previously appeared on the list, the men's side saw for the first time Pope Francis, Hollywood star and activist Clint Eastwood and Texas Sen. Ted Cruz.
Gallup's results for the "Most Admired" poll are based on interviews conducted via telephone from Dec. 5-8, 2013, with a random sample of 1,031 adults, aged 18 and older from every state including Washington, D.C.
The top 10 lists for "Most Admired Man" and "Most Admired Woman" for 2013 are shown below.
Most Admired Man, 2013
Barack Obama — 16 (percentage of mentions)
George W. Bush — 4
Pope Francis — 4
Bill Clinton — 2
Rev. Billy Graham — 2
Bill Gates — 1
Clint Eastwood — 1
Ron Paul — 1
Ted Cruz — 1
Mitt Romney — 1
Jimmy Carter — 1
Most Admired Woman, 2013
Hillary Clinton — 15
Oprah Winfrey — 6
Michelle Obama — 5
Sarah Palin — 5
Malala Yousafzai — 2
Condoleezza Rice — 2
Angela Merkel — 1
Angelina Jolie — 1
Duchess Kate — 1
Queen Elizabeth II — 1