Bishop Roy E. Brown's Widow Says She Was Promised $2.5M Church House, 'Traumatized' by Eviction Notice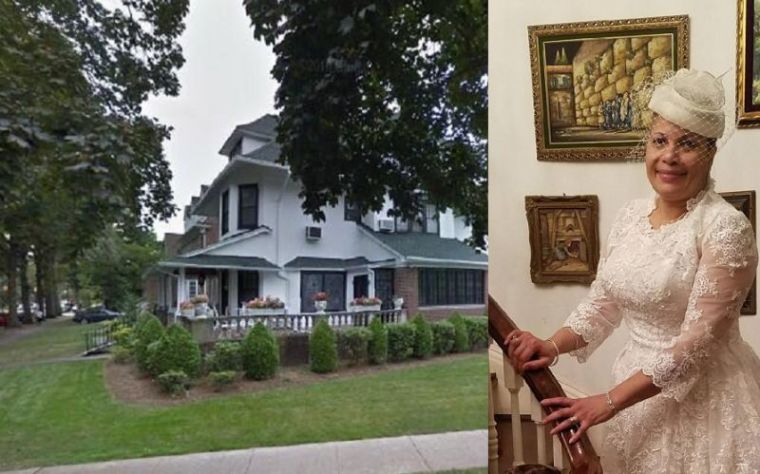 NEW YORK — Paula Scarlett-Brown, the widow of Pilgrim Assemblies International founder Archbishop Roy E. Brown, says she has been "traumatized" by the manner in which she was asked to leave the $2.5 million church-owned house her late husband once promised would be hers.
The widow broke her silence Tuesday for the first time since she was served a 10-day notice on Aug. 15 to vacate the $2.5 million home she shared with her late husband for more than two decades in Flatbush, Brooklyn. The house is owned by Pilgrim Baptist Church.
Speaking in an interview on "Larry Reid Live," the soft-spoken Scarlett-Brown said while she doesn't intend to fight the church for the house, she wasn't happy with the way she was asked to leave via an eviction notice that was placed on the front door of her residence.
"I was shocked, I was disappointed, I was traumatized. I couldn't believe it. I was like, what is this?" she told Reid about her initial reaction after finding the eviction notice stuck to the front door of the house.
Scarlett-Brown said on Aug. 6, about two months after her husband died, the church requested a meeting but then backed out of it when she appeared with an attorney. The board of Pilgrim Baptist Church then went on to meet on Aug. 12 and no one indicated that they needed her to leave immediately.
She said that prior to the posting of the eviction notice, she had also been attending weekly services at the Brooklyn church led by Pastor De΄Bora Annette Crowe.
"They had plenty of days to share with me [to say] we need you out. ... I thought it would have been more compassionate and more humane to take me aside and say, 'you know what Paula, we need you to move out of the house as soon as you can.' But it would have been nice to say, 'stay there as long as you can.' But I didn't get either one. I just got a letter in the door," the widow said.
She said her late husband, whom she was married to for 23 years until his death on June 2, had publicly promised that the house would be hers in the event of his death.
"In the beginning of the marriage he did stand in the pulpit and tell the people: 'If something happens to me, Paula gets that house. My wife is taken care of. No one has to take care of my wife. I've got it. My wife gets the house.' If you talk to several of the congregants they will tell you that. That's not made up," said the widow who is Brown's third wife.
She revealed that Brown, who was 20 years her senior, became ill in 2005 and eventually lost both of his legs and she became his caretaker after she had served for a time as a stay-at-home wife at his request.
Scarlett-Brown alleged that sometime in 2016, after certain members of the church spread rumors that she was having an affair, her late husband transferred the house to the church and officials warned her then that if he died she would have 30 days to get out.
"I don't know what happened in 2016. There were people that were telling my husband all kinds of things and allegations and innuendo, and causing all kinds of discord amongst us as a couple as well as among the brethren," she said.
She denied the rumors that she was unfaithful to the bishop and said she was cleared of abuse allegations that surfaced while her husband was alive.
"Someone reported me to APS for adult [abuse.] I have been cleared of all charges. I am not an adulterer. I did not take his money," she said.
"Do you even think about why he had a third wife? Because these people [church members] have been doing this all along to fill his head with nonsense. But he was well then and he just moved on. Now he is ill and he's being told his wife is fooling around. ... I have been by his side. I even took care of his aunt who had a stroke and she lived with us for a while," Scarlett-Brown said.
The widow's niece, Tonya Joy Bolton, sparked the debacle over her pending eviction when she posted a copy of the notice that was delivered by the church. Bolton asked for prayers on Friday and worried publicly that her aunt could be "made homeless" by the board's actions.
Pilgrim Church officials directed The Christian Post to their attorney, Monte Malik Chandler, on Wednesday for a response to Scarlett-Brown's interview. Chandley wasn't immediately available when contacted.
He previously told CP that both Scarlett-Brown and her late husband enjoyed significant assistance from the church and noted that the widow knew well in advance that she was required to leave the house.
"The church recognizes wholeheartedly their duty to widows and orphans, recognizes their duty to do justice to love mercy and walk humbly with their God. But they also need to balance that with the notion of being good stewards of their time, their treasure and their talents. And I think at the end of the day, the reality of the circumstances are that the church has been extremely magnanimous and kind to both Bishop Roy Brown and deservingly so and they also have been extremely kind to his wife," Chandler said.
Chandler revealed the Scarlett-Brown is the sole beneficiary of a $100,000 life insurance policy that was paid for by the church and said that she also received additional payments from the church but did not get into specifics.
"I knew I wasn't getting the house after that meeting in 2016 and I still took care of my husband. I still wiped his butt, he never had a bed sore, his skin was never broken. All of the charges they put on me was cleared. The bishop was fine ... he didn't call anybody to take him from me because he was sick of me," the widow said.
"The issue was the letter went in the door for the public to see. I'm in the house. OK. I'm gonna move. I'm not begging for anything because I believe the Lord will supply my every need. ... Bishop gave me the house and then he took it away," she said.
Darlene Gray, a member of Zoe Ministries led by Bishop E. Bernard Jordan and Pastor Debra Jordan, also told Reid that the ministry had been privately supporting Brown's widow financially and argued that she is not being treated fairly by the church. Gray also noted that there was tension among some members of the Pilgrim Assemblies stemming from the widow's pending eviction.
"My archbishop and my pastor, Lady Debra Jordan, have been giving her money privately. ... The decision to separate shows that there are people who are not in agreement with doing the right thing and that is why my archbishop, who I honor and respect, made the decision to separate, because he will not be a part of anything where women are abused," Gray said.