Bishop T.D. Jakes Aims to Help Others Find Their Purpose in Life by Revealing His Life Experiences in New Book, 'Destiny'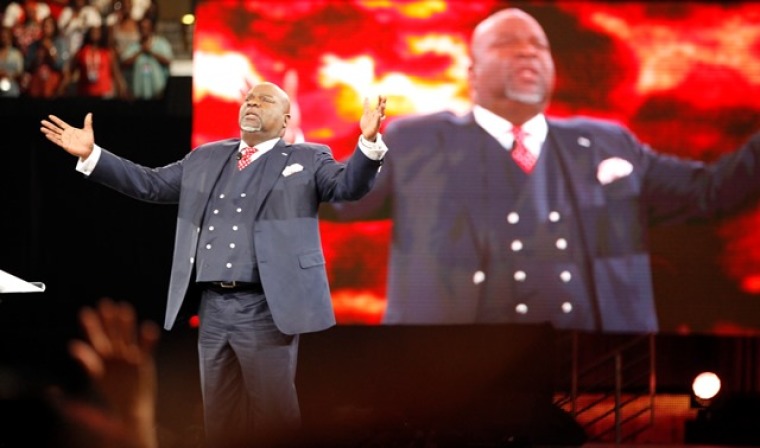 Bishop T.D. Jakes, the head of The Potter's House megachurch in Dallas, will release a new book titled Destiny next month in which he shares his personal experiences in an effort to help others to find their purpose in life.
Speaking with DallasWeekly on Wednesday, Jakes said Destiny will help readers overcome the difficult situations they find themselves stuck in, as well as provide encouragement to people who are going through significant changes in their lives.
Jakes also spoke about his upcoming television series that will start airing next month which is designed to help people overcome the daily struggles of life and work through challenging relatioships.
"I've done this same thing with Dr. Phil and Oprah, just helping people find their way out of those quagmires they find themselves stuck in sometimes. Now I get to do it on my own and have full creative control of how it is structured," said Jakes to DallasWeekly.
Jakes has also been featured on the WE tv reality series "Braxton Family Values" where he encouraged the feuding family of singers to stick together.
"The [toxicity] is nauseating. If you were my daughters, I would go ballistic. They'd have to cut the cameras off," said Jakes to Toni, Tamar, Trina, Traci and Towanda Braxton during a recent episode of the show.
"This is a disgrace to all of the millions of people of color who idolize you, who wish their family could get out and to get along enough to get a shot like you guys. And to see you climb all the way up here and talk to each other like this. It hurts us in places beyond your family."
He continued: "You're spoiled. You're flat-out spoiled. I deal with people who have real problems — people who are losing their limbs, who need a kidney transplant — and those families go through that with more dignity than you can go through who stood on stage?" added Jakes.
After expressing disgust over their recent behavior, Jakes used the power of gospel music to bring the Braxton sisters together. He asked them to sing something for him and they followed by performing an A Capella version of the Lord's Prayer together.
The performance brought their mother, Evelyn Jackson, to tears and elicited an inspirational response from Jakes.
"That's what families do," said Jakes to the Braxton sisters. "We can laugh and love, and lift each other up. That's how we survive. You can't stop doing that. I don't care who did what. You're still family."