Bishop T.D. Jakes Misses Last Day of MegaFest for Emergency Eye Treatment; Evangelist Joyce Rodgers Fills in to Preach Powerful Message on Genesis 22: 1-5
Bishop T.D. Jakes Misses Last Day of MegaFest for Emergency Eye Treatment; Evangelist Joyce Rodgers Fills in to Preach Powerful Message on Genesis 22: 1-5
Bishop T.D. Jakes, the visionary behind the behemoth of a conference that is MegaFest, was a not able to preach on its final day for a Sunday worship service due to an eye irritation that needed immediate medial attention.
Jakes, who was scheduled to preach at the American Airlines Center in Dallas, Texas, for MegaFest's Sunday service, was predisposed and replaced by evangelist Joyce L. Rogers who gave the final sermon to close out this week's festivities.
The Potter's House Church head's absence was announced by the service's host, Cynthia James, who informed the thousands in attendance about his condition.
"[Bishop Jakes] has been told that he has a serious eye irritation with a good prognosis," said James to the MegaFest crowd on Sunday. "Imagine how torn he is. We're having a victory shout and he's trying to get to the service, but his problem demands immediate attention to his eye."
"It is ill advised for him, even though he's planning to preach and has his word in his mouth, to be in this setting with all these bright lights and we want what's best for the man of God. He's probably fighting himself to be obedient so that they can do the eye treatment. It demands immediate treatment, but it's not something we expect any lingering effects from."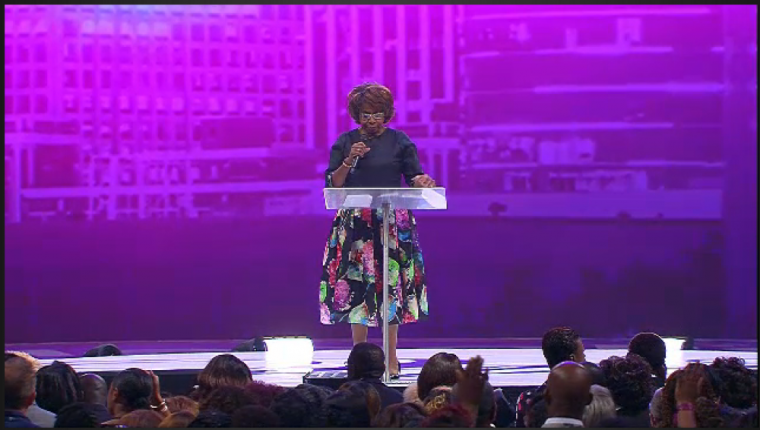 James encouraged the crowd before announcing Joyce L. Rodgers as the replacement for Jakes.
After some praise and worship delivered by gospel singer Anthony Brown, Rodgers took the stage and delivered a message that persuaded a roaring Mega Fest crowd to prepare to receive the miracle that God has for them.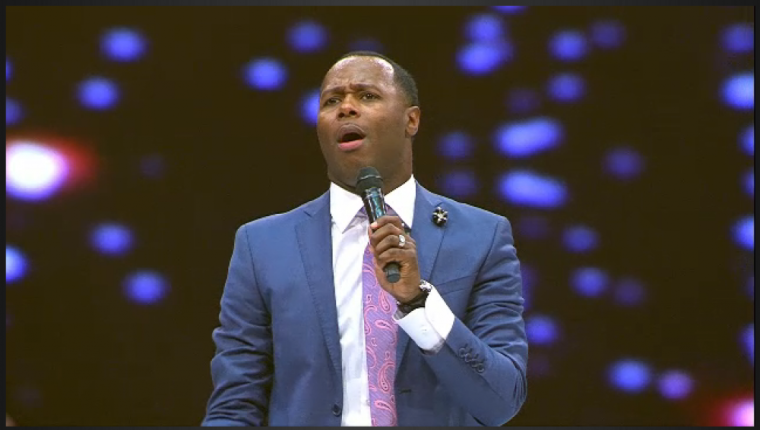 Filling Jake's shoes was no easy task and Rodgers made sure to let the crowd know that before she began her message.
"I am honored and scared to death to be here," confessed Rodgers. "I want to celebrate Bishop Jakes."
She also adopted Jake's trademark "get ready, get ready, get ready" chant to prepare the crowd for her message.
Rodgers used the story of Abraham found in Genesis 22: 1-5 to teach on how to prepare yourself to receive the miracles and blessings God has for you.
"The enemy wants to stop you from being the person you were made to be," declared Rodgers. "I believe it's your time to position yourself for a miracle."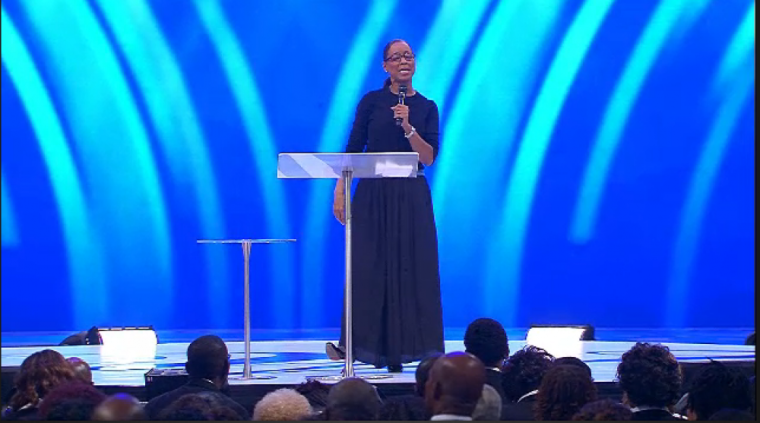 Rodgers explained God's promise of a son to Abraham, known then Abram, which came at a time when the great biblical patriarch's wife Sarai was barren. This is when God showed up and vowed to do the impossible: give Sarai and Abram a son.
The final service for MegaFest also included a special presentation that highlighted the work of St. Jude's Hospital, and featured a testimony from a woman whose grandson was diagnosed at 17-months-old with bilateral retina blastoma which is a form of cancer that affects the light detecting tissue of the eye.
Thanks to the care of St. Jude's Hospital, a place the woman felt her family was directed to by God, the boy, whose name is Phoenix, can see out of both eyes and may even have 20/20 vision, according to a recent report from his doctors.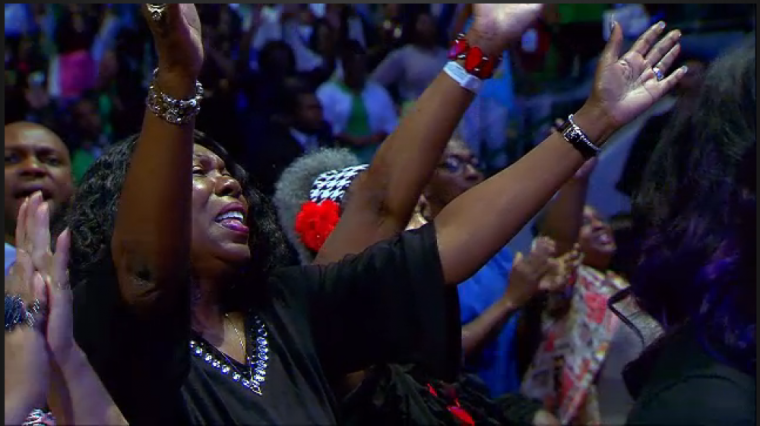 Healing was a recurring theme throughout the morning that began with Arch Bishop N. Duncan Williams.
Williams opened up the service with a time for miracle healing and testimony. He called many people in the crowd up to the main stage to testify of what miracles they have had in their life recently.
One woman said God shrunk a cancerous tumor in her breast. Another mother said her 5-year-old son, who had never spoken, had finally begun to talk during recent months.
Williams ended his time by stressing the importance of prayer.
"It's not how many hours, but the consistency," said Williams, while telling the crowd to make sure to spend time with God during each part of the day on a regular basis.
MegaFest is a five-day Christian conference headed by Bishop T.D. Jakes that features actors, singers, comedians, chefs and prominent Christian speakers.
This year's event featured Hollywood producers Mark Burnett and Roma Downey, director and actor Tyler Perry, comedian Sheryl Underwood, rapper MC Lyte, and speakers Joyce Meyer and Christine Caine,among others.
Dallas might also be the host city for MegaFest 2017 and has been preselected as a contender for the family-friendly event two years from now.