Black Friday Shoplifter Death and Other Past Shopping Sales Incidents: The Worst Ever?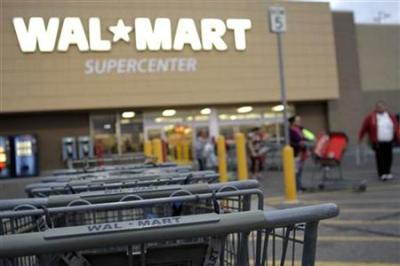 A Black Friday 2012 shoplifter's death is being touted as one of the worst incidents to hit Black Friday in the history of the mega shopping day. Black Friday has become known for extreme incidences where shoppers fight and people are injured as super deal seekers stop at nothing to get their hands on the best sales items in America's stores on the busiest shopping day of the year.
This year's seemingly most extreme incident occurred at a Walmart in Lithonia, Georgia where is appears an alleged shoplifter died after being detained by store employees. It has been reported that the unidentified man was allegedly attempting to steal two DVD players from the Walmart and had walked out the store with the electronics goods without paying.
However, he was followed out by Walmart employees, and it has been claimed a fight ensued. The man was allegedly put into a choke hold as he attempted to fight employees, but the extreme methods used to subdue and detain the suspect ultimately caused his death. When police and the ambulance arrived, the man was unresponsive and bleeding from his nose and mouth. He was taken to the hospital, where he was pronounced dead.
"No amount of merchandise is worth someone's life," said Walmart spokesperson Dianna Gee in a statement. "Associates are trained to disengage from situations that would put themselves or others at risk."
"That being said, this is still an active investigation and we're working with police to provide any assistance," she added. Walmart put the two employees on paid leave and fired the security guard.
"This is truly a sad situation," Gee said. "We don't know all of the facts right now. We're in the process of working with law enforcement to determine all of the facts and cooperating and providing any information we have to assist in the investigation."
Blogger HanSolo72 has said, "This is ridiculous. Over a few cheap DVD players? This is the worst incident I have heard happen over Black Friday shopping. Horrendous!!"
There are numerous extreme cases of Black Friday shopping incidents over the years, with one of the most extreme happening just last year in 2011.
That incident also took place outside a Walmart, but this time in Los Angeles. A 33-year-old woman was accused of pulling out pepper spray on other shoppers so that she could subdue them and beat them to the best deals as hundreds pushed to get inside the store. According to police, the women started spraying the pepper spray when some items of interest were unveiled.
The pepper spray incident was widely reported on, with scenes of chaos described, as people started screaming, falling on the floor, and bumping into one another as they were blinded by the pepper spray.
"I guess what triggered it was people started pulling the plastic off the pallets and then shoving and bombarding the display of games," witness Alejandra Seminario said in an interview with the Los Angeles Times. "It started with people pushing and screaming because they were getting shoved onto the boxes."
In yet another Walmart incident, this time in 2008, a stampede by shoppers caused the death of one Walmart employee.
The 34-year-old worker was killed in Valley Stream, N.Y., when thousands of shoppers rushed through the doors when it was opened at 5 a.m. to begin the shopping spree.
Security vides showed the employee being knocked down as the doors opened, then trampled by hundreds of shoppers rushing into the store.
"This was utter chaos as these men tried to open the door this morning," Nassau County police Detective Lt. Michael Fleming told CNN. "Shoppers ... were on a full-out run into the store."
The incident also caused minor injuries to a number of shoppers, including a pregnant woman who required a visit to the hospital, and must go down as one of the most extreme cases of Black Friday shopping incidences.
In another 2010 incident, this time at a Toys R Us, one Wisconsin woman cut in line as hundreds waited to get their hands on the sales deals. The 21-year-old woman was confronted by other shoppers, about cutting and an argument ensued. Tensions reached spilling point when the woman threatened to pull out a gun and start shooting everyone. She was arrested and charged with disorderly conduct.
The woman tried to justify her threat to CNN at the time, saying: "Everybody was cutting in line. I just wanted to get my daughter the toy that she wanted for Christmas, which probably won't be there when I go today."
Police later confirmed that no gun was found at the scene.
Also last year at a Phoenix, Ariz., Walmart, a grandfather was left covered in blood after police accused him of trying to shoplift.
According to reports, the grandfather was seen putting a video game down his pants. Police said he was walking toward the front door when an officer knocked him to the ground with a leg sweep.
Footage of the horrific incident hit YouTube, and the man can be seen lying on the floor in a pool of his own blood. The grandfather was with his grandson at the time, and the grandmother afterwards said he was just trying to keep his hands free to protect his grandson from the stampede of shoppers in the store.
Black Friday Shoplifter Death