Thriving Black Megachurch, Struggling White Church Merge to Launch New Church Plant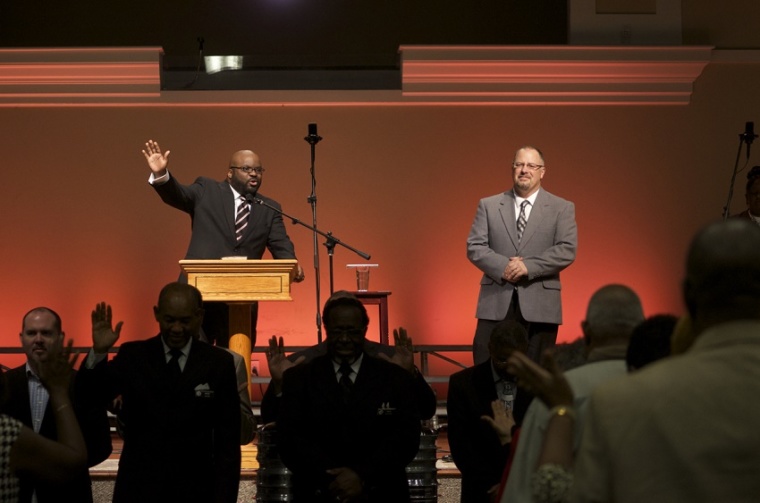 In a time of intense racial tension in the U.S., a megachurch congregation of predominately black members at a thriving Shiloh Baptist Church in Jacksonville, Florida, is making a powerful statement by merging with a struggling predominately white church to launch a second church 22 miles away from its current downtown location.
Shiloh Baptist, led by Pastor H.B. Charles Jr., is merging with Ridgewood Baptist Church in Orange Park, pastored by Michael Clifford. Charles told The Christian Post that it was in "the providence of God" that the merger took place during such a racially charged moment in the nation's history.
"Just a few weeks ago, we were wrestling with the fact that no one really knew what was taking place," Charles, 41, said. "In the providence of God, He's the kind of a God that knew that for us. We are excited that our actions are making their own independent statement for Christ in the midst of all of the racial tension that's in the news these days."
Shiloh Baptist in Orange Park is scheduled to launch on January 4. Pastor Charles explained that the movement towards a merge began when his church was given information from the Jacksonville Baptist Association that Ridgewood Baptist Church was on a list of churches that were financially hurting.
"We here at Shiloh Downtown had been praying about launching a church plant in our city," he said. We landed on the Orange Park area of our city," he said. "We began with their leaders talking about taking responsibility for that facility that they were losing because of financial reasons. In the midst of that the opportunity to join whatever work we began there started happening.
"Rather than (Ridgewood's) membership relocating to another place, we began to talk about us working together to reach the area of Orange Park and those discussions progressed until we've gotten to this point of a merger between two congregations."
Charles said the process started with his church's desire to expand its gospel reach in its city.
"We heard the interest of the Ridgewood members to join in the new work, [and] our congregation was all the more excited about having partners in this process," he said. "We were excited about the fact that our church, being a predominately black church, and the Ridgewood church, being predominately a white church, to come together and work together and have a new witness in our city for Jesus Christ and all of the racial tensions here and around our country."
Charles has been a pastor at Shiloh for six years and said it has always been his heart's desire that his congregation be more racially diverse and multi-cultural. "It was one of the reasons as well that we wanted to plant a new church in our city to help aid in that process. We just view this as God doing beyond what we could ask or think," he explained.
When asked about why some churches appear segregated, he said, "People in churches have the tendency to assemble and join where they feel most comfortable and that can be in reference to the musical style, not just necessarily racial matters. It also includes music, programs, facilities, size, and unfortunately race.
"Churches in our day need to be more intentionally and strategically work to go beyond our comfort zone, whatever it may be and especially in terms of racial matters so that the church can truly be light and salt as Jesus called us to be in the times that we live in. It's needed."
When asked about whether he is talking about the Michael Brown case and protests around the nation from the pulpit, Charles, who is originally from Los Angeles, said, "We have been doing more praying than talking. The statements that we have made have just been to challenge our people to put your hope in God and not in man.
"Our conversations have been shaped by the reality our church is in, more than the Michael Brown situation, we are in the midst of God forcing us to put our money where our mouth is about this as we endeavor to merge our work with a predominately white congregation."
He added, "The whole matter [surrounding the Michael Brown case] is tragic and we grieve over the loss of a young life and for the incident that we don't know the details of, but caused the officer to feel threatened to take the actions that he did. We are also as troubled as we look at all of the resulting aftermath in Ferguson and around our country where there is violence and hurt and anger. It emphasizes for us the importance of pointing people to the Lord, Jesus Christ who is our peace, says Ephesians 2:14-18."