Black Pastor: Gay Marriage Issue Will Increase in Importance in November Election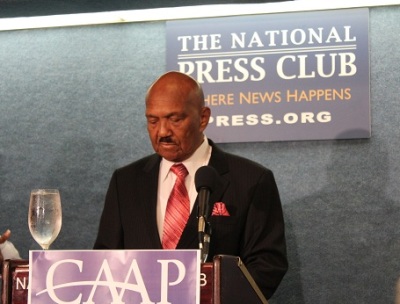 WASHINGTON – A black pastor who is part of a conservative group that announced the launching of a nationwide effort against President Barack Obama's support for same-sex marriage has stated that the issue is "only going to increase" in importance.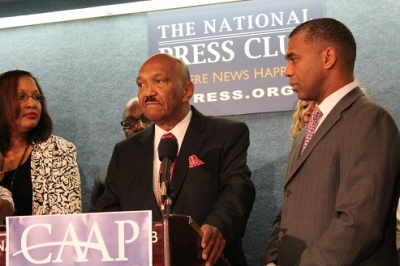 The Rev. William Owens, Jr., head of the "Mandate for Marriage" initiative and son of the Rev. William Owens, Sr., the founder and president of the Coalition of African-American Pastors (CAAP), told The Christian Post about the growing importance of the issue at an event on Tuesday.
"It's only going to increase because the very core of America is founded upon Judeo-Christian beliefs. That's debatable to some people but you can't do away with history," said Owens, Jr.
"When you begin to take on those core values you begin to take on what's the core for America. So when more and more begin to realize what is getting ready to happen, it's going to have to become an issue if we want to save our country."
Owens, Jr., made these remarks while part of a press conference held by CAAP at the National Press Club in D.C. The Rev. Owens, Sr., gave the opening remarks and answered questions from the audience.
"The time has come for a broad-based assault against the powers that be that want to change our culture to one of men marrying men and women marrying women," said Owens, Sr.
Other speakers at the event included Bishop Janice Hollis, presiding prelate for Covenant International Fellowship of Churches in Philadelphia; Bishop Charles G. Nauden of Holyway Church of God in Christ of Southern California; and the Reverend Dean Nelson, vice chairman of the Frederick Douglass Foundation.
During the question-and-answer segment, one woman in the audience asked the Rev. Owens Sr. about what God believes about polygamy and slavery, to which Owens Sr. responded that those were not topics of the press conference. Another in the audience, a young man, questioned Owens, Sr. about his statement that President Barack Obama supported pedophilia, asking him to provide evidence of this. Owens, Sr. replied that he did not believe Obama supported pedophilia, but that rather by supporting same-sex marriage Obama was making it easier for pedophilia to become more socially acceptable.
The press conference comes the day after sources in the Democratic Party confirmed with news sources that the party platform will include an endorsement of same-sex marriage when the full committee meets on August 10. The National Democratic Convention, Sept. 4-6, will be held in North Carolina, the most recent state to add an amendment to its state constitution banning same-sex marriage.
"I don't think that we had any issues that were controversial," said one committee member, as reported by Politico. "I think we were pretty much in sync and in agreement with where we ended up."
Regarding the possibility that the DNC platform could add support for same-sex marriage to the platform, Owens Jr. told CP that it would benefit social conservatives more than gay rights advocates.
"It's going to work together more for our benefit than theirs because when you look at the numbers, without a doubt, black Americans have unanimously come out to stand against same-sex marriage," said Owens.
"So if the Democratic Party is foolish and bold enough to believe that just because it's going to make it an issue on the platform their going to sway it, they're not going to sway it because it it's causing more and more people to stand up and say 'that's it, we're drawing a line' and so this is a good thing."
God Says Gay Marriage Wrong, Not Good for Society