Border Wall Not Christian, Illegal Immigrants Are 'Children of God,' California Gov. Says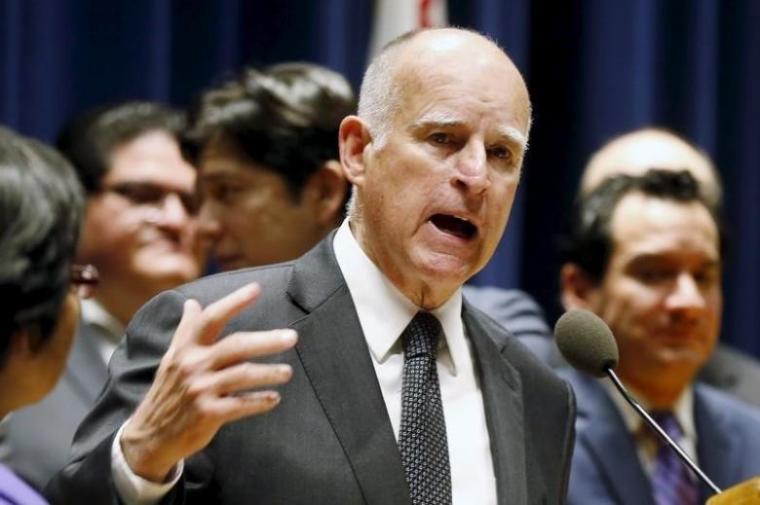 California Gov. Jerry Brown appealed to the touted Christian values of President Donald Trump and his evangelical supporters Sunday when he called undocumented immigrants "children of God" and suggested the construction of an estimated $20 billion wall along America's Southern border is not Christian.
"I don't like that wall, number one. And to the extent that that violates law, certainly I would enforce that," Brown said in an interview on NBC's "Meet the Press with Chuck Todd." "We're not going to sit around and just play patsy and say, 'Hey, go ahead. Lock us in. Do whatever the hell you want. Deport ... 2 million people.'"
The White House made an initial request earlier this month for $1.4 billion in border wall funding as part of a package that boosts defense spending by $30 billion, according to Politico. The report explained that there is even less support for the wall than Trump's failed healthcare bill, particularly if the United States is expected to fund it.
Brown who is angling to make California America's first sanctuary state, said he wants the U.S. government to do the "Christian thing" when it comes to the wall as he doesn't expect to be fighting it through lawsuits alone.
"We're not going to bring stupid lawsuits or be running to the courthouse every day. We're going to be careful. We'll be strategic. And we'll do the right human – and I would even say Christian – thing, from my point of view. You don't treat human beings like that," Brown said.
"Trump's supposed to be 'Mr. Religious Fellow,' and I thought we've got to treat 'the least of these' as we would treat the Lord. So I hope he would reconnect with some of these conservative evangelicals, and they'll tell him that these are human beings, they're children of God," he added.
New York Times columnist Nicholas Kristof also recently criticized the construction of the border wall as an endeavor that would harm from the less fortunate.
"The essence of the Trump budget released a few days ago is to cut aid to the needy, whether at home or abroad, and use the savings to build up the military and construct a wall on the border with Mexico," he said. "(Yes, that's the wall that Trump used to say Mexico would pay for. Instead, it seems it may actually be paid for by cutting meals for America's elderly and by reducing aid to starving Yemeni children.)"
While Democrats remain opposed to President Trump's border wall on a variety of grounds, former Clinton staffer Dick Morris reminded Americans recently during the 2016 election season that former President Bill Clinton built a 325-mile fence along the border between California and Mexico in 1993 with Hillary Clinton's "strong support."
In 2005, then-Sen. Clinton said she was against illegal immigration and suggested the U.S. needed to come up with a system that keeps track of them. In 2006, she joined Senate Republicans and Democrats and voted for the "Secure Fence Act of 2006."