Bowdoin College Says Gays Must Be Allowed to Join and Vie for Leadership in Christian Groups on Campus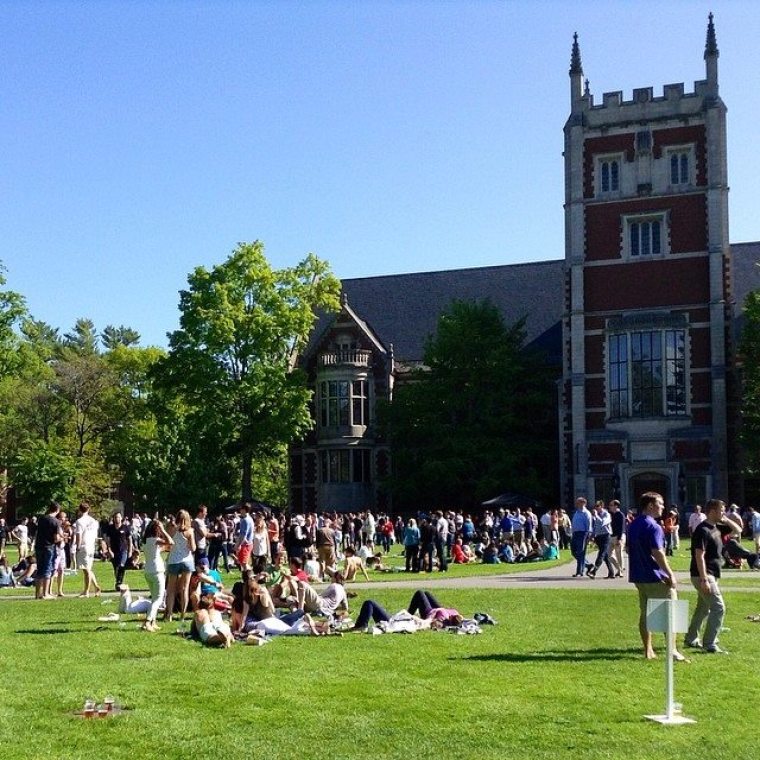 Despite claiming in a statement Tuesday that "religious freedom and spirituality are alive and thriving" on the campus, Bowdoin College, a private liberal arts school in Maine, insisted Friday that Christian groups on campus will lose their recognition status if homosexuals cannot become members or allowed to vie for leadership.
"They are discriminating and that is a violation of our policy if they were to do that. So they would lose their recognition," explained Scott Hood, vice president for communications and public affairs at Bowdoin College in an interview with The Christian Post Friday.
Bowdoin has been at the center of a tense battle unfolding across America between colleges and Christian groups on campus over bias policy since a New York Times article featured the fight between the school and the Bowdoin Christian Fellowship as a case study in a report Monday.
"In a collision between religious freedom and antidiscrimination policies, the student group and its advisers have refused to agree to the college's demand that any student, regardless of his or her religious beliefs, should be able to run for election as a leader of any group, including the Christian association," noted the Times.
In an interview with The Christian Post Friday, Robert Gregory, an attorney and volunteer adviser from Intervarsity Christian Fellowship, said Bowdoin officials told them using biblical standards to select leaders of their Christian group would be a violation of state law.
"We were told that state law would override biblical standards of leadership so the non-discrimination policy prohibited the Bowdoin Christian Fellowship and Intervarsity from discrimination from any student," said Gregory. "For example, whether they were Christian, whether they were serious about following Christian patterns of belief and practice as it related to sexuality and other matters, that there could be no discrimination made."
Gregory explained that removing biblical principles from their Christian group was not a condition they are willing to entertain to get recognition from Bowdoin.
"Our response was well, isn't that exactly what we are instructing our students every day in Christian discipleship? To make discriminating judgments about their own life, about their own patterns and practices as Christian students on a college campus? So we can't say, well, we won't be discriminating or teach our students to be discriminating on those matters that are central to Christians," said Gregory.
"I don't know whether that's an inability to understand the difference or an unwillingness to understand it or if it's simply the nature of the tension that we have between a secular view of the world and a Christian view of the world. I think that's where we are," he added.
He was also quick to point out that no one is barred in principle from gathering with the Christian group to fellowship and read the word.
"This fellowship doesn't have formal admissions standards. These are students who meet on a regular basis and invite all of the students who come," said Gregory. "Students who lead, however, have to sign a charter that expects them to follow a set of Christian behavior."
When asked why a homosexual would want to join a Christian group and continue with that lifestyle knowing that orthodox Christianity does not support homosexuality, Hood said he didn't know but Bowdoin still maintains homosexuals should have the right to join and compete to lead Christian groups if they wished.
"I don't know. They may not (wish to continue with homosexual ways), but it is their right to join, nobody is saying they get to run the place," he said.
"Members of the Bowdoin Christian Fellowship have indicated that they require their leaders to be Christian, chaste and to believe that marriage is between a man and a woman. That's their right and most likely if a student running for leadership of that group didn't hold those beliefs, he or she would not be elected as a leader. But it's up to the students. They elect the leaders they believe are suitable for them," he said.
To illustrate his point, Hood pointed to the case of a Democrat seeking to join a Republican group on campus.
"If a Democrat chooses to join the college Republicans as a member that's fine, and if that student wants to put his or her name on the ballot to seek a leadership position they should be able to do that. They are probably not gonna be elected to lead the Republicans," noted Hood.
"If we have a student organization at Bowdoin, we have over a hundred of them that are funded through student activity fees. Those organizations, in terms of membership, need to be open to Bowdoin students; that has nothing to do with who gets to lead them," he added.
When asked if the activity fees paid by Christian students did not give them a right to meet at school facilities with whom they choose, Hood did not provide a response.
As for the current status of the Bowdoin Christian Fellowship, Gregory explained that the group is now no longer recognized by the college and he, along with Sim Gregory, remain advisers to the Intervarsity Christian Fellowship at Bowdoin.
"We are still the advisers to the Intervarsity Christian Fellowship and we have a good number of students who are members of the Intervarsity Christian Fellowship. That fellowship is not formally recognized by the college as of this spring," he said.
"If Scott Hood wants to say, look, we've changed our mind, we're willing to approve this Intervarsity chapter of students as we have for the past four years, I'm fine with that. But I think it's pretty clear that they won't," added Gregory.
Gregory noted that if Bowdoin doesn't want the group on campus they will abide by that decision but the group will not stop meeting to share the word of God and fellowship simply because they are no longer physically meeting on campus.
"We were told by Bowdoin College that we could no longer be the approved advisors of a formally approved student organization," said Gregory.
"Remember, we are Intervarsity campus ministers. We report to persons who have authority within that organization. And we were instructed and permitted to continue to provide an Intervarsity chapter even if the students were not given formal recognition by the college. And we offered that to the students and 18 students signed the charter to continue next year. So absent an instruction from our campus advisers to do otherwise. We will continue to meet," he explained.