Boy Scouts Distance Themselves From Trump's Political Speech at Jamboree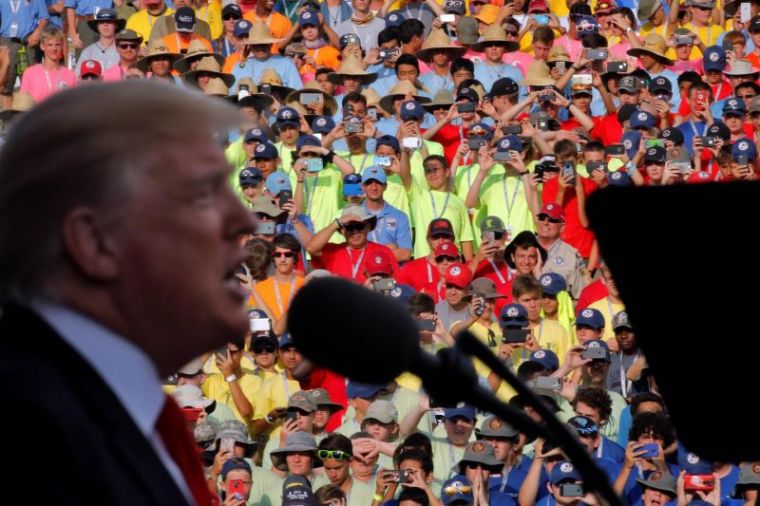 The Boy Scouts of America have officially distanced themselves from the politically partisan speech that President Donald Trump gave at their Jamboree event.
President Trump went political in his speech before the National Scout Jamboree on Monday, taking jabs at former President Barack Obama, the media, and vowing to repeal the Affordable Care Act.
In a statement released to multiple news groups Monday evening, the Boy Scouts stressed that they are a nonpartisan organization and thus do not condone the content of Trump's speech.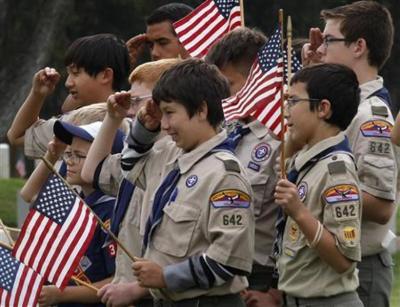 "The Boy Scouts of America is wholly non-partisan and does not promote any one position, product, service, political candidate or philosophy," stated the BSA.
"The invitation to visit the National Jamboree is a long-standing tradition and is in no way an endorsement of any political party or specific policies."
Trump addressed approximately 40,000 attendees of the Jamboree on Monday, being the eighth president to do so. The event is usually held every four years. According to the BSA, the sitting U.S. president always serves as the "honorary president" of the organization.
During his remarks, Trump spoke about "killing this horrible thing known as Obamacare" and denounced "fake media" and the "dishonest people" who said last year that "there is no path to victory for Donald Trump."
Trump also took issue with his predecessor over not giving a speech in person at past Jamborees, asking the question "did President Obama ever come to a Jamboree?"
"The answer is no," said Trump, adding that "we'll be back." According to The Hill, at one point the audience appeared to boo former President Obama.
In 2013, Obama declined an invitation to speak at the Jamboree but appeared via video message instead. Some scouts booed him at the time. 
Earlier that same year, BSA changed its prohibition on gay scouts and leaders. Trump's Secretary of State Rex Tillerson was influential in getting that policy changed when he served on the executive board of BSA in 2013. Tillerson was president of the Scouts from 2010 to 2012. 
Trump also talked about the current effort to repeal and replace the Affordable Care Act, noting that he will fire one of his cabinet members if the effort fails.
"Secretary Tom Price is also here today. Dr. Price still lives the Scout oath, helping to keep millions of Americans strong and healthy as our secretary of Health and Human Services," said Trump.
"And he's doing a great job. And hopefully he's going to gets the votes tomorrow ... By the way, are you going to get the votes? He better get them. He better get them. Oh, he better. Otherwise I'll say, 'Tom, you're fired.' I'll get somebody."
While receiving chants and applause from the Jamboree audience, many have criticized Trump for politicizing what has historically been a time for presidents to refrain from partisanship.
"In keeping with the Scouts' traditions, all eight presidents and surrogates who have represented them have stayed far, far away from partisan politics," noted The Washington Post.
"It was yet another example of Trump ignoring the custom that past presidents have dutifully observed in such public ceremonies."