Brandeis University Rescinds Honorary Degree From Ayaan Hirsi Ali Over Criticism of Islam
The Jewish-sponsored school Brandeis University in Waltham, Mass., announced Tuesday that it would withdraw Ayaan Hirsi Ali from a list of five individuals for whom it had intended to confer an honorary doctorate degree during its May commencement ceremony.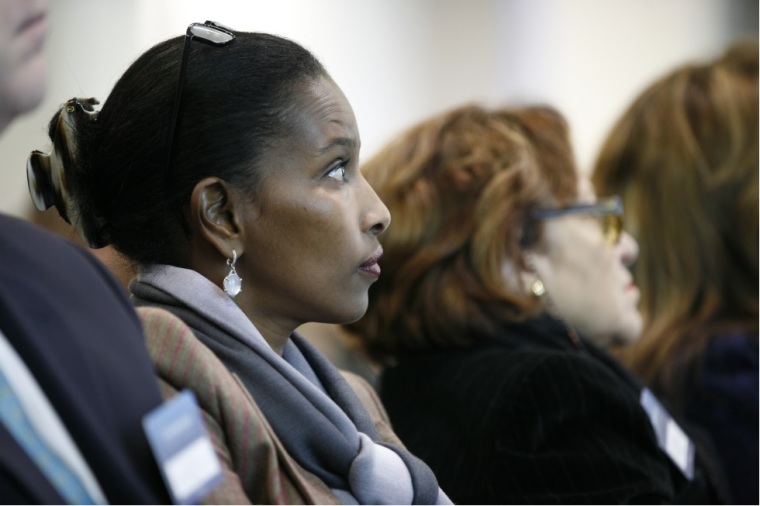 The school announced that it would be rescinding the honor after it realized that "certain of her past statements are inconsistent with Brandeis University's core values." It also noted that the university's president, Frederick M. Lawrence, had discussed the decision with Hirsi Ali and that she "is welcome to join us on campus in the future to engage in a dialogue."
The New York Times noted that while universities may frequently host speakers with controversial opinions, "awarding an honorary degree ... is more akin to affirming the body of a recipient's work."
In the eight days since Brandeis first announced its list of honorary degree recipients, one student created an online petition, which garnered more than 6,000 signatures demanding the school reverse course.
Characterizing her views as "extreme Islamophobic" and "hate speech," the student argued that petitioners were not "belittling the severity of the issues that she raises" but feel that her comments violate the mission of a school "which prides itself on social justice."
"She has her very real personal story, she has her views, and she's free to say what she'd like to say," Maya Berry, executive director of the Arab American Institute, an advocacy group, told the New York Times. "But for an institution like Brandeis to choose to honor someone like this is really disappointing."
Originally born in Somalia before she immigrated to the Netherlands, the agnostic Hirsi Ali's has frequently and caustically characterized her family's faith, noting that as a girl she forcibly underwent female circumcision and fought her family's efforts to marry her to a man against her wishes.
A fellow at the right-of-center American Enterprise Institute, in her 2009 memoir Infidel, Hirsi Ali blamed her former faith for perpetuating misogyny.
"Many well-meaning Dutch people have told me in all earnestness that nothing in Islamic culture incites abuse of women, that this is just a terrible misunderstanding. Men all over the world beat their women, I am constantly informed," wrote the former Dutch politician.
"In reality, these Westerners are the ones who misunderstand Islam. The Koran (sic) mandates these punishments. It gives a legitimate basis for abuse, so that the perpetrators feel no shame and are not hounded by their conscience of their community. I wanted my art exhibit to make it difficult for people to look away from this problem. I wanted secular, non-Muslim people to stop kidding themselves that 'Islam is peace and tolerance.'"
Hirsi Ali has also described Islam as a "mental cage."
"At first, when you open the door, the caged bird stays inside: it is frightened. It has internalized its imprisonment. It takes time for bird to escape, even after someone has opened the doors to its cage."
In 2004, Hirsi Ali, who is also a staunch supporter of women's rights, worked with the-late Theo van Gogh on "Submission." The short film showed verses of the Quran on a woman's naked body, and shortly after its release van Gogh was found murdered in Amsterdam with a note that included a death threat to Hirsi Ali.
The veracity of Hirsi Ali's accounts of her life in Somalia and the Netherlands, and the nature of her relationship with her family have been disputed, most recently in Deborah Scroggins's biography, Wanted Women.