Brian Presley and Melissa Stetten: Actor Accused of Attempted Adultery
Model Melissa Stetten has taken aim at Brian Presley with a series of live tweets which indicate that the married actor was hitting on her Wednesday.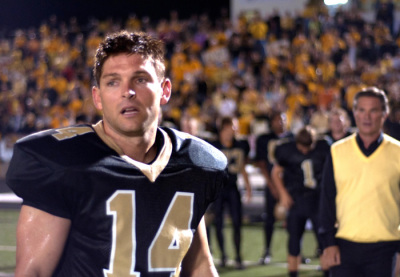 Stetten and Presley boarded the same flight when they met "by divine intervention," as Presley reportedly described it.
Presley, the star in the recent film "Touchback," has been married to actress Erin Hershey since 2002 with whom he shares two children.
According to Stetten, the 34-year-old actor proceeded to hit on her after claiming he was engaged for six months, but then broke it off.
"Brian said he was engaged to another actress but it didn't work out because they didn't 'mesh well' together," posted Stetten.
"No thanks, Brian, the actor sitting next to me on this flight talking about his role with Kurt Russell and his spiritual beliefs," wrote the model, ahead of dozens of other tweets posted while the ordeal went on.
"Brian is now talking about how he is an artist and believed everything happens for a reason, like how we're brought together on this flight," she added.
Stetten excerpted her conversation with the actor over the course of nearly 20 tweets.
"Apparently Brian is a straightforward guy from Oklahoma who booked a McDonalds commercial when he was 19 and then God took over from there," wrote the model.
Additionally, the actor admitted to alcoholism in the past and claimed sobriety in recent years, but Stetten documented that he had three Heinekens during their flight.
"Holy s---," wrote Stetten in a response to a Twitter user who provided a link to an interview where Presley explained his sobriety. "He's had 3 heinekens and is wasted. Sober? Hardly."
"Brian's been looking for the headphone jack for 10 minutes," the model continued.
The model continued to live tweet her interaction with Presley before adding, "Did I just ruin Brian Presley's life via Twitter?"
Presley starred alongside Kurt Russell in the film "Touchback" about destiny and redemption. The actor spoke to The Christian Post earlier this year about his role in the film.
"Not only did I identify with the story, I thought to myself, 'I gotta figure out how to make this movie," said the actor who founded Freedom Films.
In "Touchback," Presley portrayed Scott Murphy, a former high school football star whose promising athletic career ended after an injury during a championship game his senior year. After marrying his high school sweetheart and starting a family, Murphy struggled with his faith and is confronted with financial issues, and turns to alcohol.
"I identify with this character," he added at the time. "It had all of the elements that seems right. I feel that it is my calling, as well as Freedom Films' calling."
Presley's representatives did not immediately respond to inquiries about recent reports pertaining to his encounter with Stetten.
Brian Presley, Producer/Star of Touchback, Shares his Testimony (VIDEO)