'Bringing Up Bates' Stars Zach and Whitney Thank God for Birth of Daughter, Kaci Lynn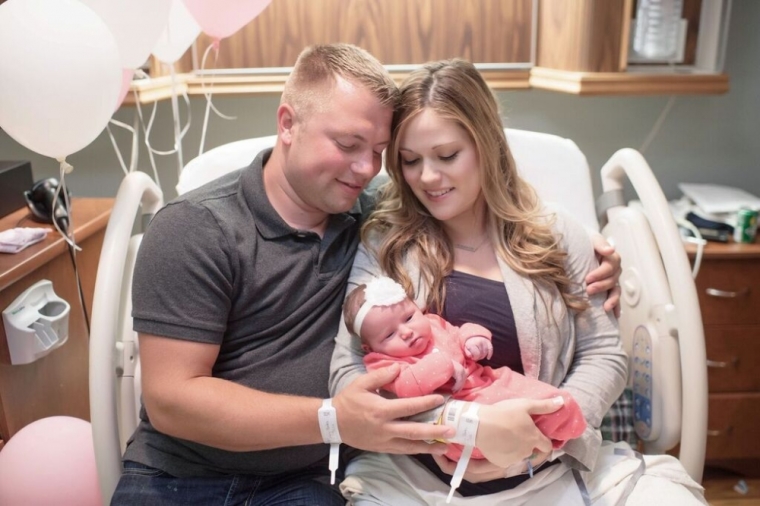 "Bringing Up Bates" stars Zach and Whitney Bates welcomed the newest member to the Bates family on Monday, a healthy baby girl named Kaci Lynn.
Born at 10:32 p.m. on June 20, their bundle of joy weighed in at 7 pounds, 8 ounces.
Zach and Whitney shared their emotional first moments with Kaci Lynn after her birth in a statment to The Christian Post:
We were overcome with emotions that just cannot be described when we saw our little Kaci Lynn and held her in our arms for the first time. We have anticipated this moment for months, yet it exceeded all of our dreams. Looking in her sweet little eyes just took our breath away. It's an incredible feeling to finally see her face and see Bradley meet his baby sister.
Shortly after her birth, Bradley joined us and our hearts melted when he leaned over to give her a kiss. We could not ask for more! We thank the many who have prayed for us and have sent sweet messages throughout this pregnancy. We also thank the Lord for His protection and His gift of our two precious children.
Since the series first premiered on New Year's Day in 2015, "Bringing Up Bates" has become the highest-rated series in UPtv's history. The reality series takes a fresh look at the ever-changing family dynamics of Gil and Kelly Jo Bates and their 19 children, aged 2 to 26, and grandchildren, including babies Carson and Kaci.
The family fun continues in season 4 as it's a time of change for the Bates family with new loves, new careers, and a new grandbaby. Many of their children are beginning to forge their own paths outside of the family and are experiencing both the highs and lows of life.
In the midst of these changes, the family is tested when family patriarch, Gil, has an emergency health scare. But through it all, they persevere and the family never falters.
"Bringing Up Bates" airs at 9 p.m. ET every Thursday on UPtv.
In Thursday's episode titled, "Sunshine State Bates," viewers see that even though Alyssa, John and Allie Jane live far from the rest of the family, they're never far from their hearts. The family takes viewers along their journey to visit the Websters in Florida to see what life is like — from their family business to their favorite pastimes. Meanwhile, expectant moms Erin and Whitney [who is still pregnant in the episode] get together with Kelly Jo to talk about all things baby.
For more information about the series, visit The Bates Family.