British Atheist Richard Dawkins Explores Sin and Morality in New TV Series
Evolutionary Biologist's 'Sex, Death And The Meaning Of Life' Series Receives Mixed Reviews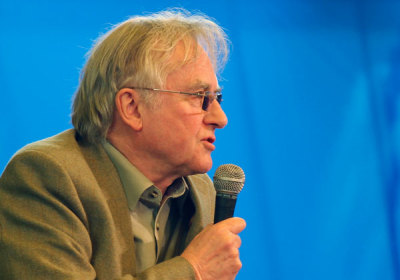 "If there is no God watching us, why be good?" poses the description on a new television series by evolutionary scientist Richard Dawkins on Britain's Channel 4. The program, running through October and taking Dawkins from a London inner-city to America's Bible Belt, examines the argument that "religion's absolutist moral codes fuel lies and guilt".
The three-part series, which is titled "Sex, Death And The Meaning Of Life" and promises to explore "what happens if we leave religion behind", has the renowned evolutionary biologist and atheist exploring how reason and science might replace religion in helping to guide human lives. "Can science bring understanding in the face of death, help us tell right from wrong, or reveal the meaning of life?" are just some of the questions the Channel 4 program plans to explore.
In the first episode made available online this week, Dawkins explores issues related to sex and the idea of sin. The episode opens with The God Delusion author declaring,"More and more of us realize there is no god, and yet religion still has a hold over us. I think ideas of saints and sinners, heaven and hell, still shape our thinking. I want to give you a scientific alternative."
"This series is not about whether God exists or not. It explores more challenging questions," he adds in the 46-minute program. "What will guide and inspire us in a world without gods?"
The episode shows Dawkins in various locales, including New York City and India, and visiting places of worship and speaking with religious figures. The Channel 4 program page adds that he also visits "a Paris plastic surgery clinic that specializes in making Muslim brides appear to be virgins once again."
The program is not presented as an objective argument exploring morality and faith, as Dawkins explains in the episode, "I'm' going to explore the power the religious idea of sin has over our lives, explain why it's unhelpful and show how we cause reason and science to find a better way to be good." He posits that the "deeper roots of moral behavior" is in humanity's "evolutionary past".
The premiere episode of Dawkin's documentary series received mixed reviews from viewers, who were encouraged to submit questions about the program on Channel 4's website.
"Dawkins does a great job approaching the subject from an secular humanist world-view which he wraps in a blanket of scientific language to give it credibility," said a viewer with the username "smileandwave". "Unfortunately the process he follows to come to some of his conclusions has nothing to do with science and often breach the rules of logic. Programs like this leave purist professors spluttering in rage at the constant drum beat of errors in reasoning however they make for great TV for the rest of us."
Another viewer, going by the name "BACKTOTHEEIGHTIES", claimed that Dawkins goes overboard in his dislike of religion.
"I am not religious myself but do believe that Richard Dawkins does go O.T.T. with his dislike of religions. He is entitled to his opinions of course but I believe some of the things he says are quite ignorant. To say that Islam is a great evil, and that Christians are deluded and stupid is IMO a bit silly and very ignorant. Islam isn't evil and in history it has done good things. Christians are sometimes very clever people such as The Pope. Also he only shows the bad religion does. He never mentions monks and priests who help sick and homeless."
"He is arrogant IMO and seems to think that if people share different views to him then they are stupid. Or maybe that's the way he comes across. As I've said everyone is entitled to opinions and as a scientist he is entitled to his opinions. As I've said I'm not at all religious but I think when discussing topics people should respect others opinions," the viewer adds.
Brenda Newman, however, disagreed, finding Dawkins' approach open-minded.
"I really enjoyed the program and find Richard Dawkins quite open minded, he doesn't 'always' look at things from a scientific approach but from a 'human' one. I remember something he said in a previous program which was...'keep an open mind but not so much that your brain falls out' good advice I think. I wonder if Paganism/Druidry etc will ever replace religion, religion all but wiped out these old ways of living could it be time for history to be reversed?"
Most viewers said they looked forward to the future episodes of Dawkins' "Sex, Death And The Meaning Of Life" series, which includes two more parts.
In episode 2, Dawkins takes a look at death from a scientific perspective, and observes a Hindu funeral pyre in India and visits a genetics lab in New York. The final episode will have the evolutionary biologist exploring the question "Why does an atheist bother to get up in the morning?", according to Channel 4.
Episode 1 of the series is shown below.