Brooklyn Megachurch Pastor A.R. Bernard Calls on Church to Develop Framework to Address Issues in the Black Community
Brooklyn Megachurch Pastor A.R. Bernard Calls on Church to Develop Framework to Address Issues in the Black Community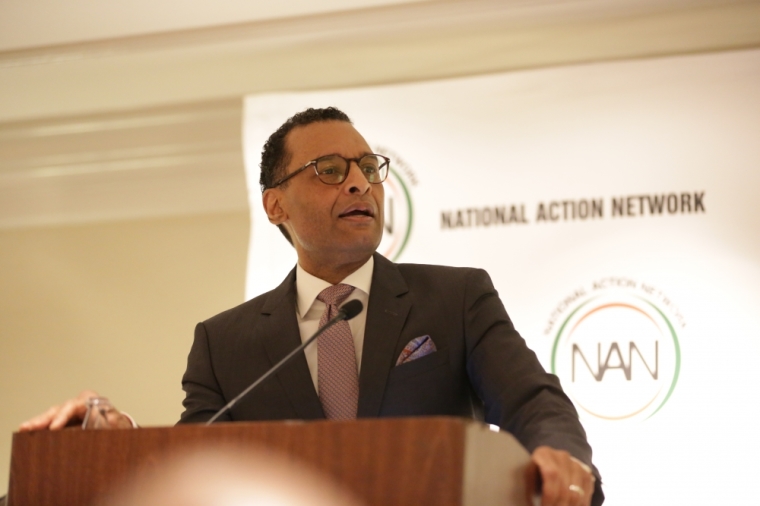 NEW YORK -- President of the Council of Churches of the City of New York and senior pastor of Brooklyn, N.Y.'s 30,000-plus member Christian Cultural Center A.R. Bernard, called on black church leaders Friday to develop a framework to address the myriad issues facing the black community in contemporary America.
Citing the historically significant role of the church in the founding of the civil rights movement, and advancing the cause of black people in America, Bernard said the framework is necessary to facilitate a more comprehensive and cohesive approach to addressing issues facing the black community today.
He made his remarks as keynote speaker at the Dr. William Augustus Jones Memorial Breakfast at the National Action Network convention held at the Sheraton New York Times Square Hotel.
"I applaud the myriad of things that are being done to deal with the symptoms within the black community. But they are dealing with the symptoms. I applaud the messages that come to stir us as we deal with the symptoms. But what we still lack if you indulge me, is a cohesive framework to address the issues in our community," said Bernard.
"A comprehensive approach that takes a look at education, that takes a look at economics, that takes a look at politics; that takes a look at all of the issues and steps back and says 'you know what? If we come together, put our minds together and create a framework that we can all agree on…,'" he posited.
"We can still do what we do, but at least we have some guiding principles to take us out into the future and not only shape and establish a black identity but to save that black identity for generations to come," he explained.
Before that however, he lamented how various interest groups have benefitted more from the civil rights movement in recent times than the black community which started the movement. He also noted that when President Barack Obama leaves the White House black Americans will perhaps be surprised at the material difference his presidency made in improving black life.
"I had the opportunity of giving the invocation of the march on Washington 50th anniversary and I appreciate that but we are going to have to have some hard questions because when I sat down from the invocation and spent the next two hours watching speaker after speaker, I listened to organization after organization, entity after entity, talking about how they have forwarded and many of them don't look like us," said Bernard.
"And yet how the civil rights movement forwarded their agenda and changed things for individuals in this country and I left there considering how many people have benefited from our movement more than we have," he said to cheers.
"When Barack Obama and his lovely wife Michelle leave the White House we are going to be forced to ask ourselves, where are we? Where are we socially? Where are we politically? Where are we educationally? Where are we economically? And I'm afraid that the answer to that question is not going to be as favorable as we should expect," he noted.
"But it's never too late. We've proven that it's never too late for us. Never too late for us because we have a resilience that is unmatched by any people in history," he said.
Listen to an excerpt of Pastor Bernard's address: