California's Rock Church to reopen for first time since COVID-19: 'We want to honor God and our city'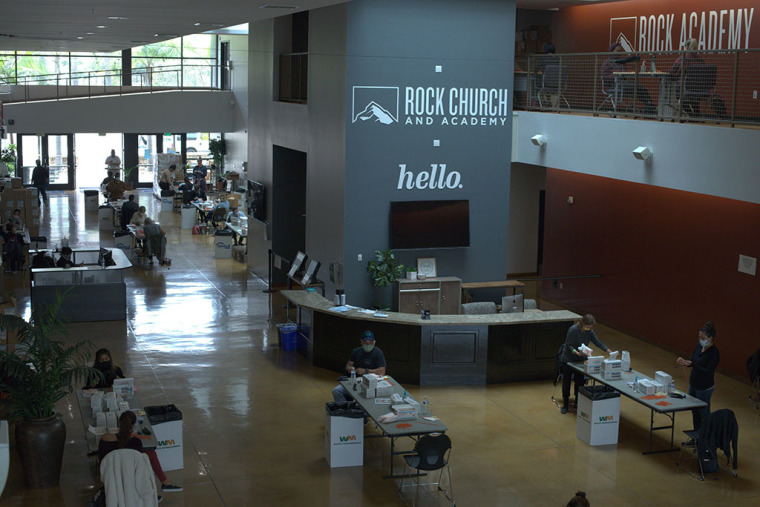 While churches across California sparred with local governments over restrictions on gathering for worship, Rock Church took another approach, focusing their efforts on ministries outside the building's four walls. 
"Rock Church has always been very dynamic in that we are multifaceted," Pastor Travis Gibson, who leads the church's Point Loma campus, told The Christian Post.
"We don't just do Sundays, but we also did blood drives, we repaired over 300,095 expired N95 masks and delivered them to responders, we have a prison ministry, and we already had people meeting in parks. We delivered clothing to families in need and had a military festival drive-thru style."
"When one thing wasn't allowed to be done, we said, 'Let's see what else we can do and put our resources there,'" he added. "And our community responded in incredible ways."
According to Gibson, community participation in the church's ministries increased, people began donating for the first time ever, and — most remarkably — engagement with online worship actually increased. 
"Before the pandemic, we were reaching around 20,000 people online that were streaming from across the world," he said. "Over Easter, we had 3 million people. Just last weekend, we had 450,000."
These numbers "make sense to me," the pastor said, because "this time of life is hard, it's been difficult. There's been so much tension and uncertainty and everything seems to be politicized and people are looking for hope. People are searching for answers and want to hear what God has to say."
Gibson described Rock Church, led by Pastor Miles McPherson, as a "skittles church," one that is multi-ethnic, multi-generational and diverse. When deciding when and how to reopen, he said church leaders thought through how to "best honor God, our congregation, and our city."
"Not everybody thinks the same thing about COVID, not everybody thinks the same thing about masks, not everybody voted the same way. There are both Republican Christians and Democrat Christians, and they have differing viewpoints and we understand that. We saw it as an opportunity to consider all the different opinions, experiences, and expressions of diversity."
When it comes to government restrictions, nobody, Gibson stressed, "said we can't worship God." 
"So for us, it wasn't as much fighting for the method of doing church again. We were focused on, 'How can we ensure that we both worship our God and honor our congregation and city?' Our mission has always been the same, but our method of how we did church changed."
This Sunday, at 10 a.m. and 12 p.m., four Rock Church locations — Point Loma, City Heights, San Marcos and East County campuses — will resume indoor services at 100% capacity, opening its doors for the first time since the pandemic hit.
To ensure safety, the church took a "minimum of six to eight weeks of planning" and required their volunteers to go through five weeks of training to ensure a safe reopening, Gibson said. 
Attendees are encouraged to RSVP each week and arrive early; they will be required to wear a mask upon entering the facility, with the option to remove it once seated; and are asked to maintain an appropriate distance from those outside their household. Temperature checks will be available to everyone upon entrance. 
Kids' church and nursery will also be available, though, unlike worship services, children's ministries must operate under California's school protocols. 
"So that means kids have to be in cohorts of 14, or less, with no less than two adults," Gibson said. "The rules are different, but we're going to have childcare in both of our services to ensure parents can come.
"Our commitment is to just be excellent with what we have and with what we can do," he added. 
Rock Church's decision to reopen most of its campuses comes after California's Department of Public Health announced it will no longer require houses of worship to adhere to capacity limits. After multiple U.S. Supreme Court rulings have gone against the state, the department changed the language on capacity limits from "mandatory" to "strongly recommended."
As churches around the country reopen their doors and loosen restrictions on worship, Gibson encouraged people to "lean into the things of God and check-in at a time when rhythms have been disrupted."
"We have a variety of opportunities for people to experience church at their level of comfortability," he said. "We can't promise we'll be perfect, but what we do promise to do is get better each week, learn, and make sure that people have a chance to experience the hope that we find in Jesus. And when they leave, I believe they'll be changed when they have an encounter with God."