Cam Newton Glorifies Jesus After Crash, Says 'God Works in Mysterious Ways'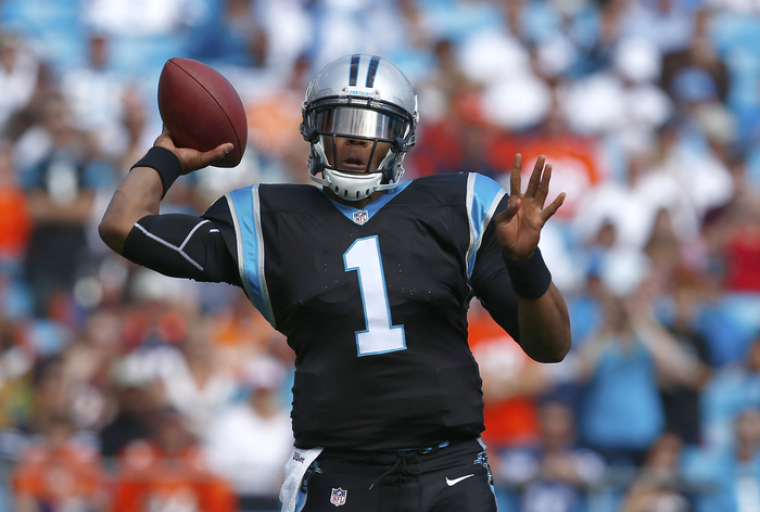 Cam Newton has thanked Jesus for his life after being involved in a serious car accident and has a message for people holding onto grudges.
Newton, the 25-year-old Carolina Panthers quarterback, was involved in a car accident that resulted in him fracturing his lower back while leaving his truck totaled. The Panthers released a statement to explain that "Newton has two transverse process fractures in his lower back and no further internal injuries."
After NFL players took to Twitter to pray for their injured peer, Newton took to Instagram to post an image of his totaled truck while glorifying God.
"I do not know where to begin because by the look of that picture soMEone is supposed to be dead or severely injured worse than what I am right now," Newton wrote. "While I am resting up the thought that keeps flashing in my mind is that GOD IS GOOD and someone has their protective hands on my life shielding me from any danger that may come my way!"
He went on to tell people holding grudges and upset about the circumstances of life that they should be ashamed and try to love people every chance they got.
"Life is too short for you not to appreciate it to the fullest; through the good and the bad! I thank you to the people who have been keeping me in their prayers and well wishes for a speedy recovery," he wrote. "I am appreciative for the many great things GOD has given me to be thankful for. It's an old cliché statement but it says "'GOD WORKS IN MYSTERIOUS WAYS!'"
The football player insisted he is now thanking God for his opportunities after the accident put things into perspective for him and made him realize his priorities.
"..Trust and believe there are plenty people with illnesses, people in the hospital, or even people that are 6ft under the earth that wish they had 'another' opportunity to do so! So if you read this I challenge you to L1VE life to the fullness everyday," Newton wrote. "LOVE the people who are close to you (and don't be afraid to tell them as well)! FORGIVE 'whoever' for 'whatever' they did! Trust when I tell you that L1FE is to short for you NOT to do those things!"
Newton ended his message with the hashtag, "#THANKyouJESUSforALLOWINGmeTOseeANOTHERday"