Canada Parliament Shooting: Gunman Confirmed as Recent Convert to Islam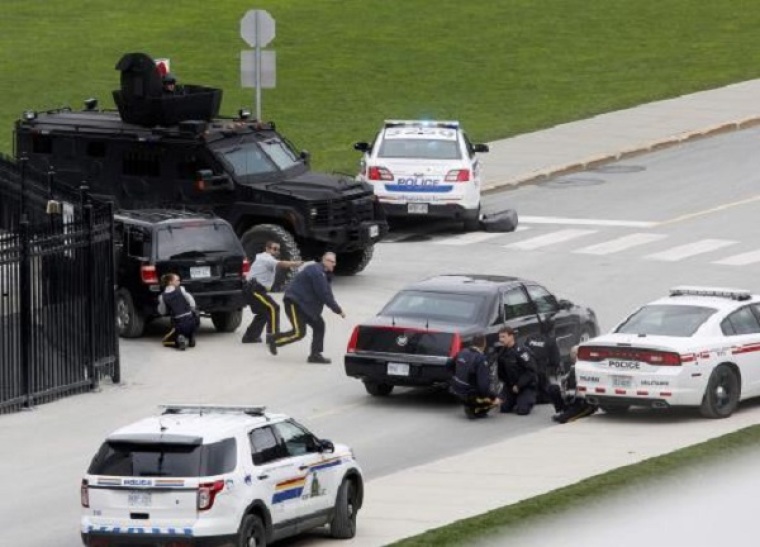 The gunman shot dead during an attack on Parliament Hill in Ottawa on Wednesday has been identified as 32-year-old petty criminal Michael Zehaf-Bibeau, who was reportedly a recent convert to Islam. The shooting, which led to the death of a soldier posted at the National War Memorial, was the second attack on Canadian soldiers in the space of three days.
"We will not be intimidated. Canada will never be intimidated," Prime Minister Stephen Harper said following the shooting. He added that on Monday, an "ISIL-inspired terrorist" ran over two soldiers and killed one in the province of Quebec. The man, who was shot down by police, was also a recent convert to Islam.
The Associated Press noted that Canada could be experiencing the attacks because of its decision to join the U.S.-led coalition that is fighting terror group ISIS targets in Iraq and Syria.
"In the days to come we will learn about the terrorist and any accomplices he may have had," Harper vowed. He added that the attack will only "lead us to strengthen our resolve and redouble our efforts" in the fight against terror.
The Globe and Mail revealed that Zehaf-Bibeau was born in 1982 and was the son of Bulgasem Zehaf, a Quebec businessman who appears to have fought in 2011 in Libya.
The gunman had also spent time living in Libya, before moving to Western Canada to become a miner and laborer, his friend Dave Bathurst revealed.
Bathurst said that at times Zehaf-Bibeau revealed a "disturbing side" to his character.
"We were having a conversation in a kitchen, and I don't know how he worded it: He said the devil is after him," Bathurst recalled. He added that his friend often talked about the presence of Shaytan in the world – an Arabic term for devils and demons. "I think he must have been mentally ill."
Vancouver lawyer Brian Anderson said that Zehaf-Bibeau was charged in a 2011 robbery.
"He was charged with robbing somebody and he pled guilty to uttering a threat," Anderson said. "It was something fairly minor and fairly bizarre."
The man then underwent a psychiatric assessment at Surrey Pretrial and was "found fit – not certifiable per overnight assessment."
The soldier killed at the War Memorial was identified as Cpl. Nathan Cirillo, who was shot by Zehaf-Bibeau at point-blank range. The gunmen then entered the Parliament, where close to 30 shots were heard. Sergeant-at-arms Kevin Vickers was credited for stopping Zehaf-Bibeau.
"All the details are not in, but the sergeant-at-arms, a former Mountie, is the one that engaged the gunman, or one of them at least, and stopped this," Veteran Affairs Minister Julian Fantino said. "He did a great job and, from what I know, shot the gunman and he is now deceased."
U.S. President Barack Obama has called the shootings "outrageous" and said that "we have to remain vigilant."
CNN noted that despite an initial manhunt for other suspects, police now believe Zehaf-Bibeau acted alone. An investigation will have to determine if he had any ties to other groups, however.