Cancer-Stricken Bride Dies 18 Hours After Wedding; Photos Go Viral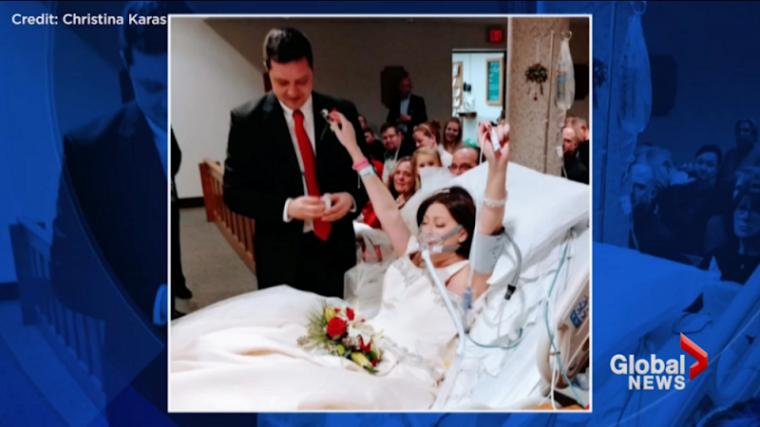 A Connecticut woman who was stricken with an aggressive form of breast cancer died just hours after she got married while attached to a hospital bed. The wedding photos have since gone viral.
A love story that is touching many people around the world, Heather Mosher took her vows to husband Dave on Dec. 22, exactly one year to the day that he proposed, which was also the day she was diagnosed with cancer. She passed away 18 hours after her wedding on Dec. 23.
"I had planned to ask her on Dec. 23, 2016," Dave Mosher told ABC News Sunday of the proposal. "That morning we had gone to the doctor after she had found a lump on her breast."
"Now more than ever, I needed for her to know that she's not going to do this alone," he said. "When you're with your great love ... it's like trying to separate your arm from your body, you can't do it. You're connected. She was my girl."
Heather Mosher's condition worsened in the months after her cancer diagnosis with the disease ultimately spreading to her brain. By late October, she was on life support, Canandian outlet Global News reported.
The couple had planned to wed on Saturday but doctors urged them to do so sooner due to her rapid decline.
Dave and Heather Mosher were married in a chapel at St. Francis Hospital in Hartford, surrounded by friends and family.
Pictures of the wedding — including one taken at the conclusion of the ceremony where Heather is seen with both hands raised as she sits in a hospital bed dressed in a wedding gown with medical tubes hooked up to her mouth and arm — have rocketed around the internet.
Friend and bridesmaid Christina Karas, who snapped the photos, posted on her Facebook page Monday: "Heather chose to spend her last hours celebrating surrounded by people she loved and who loved her.
"How do I know God is real? Because He was filling her with joy despite the fact that outwardly her body was failing. She chose to let God carry her, instead of wasting her last hours angry at him for allowing this illness. And carry her he did. He carried her home."
She wrote in a separate post: "I am in awe of the strength Dave's love inspired in Heather even in her last hours."
"She was his great love and he was hers. I pray these moments give Dave the same strength now to carry on the legacy of their love."
Karas recounted to Global News that the last words the bride said were her vows.
Mosher's funeral was held on the original date of their wedding, Dec. 30., an unintentional coincidence, according to the groom.