Candace Cameron Bure: My Christianity Is Not Going to Take Back Seat on Sexy 'Dancing With the Stars'
Before taking the stage on Tuesday night, Candace Cameron Bure explained that one of her dilemmas of performing on Dancing with the Stars was figuring out how to participate in the show known for its sexy costumes and sultry moves and yet stay true to her faith.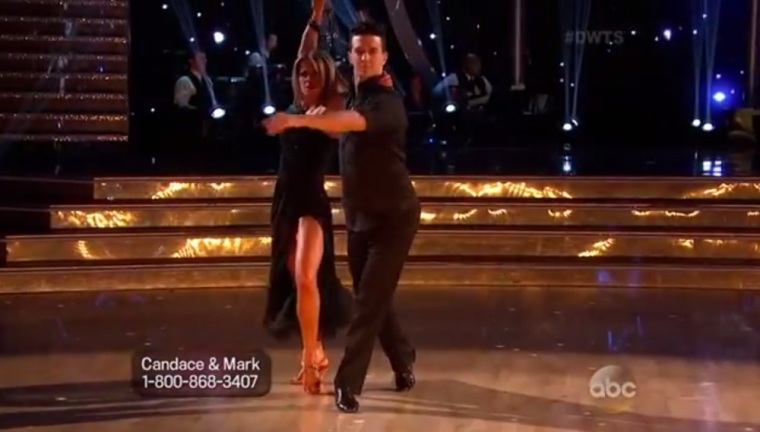 "I'm a Christian," Bure said in footage showing her and partner Mark Ballas preparing for the upcoming week. "My life revolves around my relationship with Jesus Christ so with the overall tone of the dance or the costumes, it's not going to take a backseat."
In the week recap, Ballas' playfully instructed Bure to "own her hotness," though she vetoed her partner's suggestion that he perform the upcoming week without a shirt. Bure also explained how she intended to do the rumba in an appropriate way.
"This rumba is not a sexual dance," said the former Full House star. "It's a sensual, emotional dance. Sensual is more sexy than raunchy sex so I think this is going to be a beautiful dance."
Bure failed to score as high as she did during Week One, where she earned a 25 from the judges and a nine from Carrie Ann Inaba. This week she only received a 21 — all sevens — with criticism focusing on her arm extensions, though all the judges still offered verbal support.
"You're a beautiful dancer. Yu have so much potential. I really love watching you," Inaba told her after she and Ballas had finished dancing.
"For someone with no dance background you did well," fellow judge, Len Goodman conceded.
While waiting for her scores, co-host Erin Andrews asked Bure about her remarks in the pre-dance footage.
"You talked a lot about in your package about balancing your religious beliefs with a dance that's sexy [and] with a show that's sexy. How do you do it?"
"I feel like a sexual woman," said Bure. "I've been married 18 years. I am a sexual woman. I want to reserve some things for my husband so I think we did the best that we could with the rumba that I still felt comfortable doing."
Olympic gold-medalist ice dancer Charlie White and his partner Sharna Burgess scored the highest of the night with a 27 on the Tango.