Carmelo Anthony Gets Season-Ending Knee Surgery as Knicks Rebuild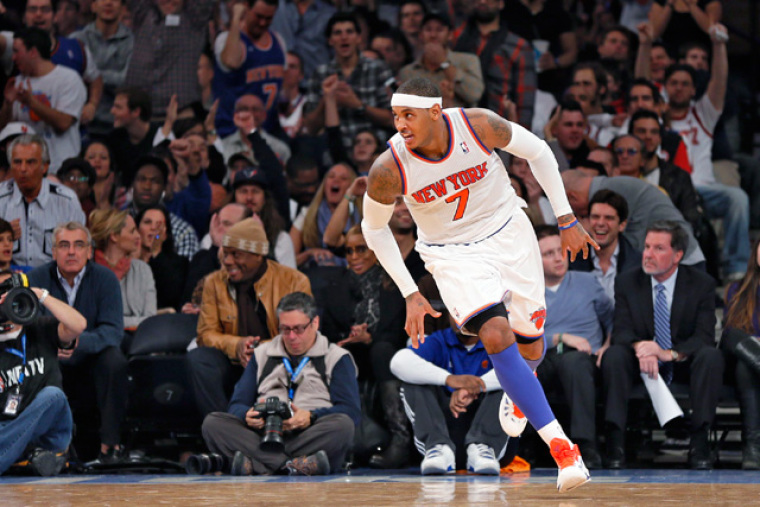 New York Knicks superstar Carmelo Anthony will undergo season-ending knee surgery.
Knicks president Phil Jackson announced Anthony's decision just three days after the the superstar participated in the NBA All-Star Game at the Madison Square Garden.
While the former champion coach kept mum about a timetable of the extent of Anthony's absence as they have to wait for the surgery to take place, Anthony might miss at least four months of basketball, effectively putting his season with the struggling Knicks to an end.
Jackson also said that the surgery will focus on Anthony's left knee patella tendon.
Head coach Derek Fisher expected Anthony to go under the knife.
"It's obvious that he physically can't do the things that he's capable of doing, so this is a necessary step for him to take, I think, in order for him to get to the level that he's capable of getting to," Fisher told the Associated Press.
"I had a meeting with him when we were in London and we discussed this process of having the surgery sooner than later, because we know that the process can take some time for rehab and getting back on the court and we wanted him to be able to make a full recovery and be ready for this coming season," Jackson added.
Anthony led the Knicks in scoring, averaging 24.2 points along with 6.6 rebounds a night in 40 games this season. The surgery will prematurely end the first year of his five-season tenure with the Knicks priced at $124 million.
It also came at the heels of the departure of the Knicks' other star, Amar'e Stoudemire. The management and Stoudemire agreed on a buyout of the final year of his $100 million deal. He has since joined the Dallas Mavericks.
Anthony remained silent when he was asked about the scheduled surgery.
The Knicks will enter the second half of their season with an NBA-worst 10-43 slate. They will return to action on Friday against the Miami Heat at home.