Chance the Rapper, Kirk Franklin Performance Turns 2017 Grammys Into Worship Service (Video)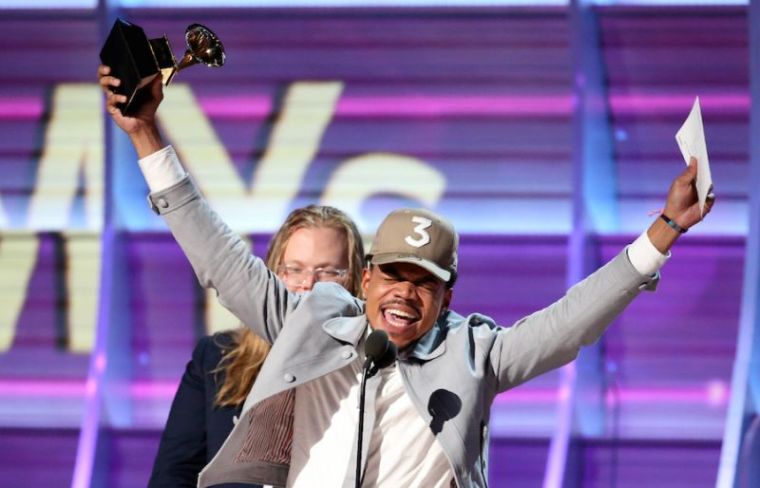 Chance the Rapper, who was nominated for seven awards at the 2017 Grammy awards last night, was joined by Kirk Franklin, Francis and the Lights, and Tamela Mann for a gospel performance of Coloring Book's "How Great" and "All We Got."
They were also accompanied by a huge gospel choir who helped them end the triumphant night in true Sunday worship fashion.
"Ya better stand up right now and stop playing, I'm worshiping my God. He's powerful, merciful, worthy," Chance declared while he and Franklin went back and forth giving praise to God at the mainstream award ceremony.
Earlier in the evening, the 23-year-old Chicago rapper took home awards for Best Rap Performance for "No Problem," Best New Artist, and Best Rap Album.
Though Chance is not a new artist, it is the first time he garnered Grammy nominations because the Recording Academy changed their eligibility rules last year to allow works, like Chances' Coloring Book to be released via streaming platforms.
During his acceptance speech the Kanye West protege likewise gave praise to God. He shouted, "I got the victory in the name of the Lord" while the wrap-up music played to hurry him off stage.
"Glory be to God. I claim this victory in the name of the Lord," Chance said while accepting his award for best new artist. "I want to thank God for my mother and my father, who supported me since I was young, for Kirsten, for Kensli, for all of Chicago, and I want to thank God for putting amazing people in my life."
After Chances' acceptance speech and spirited Grammy performance, Christian and secular celebrities alike shared comments about the young emcee.
Joni Mitchell made a rare appearance at the Grammys and later said that she was "moved" by Chance's performance.
Rapper Lil Kim tweeted, "That's right @chancetherapper! To God be the Glory! Congratulations love him even more."
Chris Tomlin, the original singer of "How Great is Our God," wrote, "BIG congrats @chancetherapper on all your Grammy wins tonight! Well deserved. #GloryBeToGod. " Later adding, "Incredible #Grammys performance and arrangement! You took 'How Great is Our God' to a new level!"
"THIS IS WHAT I'M TALKING ABOUT!!!!!!! HOW GREAT IS OUR GOD!!!! THAT IS KINGDOM!!!! THAT!!!! HANDS DOWN THE BEST MOMENT OF THE NIGHT!!! GOD WILL GET HIS GLORY!!!!" Gospel singer Tasha Cobbs exclaimed on Instagram.