Over 5,000 Pro-Lifers to Join Chicago's Growing March for Life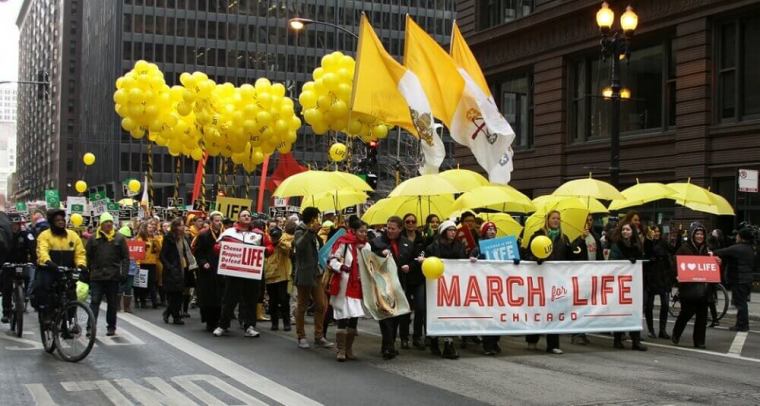 Pro-life activists in Illinois are expecting over 5,000 people to join the annual Chicago March for Life event this month ahead of the national march in Washington D.C.
A local version of the march held every year in the nation's capital on the anniversary of the U.S. Supreme Court decision Roe v. Wade, the Chicago march on Jan. 17 is expected to be the largest held in the entire Midwest.
Emily Zender, executive director for Illinois Right to Life, told The Christian Post that the number has been growing exponentially, with 2014 having about 2,000 people and last year having 4,000.
"At the very core of the identity of the March for Life Chicago is the idea that love and joy has the power to change even the most hardened hearts," explained Zender.
"That's why the March for Life Chicago is always family-friendly a joyful, positive, and loving event. Last year WGN said at times the march looked more like a block party than a protest."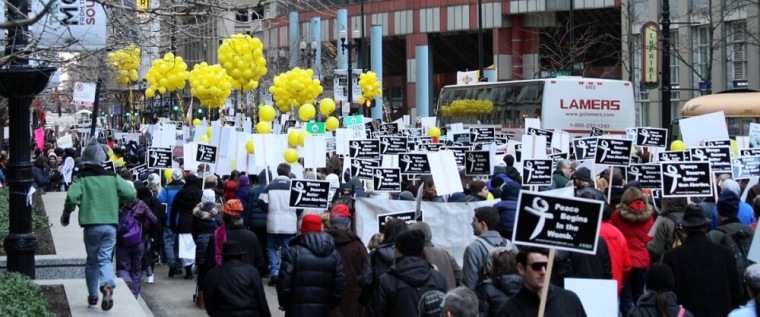 Zender also told CP that she believes the National March for Life in Washington "has really set the bar" for pro-life activism.
"They've taught generations like mine and the following that if you're pro-life you must take to the streets and march to protest the legalization of abortion," continued Zender.
"This is one of our duties as pro-life people. Unfortunately, it's very difficult for families to attend the March for Life in D.C. Therefore, we've given them a local place where they can join their community in protesting abortion."
The Chicago March for Life comes just days before the annual March for Life held at the National Mall in Washington.
Hosted by the National Right to Life Committee and including sponsorship from several religious groups and schools, it's the largest pro-life demonstration in the country.
This year, Evangelical Christians will be hosting their own pro-life conference in conjunction with the predominantly Catholic March for Life event.
Known as Evangelicals for Life, the Washington-area event will be hosted by Focus on the Family and the Ethics & Religious Liberty Commission of the Southern Baptist Convention.
In an interview with CP last October, ERLC President Russell Moore explained that he felt "many Evangelicals are simply unaware" of opportunities to campaign on a national scale for the pro-life cause.
"Our Catholic friends have done a very good job of organizing churches and loading up vans full of people to be here in a way that many Evangelicals haven't," said Moore.
"Evangelicals are very active at the local level on the pro-life issue, manning pregnancy resource centers and ministering in every other sort of way. But we really haven't made it a priority to get Evangelicals here until now."
Regarding her local pro-life efforts, Zender of Illinois Right to Life told CP that she believed the movement in her state "is thriving and gaining incredible momentum."
"Our state is run by abortion minded people, our laws are the loosest in the Midwest, and we are aborting children at a rate of over 38,000 per year," said Zender.
"However, we have a world class pro-life movement here. And, despite all odds, for the past six years, Illinois has registered major pro-life achievements, such as the enforcement of a parental notification law, abortion numbers declining for the sixth-straight year, [and] more pregnancy centers opening while abortion clinics are closing."