Surprising surge in Chinese migrants attempting to reach US border through dangerous jungle trek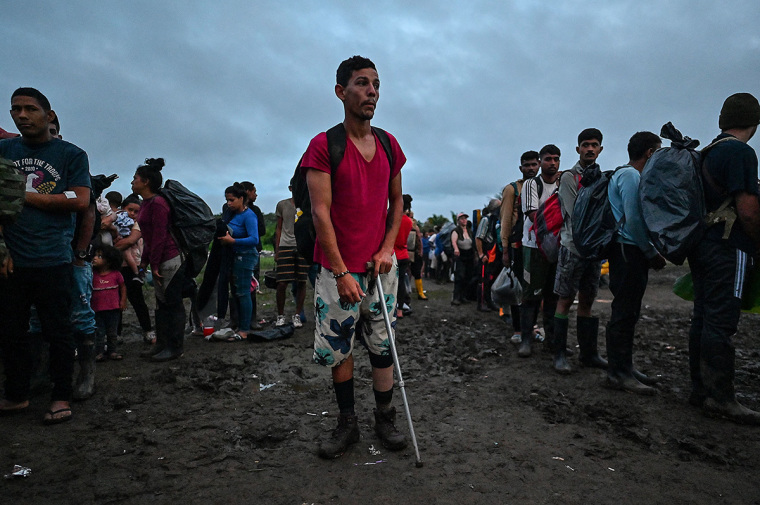 A growing number of Chinese migrants are journeying through a dangerous mountain jungle in Necoclí, Colombia, an area that has become a "breeding ground" for illegal migration, drug trafficking, rapes and robberies to get to the United States, according to a recent report. 
Chinese migrants now comprise the fourth-largest people group making the trek through 66 miles of the Darién Gap, a region between the borders of Colombia and Panama, to reach the U.S.-Mexico border. Unlike the incalculable number of migrants from countries like Haiti, Venezuela, Cuba, Indonesia and elsewhere, the Chinese migrants have money, a lot of money, and stay in luxury hotels. 
"That's one of the big changes that we're seeing now," said Newsmax war correspondent Chuck Holton in an interview with Greta Van Susteren during her recent trip to Panama to investigate the U.S. border crisis and surge in illegal immigration. 
"There are a tremendous number of Chinese coming through that we haven't seen until recently," Holton said. "They're now the fourth-largest group of people coming through the Darién Gap. That's very strange because the majority of the people you see here are destitute. ... The people coming from China pay up to $30,000 a person for the same crossing. They have tons of money, and they're staying in luxury hotels and they have iPhones.
"Some of them tell me that it's because of the extreme COVID measures in China. They just can't take being welded inside their house anymore," he added. "But talking to some of the merchants here ... they have told me that many of the Chinese were prisoners" sent away with money.
According to Holton, in Panama, many of the Chinese are indentured servants who get their money from the Chinese mafia. Once they reach Panama or wherever else the mafia wants them to go, they work for the rest of their life to pay off their debts. "So it looks like they have a lot of money, but in reality, that money is debt that they have taken on to get here," he added. 
In April, the Biden administration, alongside government officials representing Panama and Colombia, announced a campaign to end the illegal movement of goods and people through the Darién Gap and into the United States. 
U.S. Secretary of Homeland Security Alejandro N. Mayorkas, Panamanian Minister of Foreign Affairs Janaina Tewaney and Colombian Minister of Foreign Affairs Álvaro Leyva Durán led the delegation in Panama City. 
Holden elaborated on the government officials' plans to close for 60 days the part of the Darién Gap migrants have been trekking through. The war correspondent noted that the area is a jungle, and many migrants can work around this plan by journeying through a different part of it. 
While some migrants opt to stay in Ecuador, Holden said the reason most migrants are choosing to cross the border now is because they've heard from people they know who live in the U.S. that entering the country and finding a job will be easy. 
The correspondent also speculated that with Title 42 set to expire on May 11, that is another reason why many migrants are heading to the U.S. border. 
In October, the Biden administration used Title 42 to remove most Venezuelan asylum seekers from the U.S. While the Department of Homeland Security policy gave some Venezuelans a pathway to stay in the U.S., others were ordered to remain in Mexico until their asylum claims were heard. 
According to Voice of America, there were nearly 90,000 illegal crossings through the Darién Gap in the first three months of 2023. Holden, who started reporting on the issue in 2012, noted that at the time, 45,000 people attempted to use the route. Last year, however, that number reached nearly 250,000. 
One group that takes advantage of the flow of migrants, Holden added, is drug traffickers. These traffickers disguise themselves as migrants seeking asylum and carry backpacks full of cocaine. 
In October, the Panamanian news outlet Nex Noticias reported that authorities had arrested over a dozen people in Darién for their involvement in drug trafficking. 
"I think it's very instructive to Americans to understand what a gap there is in our thinking, in our way of life and what our expectations are from life and what theirs are," he said. "Because so many people you talk to here, you ask them about facing the dangers of the Darién Gap, and they say it can't be any harder than where I just came from. It can't be any harder than living in Haiti or living in Venezuela or Cuba. And they are inured to that kind of hardship."
According to VOA, U.S. Customs and Border Patrol reported that 4,366 migrants from China encountered border agents from October 2022 to February 2023 after illegally crossing the southern border.