Chris Brown Worried About Rihanna's Heavy Drinking, Now Even 'Drinking Alone'
Chris Brown is reportedly concerned about Rihanna's hard partying and heavy drinking, it has been revealed.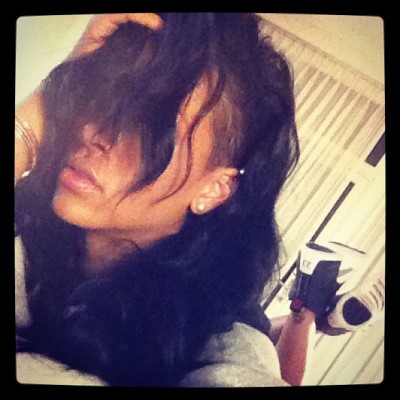 Rihanna has been struggling to cope with the death of her grandmother Dolly, who recently died of cancer, and has reportedly been drinking more than usual. Brown, 23, has reportedly been worried ever since the singer, 24, posted a photo of herself in her bedroom on July 10 drinking what appeared a beer alongside the caption "I had to!!! Sorry granny."
"Chris is worried. She's drinking alone in her room and s---. That's definitely not a good look for anybody - especially not for her," a source close to Brown told Hollywood Life.
"[Brown] was like 'damn, that ain't good. I want her to be all right. That's my girl,'" the insider added.
Rihanna has reportedly received support from a number of her friends during this trying time including Brown himself, who recently sent the Bajan singer a text message that read "be good and that he had her back."
"It's been a f----- up past few weeks, and she's coping but it's not that easy. She lost her grandmother man, come on. You don't even know what it's like – the pain she's going through right now but she a survivor and she tough so she'll make it," the source explained.
Brown, who has allegedly been spending more time with Rihanna lately, was also in mourning after learning about Dolly's passing.
"Praying for family and the lost loved one. She was like my grandmother. Love you GRAN GRAN! RIP," Brown tweeted.
The Grammy award-winning artists have reportedly been "seeing a lot of each other in private" recently, despite Brown's current involvement with model Karrueche Tran, according to The New York Post.
They are said to be apprehensive about publicizing their rekindled romance due to the fear of public backlash.
"Everyone in the business assumes [Rihanna] and Chris are getting back together, and it is only a matter of time before they'll be more public about it," a source told The Post.
Rihanna's father publicly supported a reconciliation between the pair, despite their 2009 domestic violence incident which subsequently ended their relationship.
"Chris has matured a lot. I think everybody has to put the past behind them. And they seem to have done that. Being a couple is all up to her. Every decision is her decision. I just wish her the best. I hope things will work out. Everyone is entitled to make a mistake. Her fans are hoping it will happen. They see them as a perfect couple," Ronald Fenty told Grazia Magazine.
Chris Brown's Wild Fight with Drake's Entourage
Rihanna Slammed for "We Found Love" Video