Christian Couple Shocked to Hear They Could Serve Life in Prison for Starvation Death of Daughter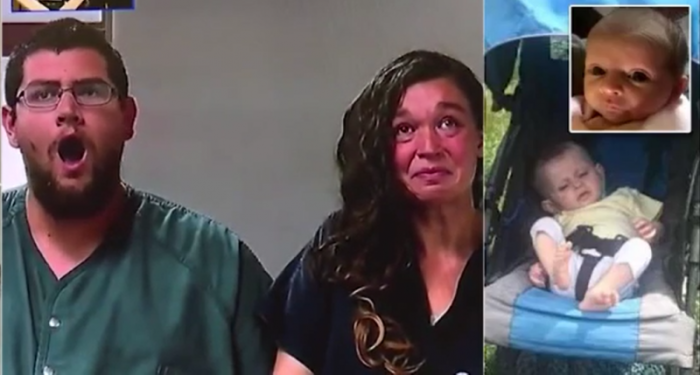 A young Christian farmer and his pregnant wife reacted with shock and tears Monday when they learned they could be imprisoned for life as they were formally charged in a Michigan court with felony murder and child abuse in the first degree for the starvation death of their 10-month-old daughter.
The stunned farmer, Seth Welch, 27, listened with as a judge read the charges against him and his wife, Tatiana Fusari, also 27, until he heard the penalty for the charges for the death of their daughter, Mary Anne Welch, who died last Thursday.
"You're both charged with what they call felony murder while in the perpetration or attempted perpetration of child abuse in the first degree. They are alleging that you murdered one Mary Welch. That is a charge called homicide felony murder. It is life without parole," the judge said in a recording as the farmer's jaw dropped and his mouth remained agape as the judge continued. His wife also bit her lips as she reacted in silent bursts of tears.
"The second offense that you're both charged with is called child abuse in the first degree where they are alleging you knowingly or intentionally caused physical harm to a child. They are talking about this Mary Welch. It is a felony, possible penalty of up to life imprisonment or any term of years less than life," the judge said.
Last Thursday night, the farmer who runs Blackacre Farm Products from his home in Cedar Springs, Michigan, and preaches about the Bible on social media, announced to the world on Facebook that he woke up to find his youngest child dead and he was "shattered." His two older children, ages 4 and 2, were also removed by authorities and placed in the care of his parent in West Olive.
"Heart is about shattered right now. Woke up to Mary dead in her bed this morning - this evening had our children removed and placed on 'no contact' because Tati and I are the worst parents ever - Thankfully they are with grandma and grandpa. Just numb inside right now. And I'm really enjoying the loving embrace of an isolation cell from the cops and government employees who keep assuring me 'they are only here to help,'" he explained.
In court records cited by Wood TV, however, Kent County Sheriff's detectives who interviewed the parents said they were aware Mary Anne was not well for at least one month before her death and did not seek medical help partly because of their faith.
"During interviews with both parents, admissions were made that they were aware of Mary Welch's skinny appearance and low weight for at least one month prior to this date," an affidavit signed by a detective explains. "Tatiana Fusari admitted during the interview that they failed to reach out for medical help with their daughter for fear of having her children removed by Child Protective Services, lack of faith and trust in the medical services and religious reasons."
In photos and written posts on Facebook, Seth Welch has been open about his faith. Hand painted messages on a fence at his farm warn: "Repent. Believe. Obey. 'My Kingdom is not of this world.'"
In another post last month in which he revealed that he wife is pregnant with their fourth child, he called a symptom his wife was experiencing to an "interesting spiritual encounter."
"Last night while my wife was at work, she all of a sudden started feeling very ill to her stomach and just crappy all over. This has not so far been a symptom of the pregnancy at all. She turned around to see if there was something that had happened. And, behold, through the door walked 'the pastor' of a very sickly (spiritually+physically) local congregation we attended," he wrote.
"A man who, it was reported to my wife, had introduced a tradition of a golden collection plate, combined two 'church' official positions into one, and collected the salary for both.... Coincidence? Or spiritual science?" he asked.