Christian Food Pantry Refuses to Give Up Jesus, Loses Government Food Contributions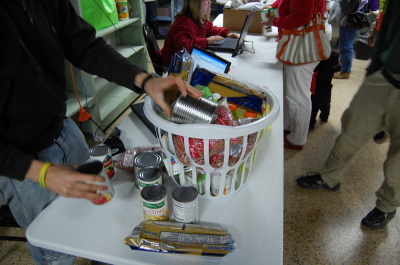 A Christian food pantry that provides meals to low-income Lake City residents has refused to give up Jesus, and will continue to show Christian images as it distributes food while carrying out its charity work, and will continue to ask if people would like to be prayed for.
The decision was made by the Christian Service Center (CSC), despite a Florida Department of Agriculture official telling the agency that it could no longer tie faith components to its food programming if it wanted to continue to remain eligible for government food.
The CSC has served food to low-income Lake City residents for the past 31 years. As part of its food service, CSC prays with its clients and asks them if they would like to learn more about Christ. According to CSC Executive Director Kay Daly, clients do not have to accept this offer to receive services.
"When we meet with them to get an understanding of the crisis or need, we ask them if they know Jesus Christ and if we may share with them. If they decline, we don't. If they do want to, we share the Gospel with them," Daly told The Christian Post. "Sometimes we lead them to the Lord and sometimes we don't."
But under a new contract with the government, CSC was asked to halt the religious aspects of their programming. It was also asked to take down pictures of Jesus and 10 Commandments signs currently on center walls.
"This program is a USDA (United States Department of Agriculture)-funded program and the requirements were outlined by the USDA," Amanda Bevis, a spokesperson for Florida Department of Agriculture and Consumer Services told Fox News. "This agency administers the program on the state level. Our staff did provide a briefing to CSC following turnover in leadership at CSC and did review the USDA requirements."
A USDA spokesperson explained that "under current law, organizations that receive USDA nutrition assistance can still engage in religious activities so long as the activity is not used to create a barrier to eligible individuals receiving food."
Although CSC invited, rather than mandated, clients to pray with them and learn more about Christianity, the potential discomfort that these individuals could feel was seen as a barrier.
It is currently unclear why the CSC was asked to take their signs down as an Executive Order allows faith-based organizations the right to provide assistance without "removing or altering religious art, icons, scriptures or other symbols from these facilities."
CSC has refused to comply with the new regulations, even though the loss of the government food will severely cut into the food it has available, as the government currently contributes 30 to 40 percent of its total supply.
It hopes to make up for the anticipated food shortage through the support of its many relationships with area churches and individual donations and prayers.
"We also will trust God," said Daly. "I don't say that lightly. We will trust Him day to day to meet our needs."
Daly said because CSC's mission is so closely tied to faith, the organization could not compromise their beliefs.
"How do you comprise? We would deny what we stand for, which is Jesus Christ, which is why we are," said Daly. "The USDA has drawn the line in the sand. If they are going to put stipulations on the use and distribution of the food, we make a choice and our choice is to stand with Christ."
Daly said she is unfamiliar with any other Florida organizations that have faced similar restrictions.
The USDA works with state agencies to implement federal policies.
Anyone who wishes to remotely assist the CSC may make a check out to The Christian Service Center and send it to P.O. Box 2285, Lake City, FL 32056.