Christian Leaders Call on Believers to be Less Rigid, Support Flawed Politicians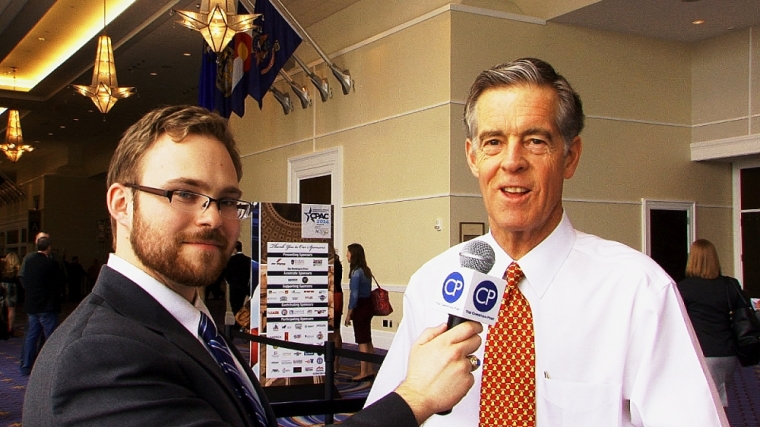 NATIONAL HARBOR, Md. — Christian leaders at The Conservative Political Action Conference (CPAC) urged their fellow believers not to insist on supporting politicians who are strong on principle but less likely to get elected.
"Put up with presidential candidates who may not be as pure as you are in your moral principles," Tom Minnery, President and CEO of Focus on the Family's political arm CitizenLink, told The Christian Post in an interview at CPAC. Minnery called on Christians to support candidates who can get elected, even if they are not perfect for the Christian community.
John Andrews, former president of the Colorado Senate and Director of the Centennial Institute at Colorado Christian University, also called for unity behind electable candidates. "I think it would be tragic for libertarians and conservatives to get into a family feud as the 2014 opportunity approaches to take back the senate," Andrews told CP in an interview at CPAC.
Andrews warned that the media "are doing their utmost to create divisiveness, fractures, factions, back-biting, family squabbles, between all who believe in liberty, limited government, free enterprise, and traditional Judeo-Christian values."
What Can Libertarians and Conservatives Learn From Each Other?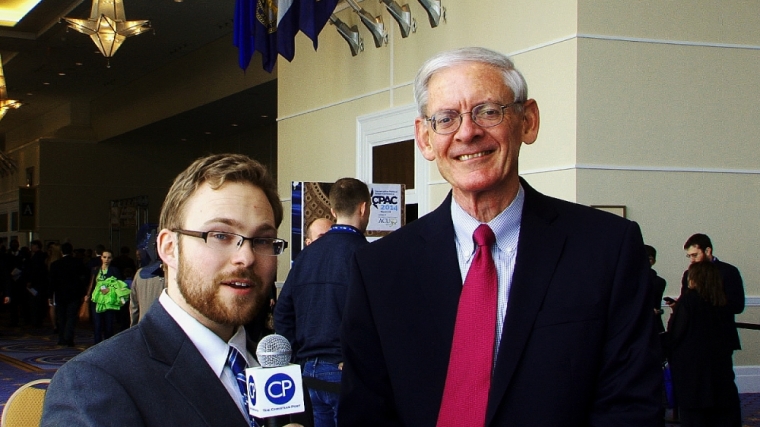 "We seek conservative goals, the conservation of our freedom and our culture, through libertarian means, constitutional limited government, maximal individual freedom, and … personal responsibility," Andrews declared. He argued that the greatest challenge for America today is "to not try to have freedom on the cheap."
Minnery emphasized the importance of moral principles in politics. He argued that "libertarians can learn from social conservatives about the importance of basic moral principles that create the sense of ordered liberty which is so important to our country." He praised the freedom libertarians seek, but argued that without a moral grounding, "freedom quickly degenerates into chaos."
Andrews delineated a "triangle" where "freedom depends on virtue, that is personal responsibility, righteous conduct not supervised by Caesar. Virtue in turn depends on faith — faith in the God who gave us liberty." He referred to The Declaration of Independence, "our birth certificate," as evidence that Americans derive their rights from God, not from government.
Despite these lofty goals, both men argued for a compromise when it comes to politics. Minnery admitted that "there may well be a perfect candidate out there for Christian people, but he probably cannot get elected." Rather than supporting a pure candidate, he called on Christians to compromise.
Rand Paul
Minnery did not endorse any potential candidate for President in 2016, but Andrews said a Rand Paul nomination would be "not just acceptable, but exciting."
"I heard Rand Paul bring the audience to its feet with warnings about government's surveillance and government's prerogative, now signed in law by President Obama, to detain American citizens without a trial indefinitely," Andrews recalled from the Kentucky Senator's CPAC speech. The former Colorado Senate president praised Paul's opposition to these alleged rights violations as important values. "Rand Paul carries an important banner," Andrews declared.
Paul is a well-known libertarian, but Andrews argued that the Kentucky Senator's views also align with conservatives. "Rand Paul is not the kind of libertarian who says we can get along without the other two legs of that vital triangle that I described. Freedom needs virtue and virtue needs faith," Andrews explained. He praised both the Kentucky Senator and his father, former Congressman Ron Paul (R-Texas), as constant supporters of faith and virtue, as well as freedom.
Energy Building Among Republicans
"I think that there's a lot of energy building on this side of the political spectrum," Minnery told CP. He argued that Americans are tired of Obama's policies, particularly when it comes to healthcare. "Healthcare is not less expensive, easier to come by, as promised," he declared. Rather, "it's more expensive, and harder for people to navigate," after the ongoing implementation Obama's signature legislation, the Affordable Care Act, also known as "Obamacare."
Andrews predicted a Senate win for Republicans in Colorado come November. He argued that Senator Mark Udall, the Democrat incumbent, "has voted with President Obama 99 percent of the time," and is therefore vulnerable. Andrews supported Cory Gardner, a "strong conservative Christian center-right vote in the U.S. House," as the best Republican to challenge Udall.
"It will be a hard battle, but I think the Democrat-held Colorado U.S. Senate seat has a great chance to move to the Republican column in the 2014 election," Andrews said.
Christians Must Be Involved In Politics
Andrews insisted that the Bible calls Christians to be involved in politics. "I see, in scripture, Old Testament and New Testament, not just an encouragement but a mandate to be involved as citizens with civil government until the Lord returns," he explained. The former president of the Colorado Senate cited Timothy, where scripture tells Christians to pray for those in authority "so that we may lead quiet and peaceable lives."
In order to live quiet and peaceable lives, Andrews argued, citizens must act so that "an American culture, not dominated by tyrannous, oppressive government, can be a place where human flourishing occurs and ultimately where religious freedom and a knowledge of the truth in Jesus Christ can be attained and spread wider and wider."