Paralyzed Christian Man Sentenced to Death to Save Wife From Being Tortured by Police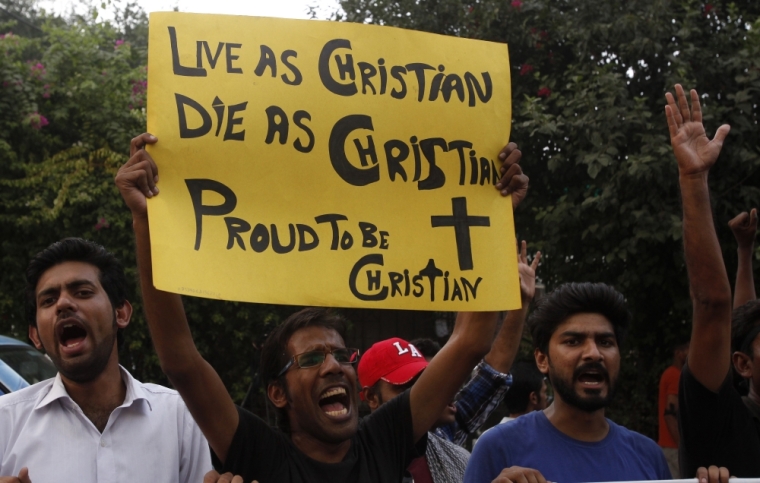 A disabled Christian man sentenced to death in Pakistan has claimed that he was forced into admitting blasphemy charges in order to save his wife, who was being tortured by police.
"There is no man who can stand to see his wife being tortured by police, so to save my wife, I confessed," Shafqat Emmanuel said in his appeal, according to Mail Online.
Emmanuel and his wife, Shagufta Kausar, were found guilty of blaspheming against the Muslim prophet Muhammad in text messages to their local imam in 2013, and sentenced to death.
The conviction came despite the Christian couple explaining that they are illiterate.
Farukh Saif, an official of World Vision in Progress, an organization defending the Christian couple, has tried to argue that the blasphemous text messages could not have been sent by his clients.
"There was no evidence that the text messages came from a phone owned by the couple. In the first place they had lost the phone some months before July 2013 and secondly there was no SIM card in their names. The only evidence police produced was a bill for a SIM card from a shop owner which is unheard of," Saif said.
The husband, who is paralyzed from the waist down, is also now insisting that supposed confessions to the blasphemy crime should not hold up in court, since the couple were forced into making them by way of torture at the hands of police.
A number of persecution watchdog groups, including Open Doors and International Christian Concern, have pointed out that false accusations of blasphemy are common in Pakistan, as many people abuse the law for personal gain, or to settle domestic scores.
Christians have often found themselves the target of these blasphemy laws, and there have been a number of death-row cases that have made international news in recent times, including the death sentence for Asia Bibi, a Pakistani Christian mother of five.
Last week, Emmanuel filed an appeal at Lahore High Court to ask for bail in account of his deteriorating health.
"I have developed bedsores and I may die in jail as there is no possibility of a better treatment there," the disabled man revealed.
"There are serious contradictions in witness accounts against me and my wife and we are hopeful of an acquittal on our appeal," he added.