Christian Mother's 'Morning Sex?' Blog About Nude Scene During 'Good Morning America' Goes Viral
A Naples, Fla., publicist and mother of two young children is being attacked on the Internet for taking a stand against ABC for airing an ad featuring a nude sex scene to promote an upcoming primetime series during "Good Morning America" last week.
Rebeca Seitz told The Christian Post on Thursday that she was absolutely stunned by the image that has seeped into her 8-year-old son's brain, courtesy of decision makers at ABC, who decided to attract viewers to the network's series premiere of "Betrayal" by showing a promotional ad that includes scenes depicting couples having sexual affairs.
At first, Seitz only sent a picture of the image that was broadcast to her husband using her iPhone, and then she shared the image with her friends on Facebook – most of whom were equally alarmed by the thought of having to explain the image to their young children – until the social media site removed the image because it was deemed inappropriate for Facebook users.
Instead of being upset that Facebook removed the image from her page, Seitz said she believes their prompt action is confirmation that the nude sex scene is, in fact, inappropriate.
After some prompting from a friend who wanted to continue the online discussion about the image, she decided to post the topic on her blog, under the headline, "Morning Sex?" for her circle of friends to mull over.
"I probably would never have blogged about it had Facebook not taken it down," Seitz told CP. "And one of my friends said, 'well, some people want to talk about this, you should put this on your blog so we can all keep talking about it.' And by 'we all' she meant my little bitty circle of friends."
Seitz, who will be a guest on CNN Friday morning to share her story, eventually contacted her local ABC affiliate and the Federal Communications Commission (FCC) to file complaints, which she's documented in an updated blog, titled "Update to Morning Sex Ad."
"I didn't do any of those things initially," she explained.
"As people started commenting on the blog, people were saying, 'you need to file a complaint; you need to talk to your local ABC affiliate.' Another guy questioned whether or not I was even a real person, because he said if this really happened, then everyone in Naples would be upset about it, and the local ABC affiliate would be airing an apology."
Seitz said the commenter suggested that the ad for the ABC series probably only aired in her Naples, Fla., market and wasn't seen by viewers in the rest of the country.
"That was really the post where I was like, you know, I do need to find out if this was only in my market or somewhere else. At the same time, somebody had tweeted me and said, hey, I'm in Reston, Virginia, and I happened to record GMA today, I'll check the feed if you tell me the exact time that it aired," Seitz said.
She told CP that she then called her local ABC affiliate and said the general manager at the station apologized for her son having seen the sex scene. The general manager also informed her that she wouldn't have allowed the ad to air during the morning hours, and noted that the decision came from the ABC national feed.
"If everybody in the country saw this, why is somebody else not saying anything about it?" Seitz commented.
Seitz described the sexual scenes in ABC's ad for "Betrayal" as first showing a woman wearing lingerie having sex with a man, and then it switched to the completely nude couple before she had time to grab her remote control. The scenes captivated her 8-year-old son's attention; and her first thought was that she was wrong about what she had seen on TV. She soon realized that she was correct, her son had just watched a nude scene on ABC during "Good Morning America."
"There's a time and a place for this kind of stuff, and 8:26 in the morning wasn't it," she said. "I have to prepare my kids to engage with the world – it's that whole concept of being in the world, and not of it. As a parent I have to teach them how to process things of this world, properly. And I can't do that if we don't discuss them."
Seitz said she's not among the parents who disengage and either don't have a television or cable TV in the home. Instead, she advises parents to be proactive and discuss these issues with their children, and to contact media outlets and the FCC to file official complaints.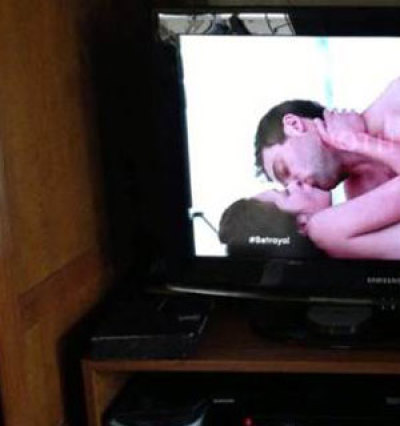 "If you completely disengage from it, then why in the world would you expect it to not get worse? You're not always going to be there in the house with your kids. They're going to grow up; and they're going to move out, and they're going to get a TV and cable, and then what state is it going to be in because you didn't do anything. You can't just remove yourself and then have the right to gripe about it. If you want it to change, change it. If you leave it, then don't expect it to do anything but get worse."
After her first blog went viral, Seitz said that she received a lot of critical and rude comments suggesting that she's a "prude" for expecting to watch morning television with her children without being confronted with sexually-explicit content.
"I've been called all kinds of things now all over the Internet – I'm a prude and I'm for censorship, which is not true; and I probably don't have sex, and, oh my favorite one: I'm a bored housewife."
She contends that her primary issue with the ad is that, as parents, she and her husband can have these discussions with their children without television influencing them with sexual images.
"At 8-years-old was not the time, if there ever even is a time, to show this kind of image. Even as an adult, I don't need to see that image."
She continues, "I say to parents, have the conversation, but let's also inject some common sense and not show imagery. This image makes sex a visual act, and it's not. That is not what sex was created to be. It's an incredible connection that you have with your spouse. And you don't use something that valuable in this way. Cheapening sex to get ratings. That's what he was taught that morning. He was shown that sex is a cheap thing, and I don't want him seeing that."