Christian Parents on the Run From CPS Helped by Donors to Evade Police in 1,000-Mile Chase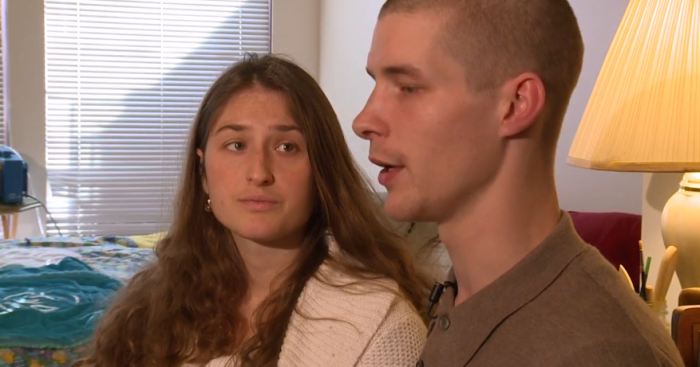 A Christian couple who fled their Washington home with three small children in tow to evade Child Protective Services were eventually tracked down by police in California last week, but not before they had managed to elude authorities for more than a week after receiving donations from various anti-CPS supporters throughout their 1,000-mile journey, a source close to the family has said.
Erica Carey, 29, and her common-law husband, Celve Rengo, 23, took their three kids and fled from their home before CPS could take the children into state custody, a source close to the family told a local NBC affiliate, adding that the couple received donations from various supporters to help them stay out of the grasp of the government.
Although Carey and Rengo hit the road just in time to avoid CPS when they arrived at their Bellingham home to take custody of the children on Jan. 28, the family was finally tracked down at a gas station in California's Santa Cruz County last Thursday where the three children were taken into protective custody.
After receiving a tip from an anonymous person, who likely saw one of the "Be on the Lookout Alerts" that was issued by police and aired on multiple local news stations, Santa Cruz County Sheriff's Department and California Highway Patrol surrounded the couple's car at a 76 gas station around 2 p.m. and prevented the couple from fleeing the scene until CPS arrived to take their children.
When CPS agents arrived to take custody of their infant twins, Maran Kai and Daniel, and their toddler son, Levi, Carey attacked a sheriff's deputy and a highway patrolman by kicking and headbutting them in an attempt to prevent CPS from taking her children.
"Everybody is upset that they got caught," said Billy Fisher, an anti-CPS activist, who described the amount of support the Rengo family received from the network of people who oppose CPS' authority to circumvent parents' right to chose how they raise their children. "Everybody was hoping that they would never be found.
"These people are out there to help these families that they feel are being abused by the government," Fisher continued in an interview with the NBC affilaite. "People wanted to send them money, house them. ... You have your kids taken away from you, it's a fight or flight."
As Carey was arrested and hauled off by police officers, she cried out for Jesus: "Jesus! Help! They are taking my children! I want my babies!" Carey also shouted to a photographer taking photos of the incident, "Send a message to America for me. Children don't belong to the government. The government belongs to the people."
"She head-butted one of our sergeants and kicked a sheriff's deputy," California Highway Patrol Officer Brad Sadek said. "She said a lot of things, a lot of expletives. It's understandable."
Rengo was not arrested, while Carey was charged with resisting arrest, refusing to cooperate with law enforcement officers, and battery of an officer.
The couple's flight from their home will not be ruled a kidnapping nor an Amber Alert investigation because the actions are ruled a civil violation involving the defiance of CPS orders. CPS agents reportedly found the children underfed, and deprived of the proper medical care.
"We feel for their plight. As often as we seem like machines following orders, it still can be emotionally jarring for use too," Sadek said. "We're human beings. Everyone out there has kids of their own. We wanted to make it as comfortable for those kids as we would want for our own kids."
The twins were first removed from their home last November, a month after they were born, after CPS received reports that the babies were underweight and had not received medical care. The parents maintain that CPS' decision to remove the kids from the home was based on Carey's refusal to accept medical transportation to the hospital when their neighbors called 9/11 when they heard Carey's birthing cries.
"I've done a lot of research about other women who have done it and they said the spiritual experience was so much more wholesome," Carey told a Washington NBC affiliate. "It was just us. We wanted to preserve that sanctity and sacredness in our birth."
However, the state holds that the children were removed based on health concerns and noted that the parents had not treated Levi's eczema properly. Rengo claims they treated the eczema with natural remedies but the state wanted them to treat it with a steroidal cream.
"They wanted the authority in my household. I told them, 'I'm a Christian and God gave me the authority in my household," Rengo told the NBC affiliate.
Although the state was concerned that the children were underweight and were not receiving the proper medical care, the parents' attorney, Christina Nelson-King, argued in court that the parents still had a constitutional right to parent in their own manner.
"Parents have the constitutional right to parent as they see fit," Nelson-King said.
Although the children were initially returned to the family's one-bedroom apartment on Dec. 5, a county judge ruled that the children could go be removed from the home again if the parents did not cooperate with CPS and consult a pediatrician about the twins severely low weight.
Washington's Department of Social and Health Services released a statment explaining that they are not allowed to take children from their homes based on home births.
"No policy of Children's Administration would allow a child to be taken due to a home birth," the statment reads. "A home birth is not in any way a child safety risk factor in the view of Children's Administration."