Christian Professor Arrested for Blasphemy in Pakistan, Charged With Same Offense as Mother-of-Five Asia Bibi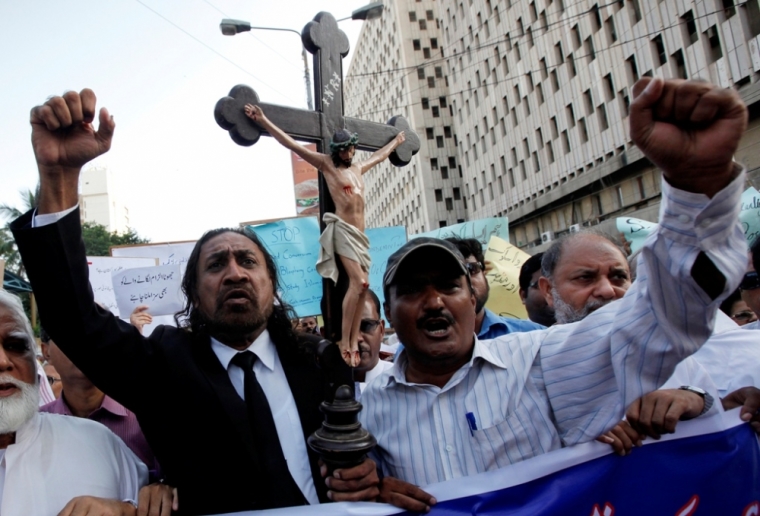 A 40-year-old Christian man was arrested for blasphemy in Lahore, Pakistan, and has been charged with insulting the Prophet Mohammad, the same offense that Christian mother-of-five Asia Bibi is facing the death penalty for.
Qaiser Ayub, a computer science professor, had been a fugitive for close to three years, Fides News Agency reported. He was charged in 2011 of having written blasphemous comments on his blog, and has been avoiding police ever since.
BosNewsLife added that Ayub is currently being held at a police station in the town of Talagang in Punjab's Chakwal District.
Sardar Mushtaq Gill, national director of advocacy group Legal Evangelical Association Development, revealed that despite the threat of arrest, the professor had been teaching recently at a school in Lahore, which triggered the police warrant.
"We also request prayer for him," Gill said, noting that his group will be providing legal assistance.
Ayub's alleged violation of Pakistan's Penal Code mirrors that of Bibi, who has been in prison for five years and is facing execution, unless the country's Supreme Court reverses the decision. Bibi was sentenced to death in 2010 for an incident where she was accused of blaspheming against Islam by a group of Muslim women.
A global campaign has rallied around the Christian mother, with the American Center for Law and Justice starting a petition asking the U.S. government to stop sending foreign aid to Pakistan.
"We must stop sending billions of our taxpayer dollars to nations that persecute Christians. It's that simple. Not one more dime for persecution. Cut off American foreign aid to any country that persecutes Christians," states the petition, addressing Congress and President Barack Obama.
"As a wave of persecution sweeps across the Middle East — and Christians flee for their lives — it's time for the money to stop," it adds. "Already there is growing support for basic human rights and basic common sense on Capitol Hill."
Gill, meanwhile, led a protest last week in Punjab, demanding justice for the Christian couple who was killed and set on fire by a Muslim mob allegedly for desecrating the Quran, the Islamic holy book.
"The couple was burned at the kiln furnace based on a false accusation of blasphemy," Gill said.
"The government must take immediate bold steps to repeal the blasphemy laws. The government has absolutely failed to protect its citizens' right to life and property," he added. "Christians in Pakistan are not safe as long as the current blasphemy laws exists. They are just misused to persecute them."
NGO network Awaz-e-Haq Itehad reported last week that a total of 1,438 people were accused of blasphemy in Pakistan between 1987 and October 2014.
The offense, which often carries life in prison or the death penalty as punishment, has been widely used to target religious minorities, the network said. Even though minorities make up less than 4 percent of the population, they account for 50 percent of those accused of blasphemy.
From the total number, there were 182 Christians who have faced blasphemy charges.