Christian Rock Band Stryper to Release New Album, 'No More Hell to Pay,' Nov. 5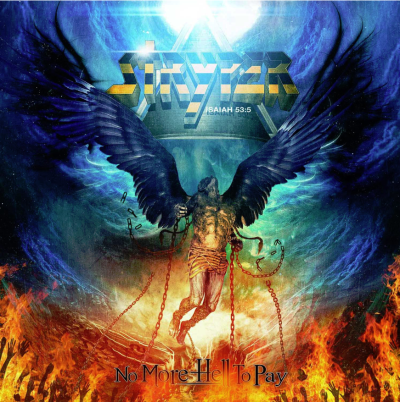 Iconic Christian rock band Stryper is releasing a new studio album, NO MORE HELL TO PAY, on Nov. 5 in North America. It will be on standard CD and deluxe digipak featuring exclusive video content.
The album is produced by frontman andguitarist Michael Sweet, and the new music will feature some of Stryper's strongest and heaviest material to date.
"NO MORE HELL TO PAY marks our 30 year anniversary and what a journey it has been! It's our eleventh studio release since our first album in 1984 (THE YELLOW & THE BLACK ATTACK) and it's quite possibly our best record to date. Why? It's everything you might expect from a Stryper record - high octane vocals, layered vocal harmonies, guitar solos galore, driving drums and bass and an energy that hasn't been achieved since our glory days," Sweet said in the video.
"The message is equally as powerful as it offers hope and inspiration to anyone listening. If you're a Stryper fan, it'll make you proud to be one. If you're not, listen with caution as you may actually become one. We've been waving the striped flag for 30 years and we're proud to say that it's an honor to still be making music with you and for you. The best is yet to come and it's coming November 5th!" he continued.
Stryper is one of the top Christian rock bands of all time, and pioneers in the genre. The original line-up of Michael Sweet (vocals/guitar), Oz Fox (guitar), Tim Gaines (bass) and Robert Sweet (drums) is returning.
The band has sold roughly eight million records worldwide.
NO MORE HELL TO PAY track listing:
1. Revelation
2. No More Hell To Pay
3. Saved By Love
4. Jesus Is Alright
5. The One
6. Legacy
7. Marching Into Battle
8. Te Amo
9. Sticks & Stones
10. Water Into Wine
11. Sympathy
12. Renewed
Stryper tour dates:
Aug. 9 - Bolingbrook, IL / Tailgaters Sports Bar & Grill
Aug. 10 - West Allis, WI / Wisconsin State Fair
Aug. 13 - San Juan Capistrano, CA / The Coach House*
Aug. 14 - West Hollywood, CA / The Whiskey A Go Go*
Aug. 16 - Henderson, NV / Club Madrid at Sunset Station Hotel & Casino*
Aug. 30 - Wendover, NV / Peppermill Casino
*Michael Sweet and Oz Fox acoustic