Christian School Changes Policy to Allow Sikh Boy to Wear Patka After Lawsuit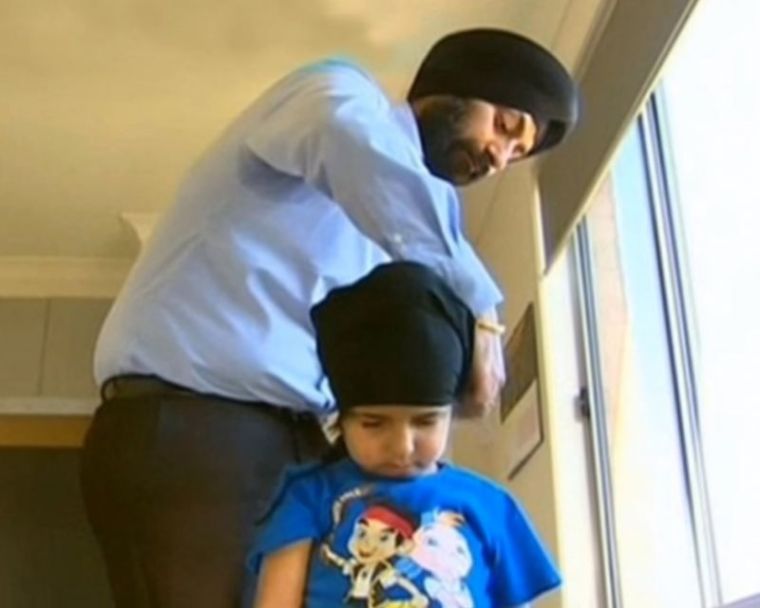 A Christian school in Australia has changed its uniform policy after it was sued for not allowing a Sikh child to wear a traditional head covering.
Melton Christian College in Melbourne has officially amended its strict uniform guidelines to allow a young Sikh boy named Sidhak Singh Arora to wear a patka, a head covering worn by Sikh boys who can't wear turbans, on his head with his school uniform.
"MCC has made amendments to its uniform policy to allow exceptions where genuine medical or religious grounds exist, such that Sidhak will be able to start at MCC in the beginning of the 2018 school year," a joint statement released by the school and Arora's parents explains, as reported by the Special Broadcasting Service.
The changes to the dress code were announced late last month and come after the school was sued by Arora and his family.
School officials were accused of refusing to enroll Arora in 2016 if he planned to wear his patka to school. Arora wears a Patka in accordance with his family's faith.
In September, the Victorian Civil and Administrative Tribunal ruled in favor of the Arora family. The school was found to have violated the Equal Opportunity Act of 2010 that prohibits discrimination on the basis of religious conviction.
During the legal proceedings, the school argued that its initial dress policy was lawful because of religious exemptions to the Equal Opportunity Act, according to The Daily Mail.
However, tribunal member Julie Grainger wrote in a 50-page ruling that the MCC uniform policy was "openly discriminatory" because it prohibited head gear of a non-Christian faith.
"Whilst MCC is a Christian school, it has an open enrollment policy which means that it accepts enrollments of students from other faiths," Grainger wrote.
The joint statement by the school and family notes that "MCC is founded on Christian doctrine, and is committed to an inclusive school community partnering with families in excellent Christian education. MCC regrets the difficulties that took place with respect to the enrolment and the Arora family is grateful to the school for the amendments it has made to the uniform policy in order to welcome Sidhak to the school."
The Aroras were aided in their legal battle by the United Sikhs organization.
"They assisted me and arranged pro bono representation by Herbert Smith Freehills, a top law firm in Australia," Sagardeep Singh Arora, Sidhak's father, said after the tribunal ruling, according to the Special Broadcasting Service.
"The case will set a precedent for everyone else who wants their children to practice their religion or faith and cannot do it because some schools' uniform policy excludes them from enrollment due to their appearance or their religious beliefs."