Christian Sports Coaches Facing Faith Oppression Highlighted in Upcoming Movie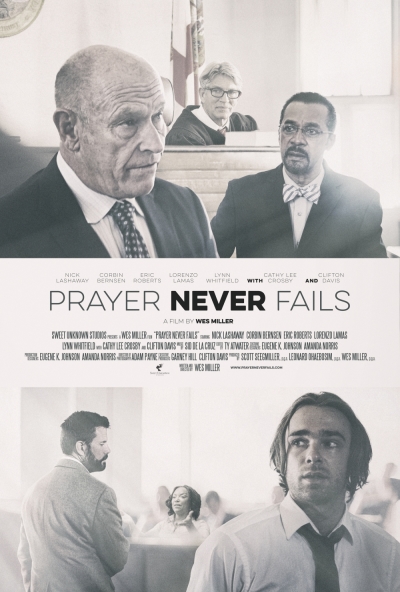 The upcoming film "Prayer Never Fails" was birthed from the various news stories that have made headlines about sports coaches being ridiculed or fired for praying at games. The movie promises to showcase prayer at a whole new level.
As a feature-length legal drama, the faith-based flick is about an up-and-coming high school basketball coach on his way to a record number of wins when he is fired after he risks everything to pray for a player suffering at home.
"Prayer Never Fails" is from writer/director Wes Miller and stars Eric Roberts, Corbin Bernsen, Lorenzo Lamas, Nick Lashaway ("In Time"), and Minister Clifton Davis ("Any Given Sunday").
FILM SYNOPSIS:
Aiden, a former high school basketball star, is now an up-and-coming head basketball coach on his way to a record number of wins in his young coaching career. As a player he was competitively driven, but as a coach Aiden knows it is more about the souls on his team than the outcome of the game.
One of Coach Aiden's players, Kurt, comes to Aiden for help because of personal problems at home. Aiden feels moved by the Holy Spirit to teach the young man to pray. They get down on their knees and pray together. The boy's father learns of Coach Aiden praying with his son and goes ballistic. He reports Aiden to the public school authorities, leading to Aiden being fired as head coach.
Facing this adversity to his faith, Aiden struggles in prayer to know whether he should fight the school board or walk away from his beloved team. Nearly broke, he hires Michael, a gifted trial attorney who (unbeknownst to Aiden) is stricken with a severe addiction to gambling and a complete lack of faith in God.
"It is our mission to tell stories that inspire the human heart and help audiences ask the most important questions of life," Director Miller said in a statement. "Prayer Never Fails not only inspires audiences to discover the power of prayer, but it also asks viewers the thought-provoking questions about the importance of faith in communities and in shaping young lives."
The independent film is being release by Miller, Leonard Ohaebosim and Scott Seegmiller, who are the founders of Sweet Unknown Studios, a full-service production company with offices in Los Angeles, Dallas and Orlando.
"With Prayer Never Fails we wanted to produce a diverse film dealing with prayer that would resonate with audiences from all spiritual backgrounds, " Los Angeles-based Producer Scott Seegmiller shared.
"It was our goal to create a film that told a powerful story because we know that stories need to have real meaning and a message that is timely yet entertaining to audiences of all types," Producer Leonard Ohaebosim added.
"Prayer Never Fails" makes its debut with screenings hosted by churches and universities around the country and according to ECB Publishing, is expected to open in public theaters Jan. 15.
For more information about the film and screening locations, visit www.prayerneverfails.com.