Christian teacher who quit over 'equity' policies attributes courage to 'walk with the Lord'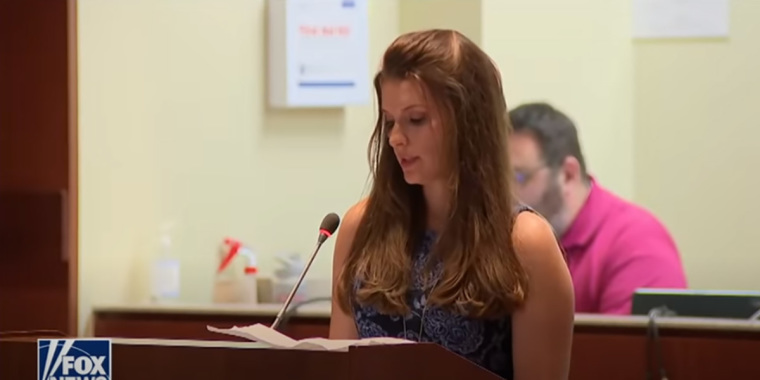 A Christian teacher who resigned in protest of her school district's curriculum said it was "by the grace of God" that she found the courage to take a stand.
Laura Morris, who formerly taught at Lucketts Elementary School in Leesburg, Virginia, announced her resignation at a Loudoun County School Board meeting Tuesday, declaring that the district "promotes political ideologies that do not square with who I am as a believer in Christ."
Morris told the board that she refused to continue serving as a "cog in a machine that tells me to push highly politicized agendas on" her students. 
In an interview on Fox News' "Tucker Carlson Tonight," Morris elaborated on her decision to quit her job.
"It was a very hard decision to come to. It was not taken lightly," she said in the interview that aired Thursday. While Morris regretted that she was "leaving behind" her students and her colleagues, she expressed gratitude for the outreach she had received in the 48 hours since announcing her resignation. "It's been a life-changing experience and I'm just honored and I'm humbled by it all," she added. 
When Carlson characterized Morris as "brave," the teacher maintained that the term "doesn't feel like it can describe me because … this was all done by the grace of God." She attributed "the protection I have had" and "the provision I have had" since the resignation as well as "the courage to get up and do it" in the first place to her "walk with the Lord."
Carlson concluded the interview by asking Morris if she knows of any other teachers planning to resign rather than teach controversial curriculum such as critical race theory. While she didn't answer that question, she shared that she had received an email from a man who told her, "It's been said that one candle can illuminate a thousand others without diminishing its own illumination," before likening Morris to that candle.
"I was so moved by those words because I never would have thought of myself in that position but I don't feel at all diminished by what's happened. In fact, I feel the amazing blessings of God just pouring down on me from what has happened," she added. "I'm so excited that what I did and said might spark others, might illuminate in others the desire to … put some action to their words."
In her speech before the school board Tuesday, Morris lamented that she was told in one of her "so-called equity trainings that white, Christian, able-bodied females currently have the power in our schools and that 'this has to change.'" She indicated that she saw that statement as a signal from district leadership that "you no longer value me."
Additionally, Morris said she received emails from the district superintendent giving her the impression that "a dissenting opinion is not allowed" regarding "the controversial policies being promoted by this school board and adopted in this county." She added that a form was distributed to faculty encouraging them to report colleagues who spoke out against the new policies.
Loudoun County Public Schools, which is located near Washington, D.C., has received intense scrutiny from parents in recent months over its curriculum and policy changes. At a school board meeting earlier this year, parents read aloud excerpts of books that their children were exposed to in ninth grade English classes, which included graphic descriptions of sex acts as well as depictions of domestic violence.
Throughout the spring, parents, students and concerned residents spoke out against a proposed policy that would force teachers to refer to students by their preferred pronouns, regardless of their biological sex.
The policy would also allow trans-identified students to use restrooms, locker rooms and showers that correspond with their gender identity as opposed to their biological sex. The board voted 7-2 Wednesday to approve the policy.
During her remarks before the school board Tuesday, Morris contended that its members "shut the doors to the public" by refusing to let opponents of its transgender policy into the meeting, noting the empty room. The vote on the policy was initially scheduled to take place Tuesday but it was postponed until Wednesday.
Morris concluded her speech at the board meeting by urging parents and staff to "flood the private schools." During her appearance on Fox News Thursday, she emphasized that "when people do something bold, when people put action to their words, actions speak louder than words and that seems to be captivating people." \
The educator said she's also looking forward to seeing "what other actions might be taken," suggesting that she hoped to see more parents and teachers speak out against similar policies at school districts across the country.