Christian Teen Junior Garcia Carrying Cross From Texas to Washington, DC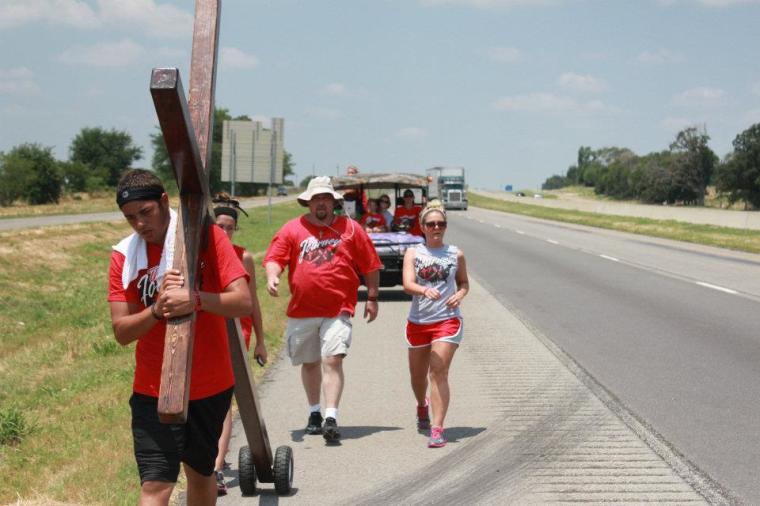 A 19-year-old college student from Texas has embarked on a cross-country journey to draw attention to Jesus Christ, saying he believes God put it in his heart to carry a 12-foot cross from his home to the gates of the White House.
"I'm not trying to be Christ. I'm not trying to act like I'm Jesus. I'm not even trying to live up to that," Junior Garcia told KDFW-TV. "All I'm doing is carrying the cross to show his love, that's all I'm doing."
He added, "Jesus has already carried the cross — that's not what I'm trying to do. I'm just trying to show his love and remind people of who he is and the salvation you can have through Jesus Christ."
Garcia, who is studying to become a physician's assistant, has been on his journey for about 11 days, as documented by photos on the Facebook page of his home congregation in Saginaw, The Oasis Church, members of whom are accompanying him on the nationwide walk.
Although Garcia's father said he was apprehensive when he first learned of his son's plans, he prayed about it and decided to have faith in God.
"I had to go to the Lord in prayer, but I trust in the Lord and I just put it in his hands," Jorge Garcia told KDFW-TV. Garcia has been accompanying his son on the journey.
The teen explained why he felt compelled last summer to start preparing for the trip.
"I just felt that separation from Him and felt like it was just time to get rid of worldly desires and focus on Him," Garcia told CBS Dallas-Fort Worth.
"I remember looking up to heaven saying, 'I'm yours.' That day, I decided to take up my cross. And I felt so strong in my heart. And I felt Him tell me where to go and how to go. And that's where we're going — Washington, D.C."
The cross the college student is carrying is made of wood and has wheels at its base. Garcia is seen in news videos on his faith-filled journey walking on highways with heavy traffic. When parts of his walk become too dangerous due to traffic, his group hops into a small passenger van that takes them to a safer spot to continue the journey.
Garcia started his trip Thursday, June 7 in Saginaw and plans to conclude the more than 13,000-mile journey in Washington, D.C., where he will hold a prayer service near the White House. The young Christian estimates the journey should take less than 40 days, although he and those with him walk only during the day. He hopes to conclude the walk on July 13, 2012.
In addition to drawing attention to Christ, Garcia's efforts are also to help raise money for an Assembly of God program called "Speed of Light" that benefits a missionary in Mexico. The Oasis Church has been documenting Garcia's travels on its website and Facebook page.
The teen has drawn comparisons to fellow Christian Arthur Blessit, who is known for walking a cross nearly 40,000 miles around the world over a 44-year period. Blessit, who is 72 years old and has been recognized by the Guinness Book of World Records for his feat, called Garcia a "wonderful young man."