Christian Woman Died From Brain Cancer to Save Her Baby; Now Child Is Dead Too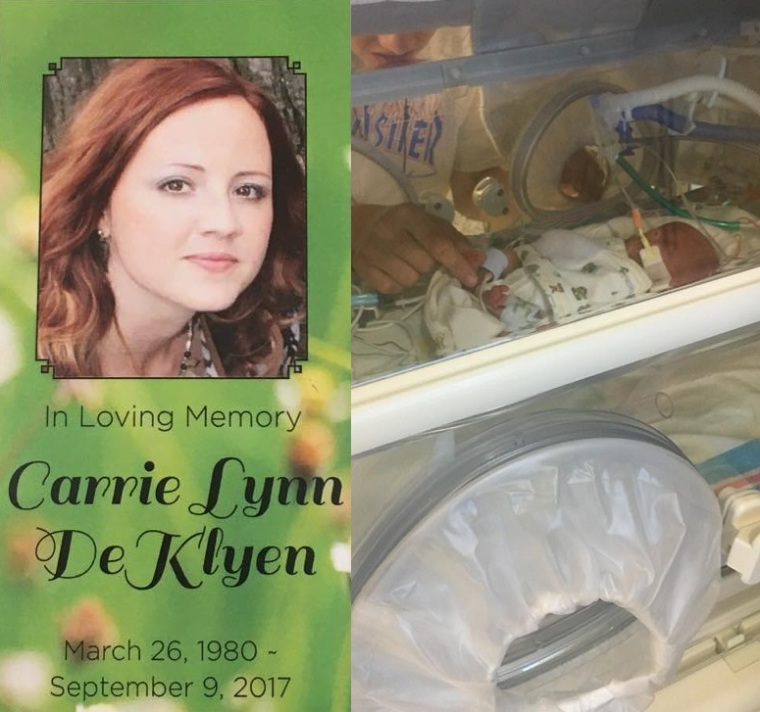 Carrie Lynn DeKlyen, 37, a cancer-stricken Christian woman from Michigan who died two weeks ago after giving birth to a daughter will now be joined in her grave by the child who was named Life Lynn. DeKlyen had refused chemotherapy to save her then unborn daughter.
"It is with great sadness and a absolutely broken heart that I tell you Life Lynn passed away last night. Carrie is now rocking her baby girl. I have no explanation of why this happened, but I do know Jesus loves us and someday we will know why," said a message Thursday on Cure 4 Carrie, a Facebook page set up for the late mom and her surviving husband, Nick DeKlyen.
The father told PEOPLE in August that doctors had warned his wife that if she did not abort her baby she would die from her brain cancer. The mom of faith, however, refused.
"The doctor said if you don't terminate this baby, Carrie, you will die," Nick said. "But it was Carrie's decision and I said, 'What do you want to do?' She said, 'We're keeping it.'"
Carrie fought for the child. Even when she slipped into a coma in July, she continued to fight. When her health deteriorated even further, however, doctors were forced to remove the child from her body prematurely at 24 weeks and five days on Sept. 6. On Sept. 9, Carrie passed away.
"My wife loves the Lord and she loves her children more than anything," the young widower who lived with his late wife and their five other kids in the Michigan city of Wyoming told AP. "It's painful. But this is what she wanted. She wanted to protect this child."
Nick told AP that while Life Lynn would have remained in the University of Michigan Hospital in Ann Arbor for about four or five months, he was optimistic the child would have been fine.
"She's going to be fine," Nick said. "She's going to be here for 4 or 5 months, but we expect her to be a healthy baby. ... The doctor just said the timing (of the birth) couldn't have been more perfect."
On Thursday, however, he told The Detroit News that before his wife died she told him she had a dream in which she was rocking a baby girl. Life Lynn died at 10:30 p.m. on Wednesday.
"Now the dream she told me is now making sense," said Nick, 39, told The Detroit News. "I never thought it would be heaven, but I know that is what she is doing. She is rocking her daughter in heaven."
He explained that Life Lynn almost died on Sept. 12, the day he buried his wife, but they fought to save her. He said she developed a leak in one of her lungs, which collapsed before she died.
"I told her Daddy loves her and to hang and keep fighting but that didn't work," said Nick. "She's in heaven with Mommy now."
He is still in shock about why God allowed both his wife and child to die.
"The Bible says that it rains on the just and the unjust," Nick said. "There are just things you can't explain. I wish I had the answer as to why my wife died and my daughter died. Regardless of what happened, I still chose to follow God and do it his way. When I get to heaven one day, I will ask why. I know he has a reason for everything."
The grieving father is now planning a private graveside ceremony for his child and plans to bury her at the feet of his wife in Georgetown Cemetery in Jenison, Michigan.
A GoFundMe campaign seeking $200,000 to assist the family has already reached more than $170,000.