Christianity Is Not Declining in America, Baylor University Professors Say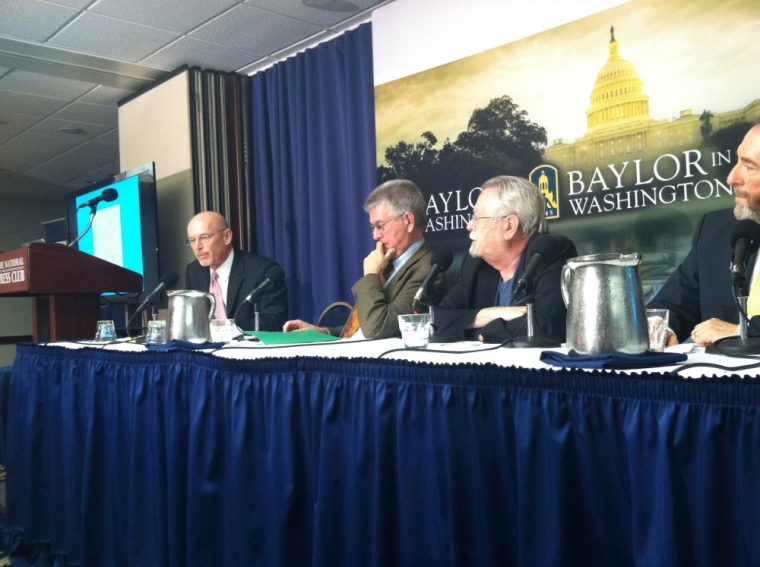 WASHINGTON — Distinguished scholars from Baylor University on Tuesday decried the myth that religion is on the decline in America and argued that it's actually growing and is stronger than ever.
Professors from Baylor University's Institute for Religion Studies in Waco, Texas, participated in a panel discussion at the National Press Club focusing on the "secularization myth," where they lambasted the media's spin on various surveys which has led many to believe that irreligion is on the rise in the United States.
Even though surveys have found there to be a rise in individuals who don't identify with a particular religion or denomination ("nones") and a decline in church membership for many Mainline denominations, the panelists agreed that those results don't mean that religion is on its deathbed or that atheism is on the rise.
Byron Johnson, a professor of social sciences and the founding director of the Institute for Religion Studies, explained that survey results are often misrepresented in the media. He quoted a study done by Pew Research, which found that 44 percent of Americans have left the particular faith affiliation in which they were raised.
Although the Pew result is indicative of the fact that many Americans have converted to other congregations and denominations from which they grew up in, Johnson explained that some news outlets reported on how 44 percent of Americans have left their faith altogether.
"There wasn't one media account from that good study that said this is a good thing. This was also thrown in this huge bucket of bad news that was thrown out there. We look at that study and say that is a phenomenal thing that people would switch churches," Johnson explained. "We see this is a measure of vitality and health and others are interpreting it is an abandoning of the faith, just because I think they read something into the data that wasn't there or they misinterpreted the data."
J. Gordon Melton, professor of American religious history, explained that although Mainline denominations have lost membership in recent years, the number of denominations in America has increased steadily since the 1960s. Now, there are over 1,000 denominations in the U.S.
Melton cited the Encyclopedia of American Religion and the 2010 American Religious Census to show that, as the American population has risen, church membership in America has risen at a much quicker rate.
"While some churches have lost membership over the last 65 years, simultaneously, hundreds of new denominations have been founded, and while population has more than doubled, church membership has more than quadrupled," Melton wrote in his powerpoint presentation. "It is still in an upward trajectory."
Johnson read remarks provided by Rodney Stark, another Baylor social sciences professor, who was unable to attend the event. Johnson explained that Stark, who authored the newly released book The Triumph of Truth, used Gallup polls to show that organized religions have now enrolled larger portions of the Earth's population than they ever have.