Christians Across the US Urged to Wear Orange to Raise Awareness About ISIS Victims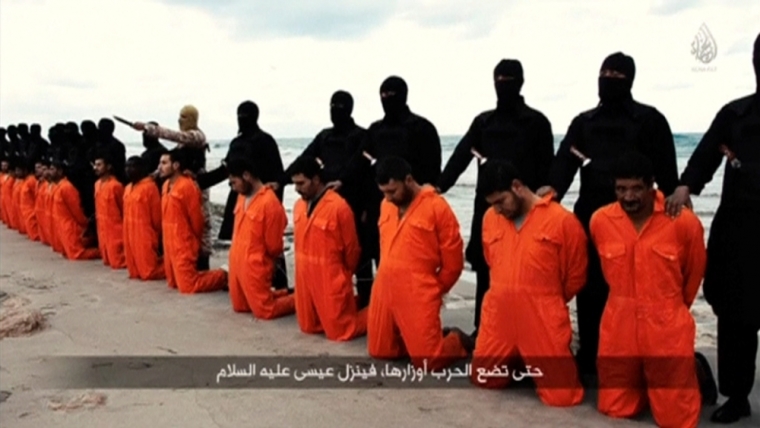 Many Christians across the country are wearing orange ribbons and dress, representing the jumpsuits worn by victims of the Islamic State, in church and otherwise in response to calls by churches and groups to help draw attention to the persecution of Christians by the terror group in the Middle East.
"We are all brothers and sisters in Christ. It's so sad how they are being tortured — we need to get prayer power going," the Rev. Frank Karwacki, the parish priest of Our Lady of Mount Carmel Catholic Church in Mount Carmel, Pennsylvania, told FoxNews.com.
Karwacki is among the many pastors who are encouraging their congregations to wear orange ribbons and dress.
In February, Islamic State, also known as ISIS and ISIL, released a video showing its militants in Libya beheading 21 Egyptian Copts, who had all been made to wear orange jumpsuits. The video showed the Copts whispering the name of Jesus as their heads were being hacked off their bodies.
"They [ISIS] destroyed those ancient churches and killed so many of our Catholics there [in the Middle East]," Karwacki added. "I'm hoping that other parishes and churches" join the orange campaign.
Rev. Patrick Mahoney of the Church on the Hill in Washington, D.C., has also been using social media to encourage Christians to wear orange.
Ribbons for Rescue, a group that was started to show solidarity with the ISIS victims and persecuted everywhere, has also been running an orange ribbon campaign and organizing regional rallies in New Hampshire and Greater Boston.
The group has a threefold mission: "To raise awareness of the plight of persecuted Christians worldwide; to respond to hate with love, just as Christ would do; and to provide information and resources to help you get involved — whether it is through prayer, financial donation or action."
"We call on people to wear orange daily," Lydia O'Leary of the campaign was quoted as saying.
More than a dozen churches have responded to the campaign in New Hampshire.
ISIS is an offshoot of al-Qaeda and wants to establish a caliphate in the Levant region and beyond. It has gained control over large swathes of territories in Syria and Iraq.
Since last June, when ISIS declared its "caliphate," the terror group has killed more than 2,000 people, about two-thirds of them civilians, according to the Syrian Observatory for Human Rights.
Islamic State's main targets are religious minorities, including Christians.
The Sunni group is known for its brutality. In the recent past, it has released videos showing the beheading of five Western hostages — British hostages David Haines and Alan Henning, and U.S. citizens James Foley, Steven Sotloff and Abdul-Rahman Kassig — as well as two Japanese hostages, Kenji Goto and Haruna Yukawa, among others.
In its English propaganda publication, ISIS earlier sought to justify its barbarity, saying it is "Islamic" to capture and forcibly make "infidel" women sexual slaves.
"Before Shaytan [Satan] reveals his doubts to the weak-minded and weak hearted, one should remember that enslaving the families of the kuffar [infidels] and taking their women as concubines is a firmly established aspect of the Shariah that if one were to deny or mock, he would be denying or mocking the verses of the Quran and the narration of the prophet … and thereby apostatizing from Islam," stated ISIS' glossy propaganda magazine "Dabiq," named after a site in Muslim apocalypse mythology.