Christians From All 50 States Praying in Nation's Capital for 'Spiritual Shift' in America
Sponsored by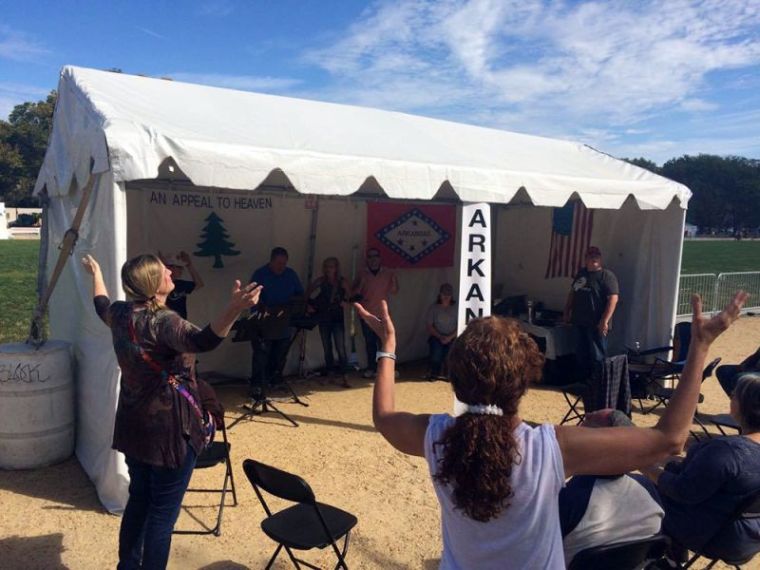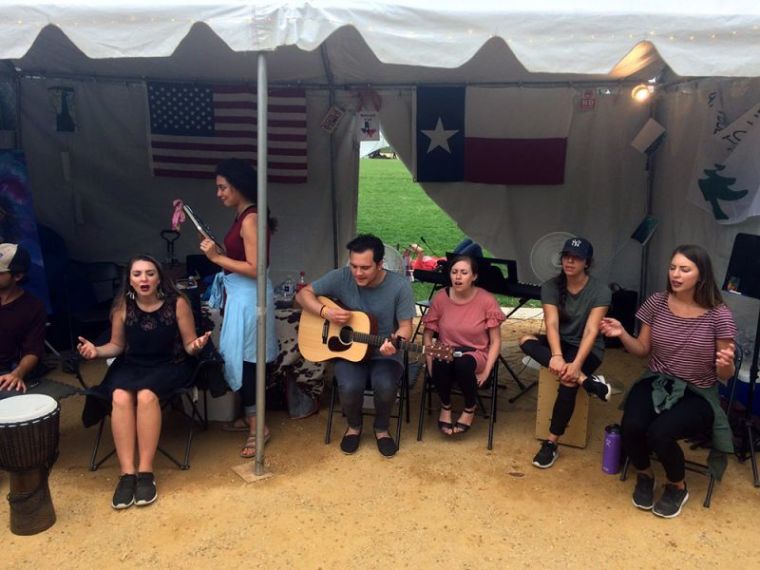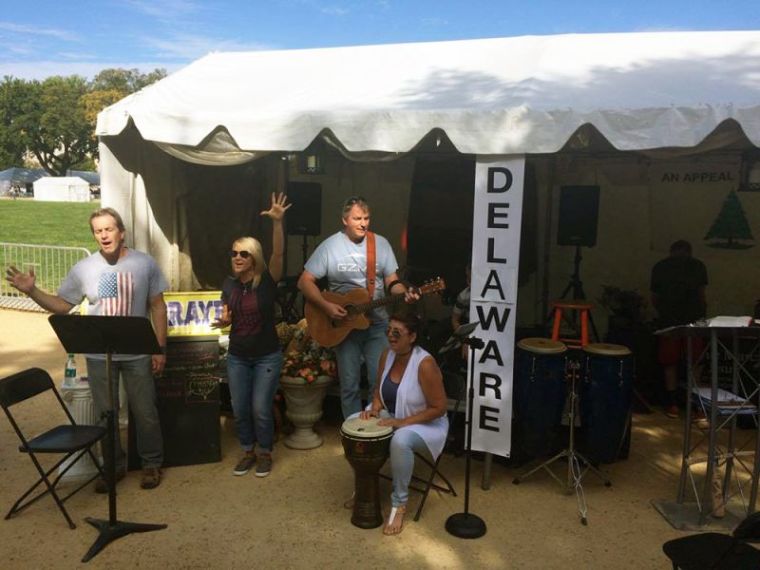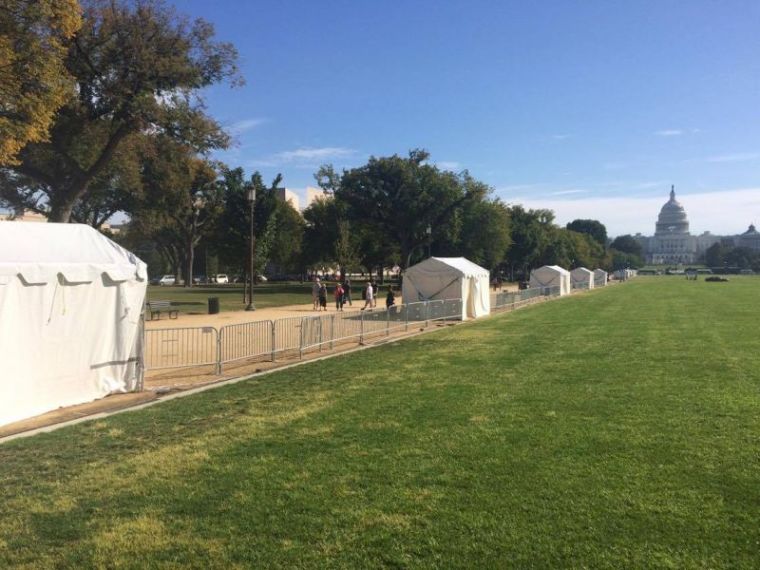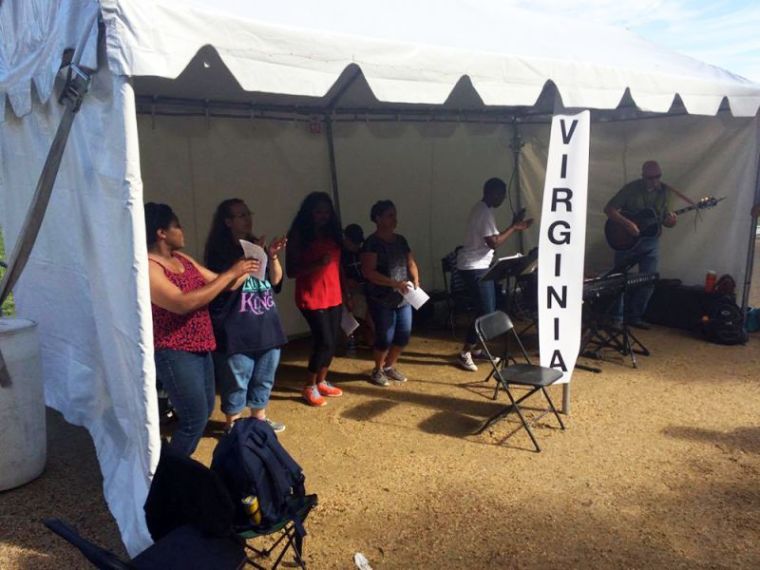 View Photos
WASHINGTON — Tens of thousands of Christians from every state in the U.S. have assembled on the National Mall this weekend to sing and worship in dozens of tents and pray for a "spiritual shift" in America.
America's Tent of Meeting, is sponsored by Awaken the Dawn and several other partner organizations for the express purpose of focusing on Jesus and to pray for a nation in crisis. ATM began Friday night with a call to repentance on the main stage where an estimated 30,000 people were in attendance park police said, according to an and event organizer.
"I see Awaken the Dawn as part of a bigger story that God is telling," said Michael Beardslee of Phoenix, Arizona, in an interview with The Christian Post outside the New Mexico prayer tent. Beardslee works for a nonprofit volunteer engagement agency and has just begun doctoral studies at Grand Canyon University.
"There is a story that the enemy is telling in our nation, and he likes a lot of attention and he gets the attention a lot of the time," he said. But it's God's story that will prevail, he added.
Beardslee has been praying and fasting for revival to sweep the nation for the past 20 years. He is a member of New Promise Christian Fellowship, a nondenominational church in Phoenix, which hosts the Phoenix House of Prayer, a weekly regional prayer meeting.
"I don't know what God's going to do and how He's going to do it, but I know He works in mysterious ways."
He was inspired by the vision of ATD, calling people from all 50 states to come and worship on America's front yard in front of the Capitol, and he took time off work to make the journey with his parents.
Tens of thousands more are expected to attend over the course of the weekend, with various evangelistic equipping sessions planned and round-the-clock prayer in the tents until the event concludes Monday morning. Fifty-eight prayer tents, one for each state and eight regional tents are stationed all along the National Mall grounds. Speaker include Mike Bickle of the International House of Prayer, Francis Chan of We Are Church, Heidi Baker of Iris Global, Shawn Bolz of Expressions 58 and several others.
The vision for all 50 states to gather around the worth of Jesus and exalt Him, as articulated by The Prayer Furnace's David Bradshaw in an interview with CP, was what inspired Christy Holt to make the trip to Washington from Pensacola, Florida, to participate.
"I came because there is unity when all gather together and when they said there were going to be 50 tents on the mall. I love D.C. and I love the fact that every state is represented in our union," Holt told CP in an interview outside the Smithsonian.
"With our country and the mess that it's in and the disunity, I thought 'Lord Jesus, thank you that somebody got a vision of unity and of what that would look like.'"
She made a point to say that everything that happens in the nation's capital trickles down into the rest of the country and she wanted to come to intercede for her home state and to pray against the bitter division operating in the country.
Marcie Lowe, a friend of Holt's, who was born in Ohio but is now based in Florida and is currently working in North Dakota, told CP with a chuckle, "I'm tent-hopping, I really am." She is taking the time to pray and worship in several states' tents.
"My heart is for so many states in the union, but first and foremost for the United States of America. If you don't stand for something, you'll fall for anything. And we're taking a stand for Jesus," Lowe said of their presence in Washington.
"The whole world sees that we need Jesus. The whole world sees that we need to make a move for faith, for justice, and for liberty for all. It's time right now. It's [2 Chronicles] 7:14 'if my people who are called according to my name.' We need to humble ourselves and we need to seek His face, and pray. And we need to do it right now. We need to show God that we are on His side once and for all."
Likewise, Angel Sweazy traveled to the District from Nevada. She is a member of Horizon Christian Church, a nondenominational evangelical congregation in Reno. With her husband she is pioneering a YWAM base there and believes the timing of America's Tent of Meeting is significant given the recent horror in her home state.
Last Sunday, gunman Stephen Paddock murdered 58 people attending a country music festival in Las Vegas, using high-powered firearms from his 32nd floor Mandalay Bay hotel room.
"The enemy overplayed his cards this time, because what he planned for evil, the Lord has just come in and said, 'But I can make good out of everything," Sweazy said.
As CP reported earlier this week, a man who said he was an atheist told CNN that the only way he escaped was with God's help, and he's now a believer.
A "major spiritual shift" happened Friday night as thousands have begun praying, Sweazy continued, noting that she could sense the change in the air.
And God "is speaking through each one of these 50 tents," she said, remarking on how God's people are all uniquely praising Him.
Although the darkness is intensifying and Revelation 12-like events are happening, she said, "this is the time for us [as Christians] to stand up and say, 'Yes. Yes and amen to what God has planned and we don't need to be afraid at all because, as a city and as a nation, we can see this is really bad but He told us this was going to happen," and that He has great plans in store for America.
"He is coming, and there is so much excitement in the air knowing that," she emphasized.
Awaken the Dawn will conclude on Monday, Oct. 9.